Christie L2K1500
4-LCD Proj. 15,000 Lum, 2048x1080, hot-swap 4-lamp design, long-life inorganic panels, edge blending, color matching, shutter, No Lens
Part #: 0601-5664-C Mfr #: L2K1500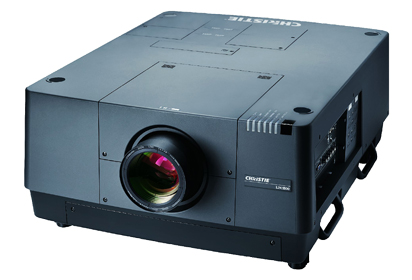 Christie L2K1500
This large venue projector, offers extreme brightness, high definition image quality and is backed by Christie's industry-leading warranties, service and support.
15,000 ANSI lumens brightness suitable for large size applications
Native 2K resolution (2048 x 1080)
3000:1 contrast ratio for exceptional image clarity
Equipped with HDMI and DVI-D input slots
Same optional lens suite as Christie L2K1000, Christie LX1000 and Christie LX1500
Stackable design to deliver up to 30,000 ANSI lumens. In a stacked setup, this projector is best suited for events or temporary use. The projector may need to be re-aligned if it is used in a fixed-installation application
Robust four lamp design with optional smoke filter kit for use in staging events (including events with smoke/pyrotechnic effects)
Low maintenance features - robotic AutoFilter, long lamp life, hot swappable lamps and user replaceable lamps
4D Color™ technology
Set up and image adjustment is a breeze, even in the most challenging room environments with built-in 3D Keystone™ technology which ensures quick and easy image alignment. The Christie L2K1500 is also equipped with power adjustable lens shift for zoom and focus, and a motorized lens shutter to completely block light when required. It also has a four-lamp system that provides redundancy ensuring there are no interruptions to your presentation - ideal for live events.
The Christie L2K1500 uses the same suite of optional lenses compatible with the Christie L2K1000, Christie LX1000 and the Christie LX1500 which enables easy integration with these projectors, and ensures a lower cost of ownership.
Image

15,000 ANSI lumens
3000:1 contrast ratio
>90% brightness uniformity

Display

3 x 1.64" Inorganic LCD panels
Native 2K (2048 x 1080) resolution

Lamp

4 x 380W Ushio NSHA

Normal mode 2000 hours, eco mode 3000 hours

Signal Compatibility

VGA through 2K (2048 x 1080)

Video Signal

Accepts current HDTV/DTV formats (480i, 480P, 720P, 1080i, 1080p, 1080psf)

Pixel Clock

Inputs, Control and Networking

DVI-D x 1 (HDCP Compliant)

HDMI x 1

D-Sub 15 x 1

BNC x 5 (R,G,B,H,V & Y, Pb/Cb, Pr/Cr & Composite)

Mini DIN 4-pin (S-video)

RJ-45 LAN x 1
Dsub-9 x 1
2 x option input card slots

Control port Dsub-9 x 1

R/C Jack – Mini jack x 1

Optical System

Power adjustable zoom, focus and lens shift

Motorized light shutter

Standard Accessories

Quick set-up manual

Real color management software instruction
Lens spacer for optional lenses
Light block sheet
Mounting clamp
Lens cover strap
Power cord

AC cord UL type (NEMA 6-20P plug type)

Computer cable (Dsub15-Dsub15)

Remote control

Optional Accessories

DVI/Dsub15 input card

5 BNC/S-video input card

SDI-Dual input card

(HD-SDI only)

Dual Link input card*

380W Ushio NSHA lamps

Smoke filter kit

Disposable smoke filter

Robotic AutoFilter cartridge

*Required for full 2048 x 1080 resolution

Enhanced Feature Sets

4D Color™ technology

*Stackable design for added brightness

Auto-switching lamp feature (single lamp mode)

Digital keystone feature (Max: V±30°, H±30°)

Robotic AutoFilter cartridge (up to 12,000 hours) maintenance free operation

Built-in RS 232c port

Customizable start-up logo

Selectable aspect ratio 4:3,16:9, 17:9

Top loading lamps

Intuitive graphical user interface

Built-in keypad (power on/standby, menu, up, down, left, right arrows)

Front and rear infrared sensors for IR keypad

Carrying handles

Auto discoloration prevention with 3D-AUCC technology

Top access to LCD panels- simplifies cleaning

Optional smoke filter kit

Optional input slots for additional connectivity

*In a stacked setup, this projector is best suited for events or temporary use. The projector may need to be re-aligned if it is used in a fixed-installation application

Power Requirements

Operating voltage: 200-240V ±10%

Operating current: 11.0A max

200V

Operating power: 1850W

(200-240V)

Dissipation: 7,100 BTU/hr

Dimensions

Body size (LxWxH): 32.1 x 25.6 x 13.7" (815 x 650 x 349mm)

Weight: 102.5lbs (46.5kg) without lens

Shipping size (LxWxH): 39.7 x 34.1 x 22.0" (1008 x 865 x 560mm)

Shipping weight: 125.7lbs (57.0kg)

Noise

51dBA standard mode

48dBA eco mode

Operating Environment

Operating temperature: 41-104˚F (5-40˚C)

Humidity (non-condensing): 20-80%

Altitude: 0-8858ft (0-2700m)

Regulatory Approvals

This product conforms to the following regulations related to product safety, environmental requirements and electromagnetic compatibility (EMC):

FCC, Part 15, Subpart B, Class A

EN55022/CISPR22: Class A

EN55024/CISPR24

IEC 60950-1

UL 60950-1

CAN/CSA C22.2 No. 60950-1

Directive (EC) 2002/95/EC (RoHS)

Directive 2002/96/EC (WEEE)

Regulation (EC) No. 1907/2006 (REACH)

Limited Warranty

Projector: 3 years parts and labor

Lamp: 500 hours or one year (whichever comes first) or Contact an authorized Christie representative for full details of our limited warranty