Barco R9832752
RLM-W8 Lamp, 330W UHP
Part #: 6200-0703 Mfr #: R9832752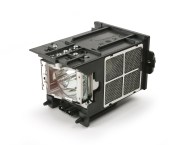 Barco R9832752
Features
Genuine Barco replacement lamp
330W UHP
Lamp Life: 1200 Hrs (full power)
This lamp contains mercury and could contain other electronic wastes that might be hazardous if not handled properly. Please consult your local/state/federal regulations regarding disposal or recycling. For more information, please contact Electronic Industries Alliance, www.eiae.org
For information on proper lamp handling, visit www.lamprecycle.org
Do not turn off the projector by unplugging the power cord or removing power - it could lead to lamp malfunctioning or damage.
Downloads
Compatibility
To check whether this item is compatible with your equipment, use the form below.