AGI PA2X20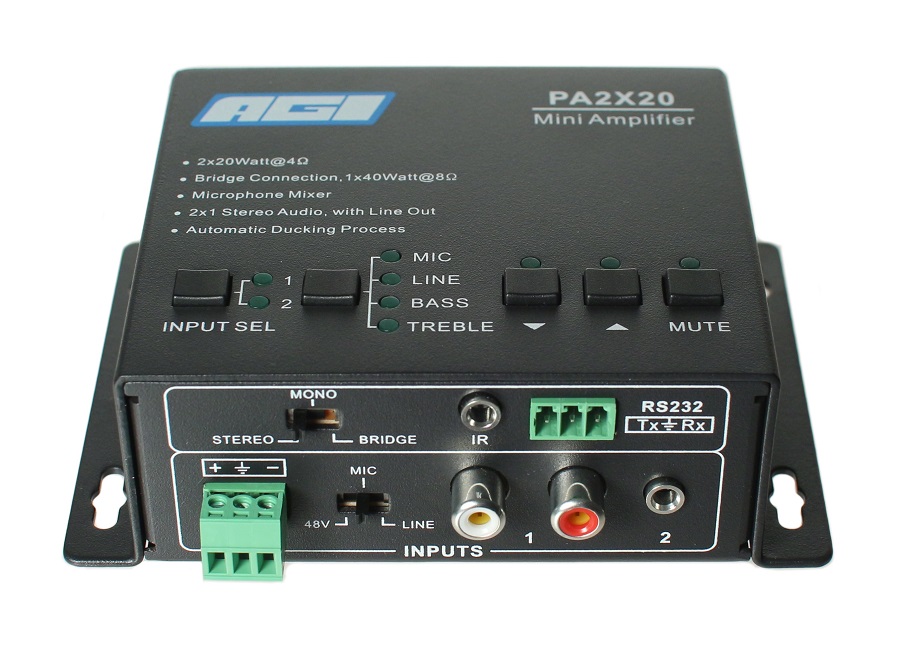 Mixer Amplifier, 40W Mono, 20W+20W Stereo, microphone and two switchable line level inputs, control with buttons, RS232, optional IR
Item #0040-1502
Model #PA2X20
Overview
Ideal for providing audio power amplification in small to medium sized rooms in conjunction with a projector with audio switching. If the projector has variable audio output, the projector's own remote can be used to adjust volume. Otherwise the PA2X20 can be controlled through its integrated up/down volume control or an optional remote control.
In more sophisticated systems, the PA2X20 can be controlled through its RS-232 port by a room controller to provide input switching, microphone mixing with ducking, and tone controls.
The output can be configured for two 20 Watt stereo outputs, two 20 Watt monaural outputs (sum of left and right), or 40 Watt bridged mono (sum of left and right). The load impedance should be 4 ohms or greater in stereo/monaural mode or 8 ohms when used in bridged mono.
When no audio is present, the unit will go into a standby mode
A microphone input is independently controllable and mixed with the line level signal
Supports switching between two line level inputs.
Volume, bass an treble are controllable by buttons, optional I or RS232
Provided external power supply operates on 100-240VAC, 50-60 Hz.
Downloads