Da-Lite 22393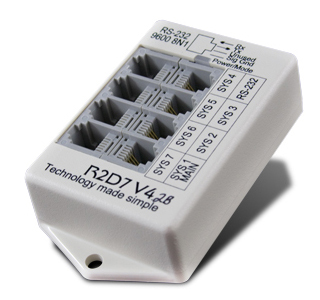 RS-232 Interface
Item #0400-0799
Model #22393
Overview
Da-Lite RS-232 Interface
The RS-232 Interface is an adapter for low voltage controls used on Da-Lite motorized screens. It allows wired remote control of a screen. Cables and adapters necessary for setup are included. See installation instructions on Downloads tab for details.
Key Features
Wired serial RS-232 control only. For IP control over Ethernet, see the

RS-232 with Ethernet Adapter Kit.
Requires a low voltage control, either built into the screen or external.
Downloads
Compatibility
Product Compatibility
Electric Screens (tensioned and non-tensioned) and Lifts with standard or optional built-in low voltage control (LVC)
Single Motor Low Voltage Control System (external control for screens without built-in LVC)