Barco R9801970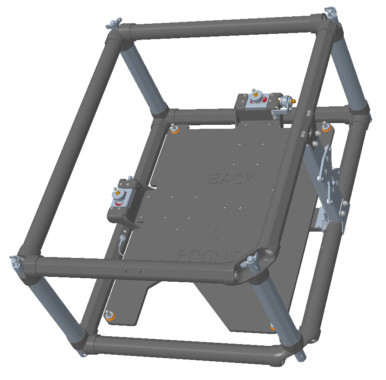 Stacking Frame for UDM, compatible with R9801755 motorization kit
Item #0600-4110
Model #R9801970
Overview
Barco Stacking Frame (R9801970)
Stacking / rigging frame for UDM Series Projectors
This adjustable frame is ready for motorization and compatible with the R9801755 motorization kit.
For a standing installation:
Use a solid pedestal to place a single UDM projector on (with or without rigging frame)
Use a solid pedestal and UDM rigging frames for stacking the UDM projectors up to a maximum of 3 units high.
For a hanging installation:
Use the UDM rigging frames to suspend up to a maximum of 2 stacked UDM projectors (Table Mount or Ceiling Mount).
Use a UDM rigging frame to hang one UDM projector in portrait (wall mount)
(If installing the projector in other positions than desktop or ceiling, it is preferable to use the rigging frame designed for this purpose.)
Please check the Compatibility tab to determine if this frame will work with your projector.
Specifications
| | |
| --- | --- |
| Size (W x L x H) | 88.9 x 71.1 x 46.3 cm / 35 x 27.99 x 18.23 in |
| Weight | 23 kg / 50.51 lb |
Compatibility
To check whether this item is compatible with your equipment, use the form below.