Barco DP4K-30L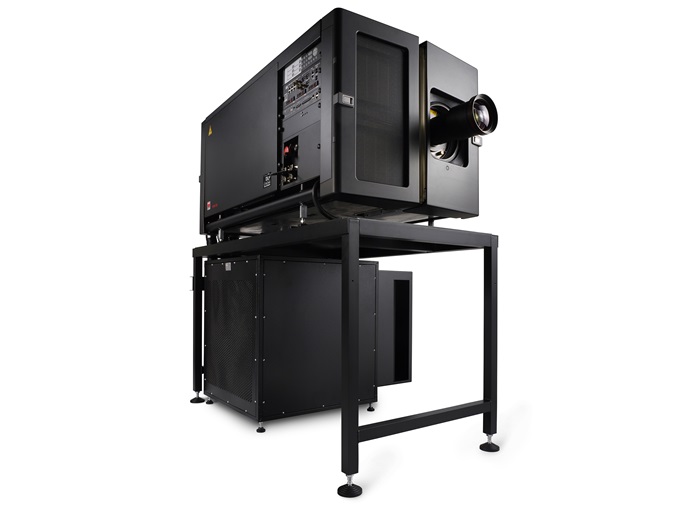 3-DLP RGB Laser DCI Projector, 4098x2160 4K, 28,000 Lumens
Item #0600-4842
Model #R9406540
Overview
Barco's DP4K-30L laser cinema projector brings cutting-edge image quality to your medium-sized screens, enabling you to provide audiences with a stunning experience that's only available in theaters. The projector combines its exceptional image quality with simplified operations and reduced operating expenses.
Unprecedented image quality
The Barco DP4K-30L offers superior image quality with a high brightness level, increased contrast ratio and vivid colors for a radically improved (3D) movie experience. The 2D and 3D images it displays are laser-sharp with superbly saturated and uniform colors. Geared with the unique Barco Alchemy Integrated Cinema Media Processor (ICMP), it's capable of showing 4K content at 60 frames per second and 3D movies in 4K.
Specifications
Resolution
4,096 x 2,160
Brightness
Up to 28,000 lumens
Native contrast ratio
2,800:1 (typical) / 500:1 ANSI contrast (typical)
Prime lenses
1.13-1.65; 1.35-1.86; 1.46-2.10; 1.65-2.60; 2.00-3.35
Long-term brightness stability
Less than 20% decrease during a runtime of 30,000 hrs
Dimensions (WxLxH)
Projector: 744 x 1,445 x 706 mm / 29.3 x 56.9 x 27.8 inches (with feet, no lens)
One chiller with the following dimensions: 701 x 701 x 800 mm / 27.6 x 27.6 x 31.5 inches
Weight
Projector: 200kg (~440lb)
Chiller: ~115kg (~250lb)
Cooling liquid hose length
2.5-5-10m (8.2-16.4-32.8ft)
Power requirements
Projector:
200-240/346-415V 50-60Hz 16A 3W+N+PE (Y connection) / Power cord size range: 4 sq mm to 6 sq mm, 10AWG to 8AWG /Circuit breaker range: 25A to 40A
200-240V 3W+PE 28A 50-60Hz (/\- connection) / Power cord size: 6 sq mm, 8AWG / Circuit breaker: 40A
Chiller:
230/400V 3W+N+PE 16A, 2.5 sq mm (Y connection) or 208V / 3W+PE (/\- connection) / Max. 16A per phase
Ambient temperature
30°C (86°F) Max. (projector and chillers)
Ambient humidity
75% Max. (projector and chillers)
Power consumption
Projector @ full laser power: 3.5 kW (2D or Polarization 3D) / 2.0 kW (Barco Laser3D - 6P)
Chiller @ full laser power: 2.0 kW (2D or Polarization 3D) / 1.6 kW (Barco Laser3D - 6P)
Projector @ half laser power: 2.0 kW (2D or Polarization 3D) / 1.2 kW (Barco Laser3D - 6P)
Chiller @ half laser power: 1.6 kW (2D or Polarization 3D) / 1.2 kW (Barco Laser3D - 6P)
Media server
Barco Alchemy ICMP included in the projector:


JPEG2000 2K & 4K DCI play-out
High Frame Rates 3D up to 120fps (60fps per eye)
2x Displayport
2x 3G-SDI inputs
1x HDMI 1.4a input 2D and PCM audio / 4K 24fps
16x AES/EBU audio channels (2x RJ45)

3D systems
Color3D (Barco Laser3D): Native 6-primary color-3D system. Only requires color filter glasses (Dolby3D glasses cannot be reused)
Active glasses systems
Polarization recuperation systems
DCI
Projector + Barco Alchemy ICMP DCI CTP 1.2 certified
Safety class
Class 1, RG3
Certifications
CE; ETL/UL/FCC
ICMP Tutorial