Epson PowerLite Pro G7400UNL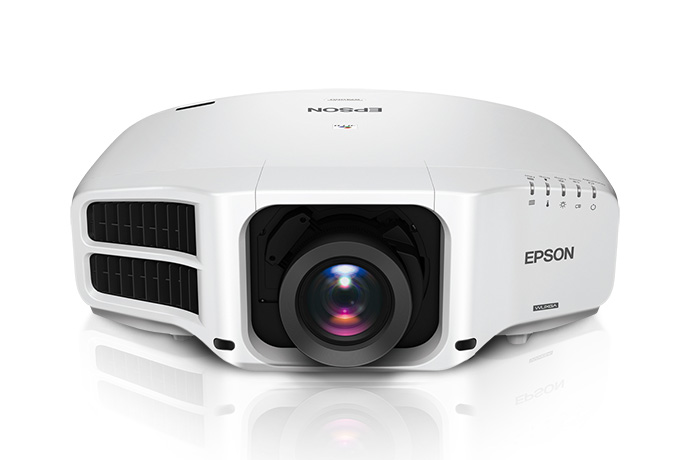 LCD Projector, 1920x1200 WUXGA, 5500 Lumens, HDBaseT, 24/7, 360 Degree, Portrait, No Lens, 3 Year/20,000 Hour Warranty
Item #0600-6091
Model #V11H762920
Overview
The Epson Pro G7400UNL projector delivers uncompromising image quality and native WUXGA performance with Epson® 4K Enhancement Technology. Offering 3x Higher Color Brightness than competitive models, Epson 3LCD projectors ensure vivid images. Ideal for events staging, auditoriums, and sanctuaries, the reliable G7400UNL features 5500 lumens of color brightness and 5500 lumens of white brightness. Innovative 4K Enhancement Technology ensures extraordinary image and video quality, while dynamic projection capabilities enable a range of applications. And its outstanding integration features include diverse connectivity such as HDBaseT and nine optional powered lenses with lens shift and lens memory.
Features
3x higher color brightness and reliable performance — 3LCD, 3-chip technology
Color brightness — 5500 lumens
White brightness — 5500 lumens
Exceptional Full HD widescreen display — native WUXGA (1920 x 1200) with 4K Enhancement (3840 x 2160) for presentations, videos, digital signage, and more
Innovative 4K Enhancement Technology — doubles the number of pixels from 2.3 million (WUXGA) to 4.6 million for extraordinary image and video quality
Ten optional interchangeable lenses — with powered lens shift and lens memory, including an ultra short-throw lens for shallow spaces (lens not included)
Versatile connectivity — supports the full range of inputs, including HDBaseT, HDMI®, DVI-D, VGA and 5-BNC, for easy integration with any system
Advanced collaboration features — simultaneously project side-by-side from different sources with split screen
Web-based remote management — control and monitor projector status via a web browser
Multi-PC projection — connect up to 50 Windows®, Mac®, iOS® or Android devices and display up to four screens simultaneously over the network (controlled via the Moderator3 function)
Dynamic projection capabilities — advanced built-in edge blending, image warping, and curved-surface correction technologies for a variety of applications
Professional installation features — full 360-degree installation flexibility, including portrait mode
Accessories
Optional Lenses
<!— Editable lens table in L1060U —>
Model:
ELPLX01
ELPLX01S
ELPLU03
ELPLU03S
ELPLU04
ELPLW05
ELPLW08
ELPLM08
Std Lens
ELPLW06

ELPLM09
ELPLM15

ELPLM10
ELPLM11
ELPLL08
Price:




Add to Cart




Add to Cart




Add to Cart




Add to Cart

$11,219.00


Add to Cart




Add to Cart

$3,348.00


Add to Cart




Add to Cart




Add to Cart




Add to Cart




Add to Cart

D:W WUXGA
0.76" chip

0.35:1

0.65–0.78:1

0.87–1.05:1

1.04–1.46:1

1.18

–

1.66:1

1.44–2.32:1

1.62–2.22:1

2.16–3.48:1

3.32–5.06:1

4.85–7.38:1

7.21–10.11:1

F/stop
1.9

2.0–2.26

2.0–2.1

2.0–2.2

2.0–2.2

1.7–2.3

1.8–2.3

1.8–2.35

1.8–2.4

1.8–2.4

1.8–2.5

Max Lumens
8,500
U03 12,000
U03S 20,000

20,000

10,500

20,000

8,500

20,000

M09 12,000
M15 20,000

20,000

20,000

20,000

Notes
ELPLX01 is discontinued.
ELPLX01S has a mounting point for the ELPEC01 external camera

ELPLU03 is discontinued.

ELPLW05 & ELPLM08 are more cost effective if within light output limits.

ELPLM09 is discontinued.
Downloads
Warranty
3-year limited warranty, Epson Road Service Program, Epson PrivateLine® dedicated toll-free support (U.S. and Canada only), and 90-day limited lamp warranty