Epson Pro L1755UNL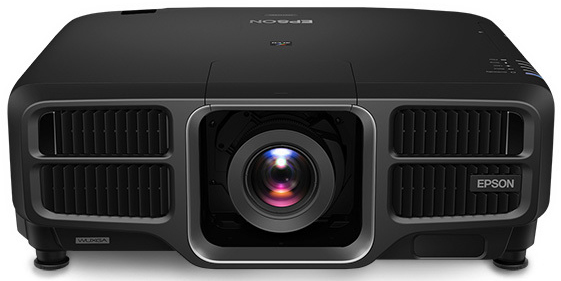 Laser/Phosphor LCD Projector, 1920x1200 WUXGA native, 4K UHD, 15,000 Lumens, H&V Lens Shift, Edge Blending, Geometry, Lens Memory, No Lens, Black, Refurbished, 3 year warranty
Item #0600-6133-U
Model #V11H892820N
Overview
Premium large-venue laser projector with 4K Enhancement

The Pro L1755UNL combines a laser light source and 3LCD technology for powerful, uncompromising images. This premium large-venue projector also features native WUXGA performance with Epson® 4K Enhancement Technology. Delivering 15,000 lumens of color/white brightness from a standard 120 V power source, the compact Pro L1755UNL offers ultra bright, vivid color, while its laser light engine and electrostatic air filter provide virtually maintenance-free operation for up to 20,000 hours. This sleek, black projector includes built-in Edge Blending and integration capabilities like 3G-SDI and HDBaseT™, plus nine optional powered lenses (sold separately).
Features
Bright, vivid color — 15,000 lumens color/white brightness
Exceptional Full HD widescreen display — native WUXGA (1920 x 1200) with 4K Enhancement for presentations, videos, digital signage and more
Solid-state laser light source — designed with inorganic components for up to 20,000 hours of virtually maintenance-free operation
Dynamic projection capabilities — advanced built-in Edge Blending, image warping and curved-surface correction technologies for a variety of applications
Powerful — remarkable brightness from a compact projector with a 120V power source
Advanced connectivity — 3G-SDI, HDBaseT, HDMI®, DVI-D, VGA, 5-BNC and Stereo Mini
Nine optional interchangeable lenses (sold separately) — with powered lens shift and lens memory
Installation flexibility — 360-degree projection and Portrait Mode for added versatility
Remote management and control tools — included software allows for web-based monitoring and control of Epson networked projectors
Image correction camera — automatically adjusts color and brightness to match other projectors in multiple-screen applications
Accessories
Optional Lenses
<!— Editable lens table in L1490U —>
Model:
ELPLX02
ELPLX02S
ELPLU03
ELPLU03S
ELPLU04
ELPLW05
ELPLW08
ELPLW06

ELPLM09
ELPLM15
Std Lens

ELPLM10
ELPLM11
ELPLL08
Price:




Add to Cart




Add to Cart




Add to Cart




Add to Cart

$11,219.00


Add to Cart

$3,348.00


Add to Cart




Add to Cart




Add to Cart




Add to Cart




Add to Cart

D:W WUXGA
1.03" chip

0.35:1

0.48–0.57:1

0.64–0.77:1

0.77–1.07:1

0.86–1.21:1

1.19–1.62:1

1.57–2.56:1

2.42–3.71:1

3.54–5.41:1

5.27–7.41:1

F/stop
1.9

2.0–2.26

2.0–2.1

2.0–2.2

2.0–2.2

1.8–2.3

1.8–2.35

1.8–2.4

1.8–2.4

1.8–2.5

Max Lumens
20,000
U03 12,000
U03S 20,000

20,000

10,500

20,000

20,000

M09 12,000
M15 20,000

20,000

20,000

20,000

Notes
ELPLX02 is discontinued.
ELPLX02S has a mounting point for the ELPEC01 external camera.

ELPLU03 is discontinued.

ELPLM09 is discontinued.
Downloads