Panasonic PT-LB332U
LCD Projector, XGA, 3300 Lumens, 5000-hr Lamp
Part #: 0600-7019 Mfr #: PTLB332U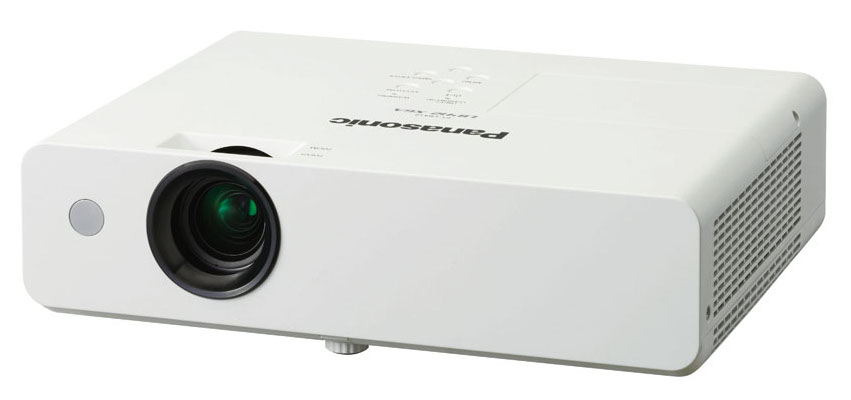 Panasonic PT-LB332U
Overview
Panasonic PT-LB332U
LCD Projector, XGA, 3300 Lumens
Bright, Easy to Use, Mobile, and Reliable for 10,000 Hours, the compact PT-LB332U projector is bright, easy to use, mobile, and reliable — ideal for educational and corporate users.
It features a long-life lamp and filter with a replacement cycle of 10,000 hours, and optional wireless projection capability.
Excellent Performance in a Compact Body
High Brightness and High Contrast in a Lightweight Body: A brightness level of 3300 lumens and contrast ratio of 12,000:1 in a compact body weighing only 6.4 lbs (2.9 kg). Clear and bright images enhance the learning and working experience.
Longer Replacement Cycle for Lamp and Air Filter: from 5,000 hours in Normal Mode to 10,000 hours in Eco 2 Mode.
Daylight View Lite Function: can be activated from the remote control for easy and comfortable viewing during presentations and lectures in a bright room.
Quiet 28 dB Design Helps to Hold Viewers' Attention: a noise level as low as 28 dB helps keep your audience's attention on the discussion or the screen's images during quiet scenes.
Ease of Installation
Curved Screen Correction: Barrel and pincushion distortions are easily corrected when projecting onto a curved screen.
1.2x Zoom Lens Allows Flexible Installation: the 1.2x zoom lens lets the projector support a wide range of projection distances.
Easy Lamp and Filter Replacement: for easier maintenance, you can replace the lamp from the top and the air filter from the side, even after the projector is installed on the ceiling.
Multiple Unit Monitoring Capability: multi-projector monitoring and control software is available for monitoring and controlling multiple Panasonic projectors from a single PC.
Variety of Useful Features
Easy Wireless Projection by Optional Module: Simply inserting the optional ET-WML100 Wireless Module into the USB port on the projector enables wireless projection from Windows PCs, iOS devices, or Android devices on which the proper freeware is installed.

Presenter Light Ver.1.0 for Windows® PCs

Pictures, videos, and any documents including PDF files/Power Point files displayed on the PC screen can be projected.
The images from up to four PCs can be projected simultaneously.

VueMagic™ Pro for iOS/Android Devices

Pictures, some documents including PDF files can be projected.
Live camera mode / Annotate mode can be used.
The images from up to four devices can be projected simultaneously.
Memory Viewer Function: Just insert a USB memory device into the projector and start projection straight away. There is no need for a PC.
USB Display Function for Easy Projection Using a USB Cable: outputs images and sounds from the computer by connecting to the USB port with a single USB cable.
Equipped with an HDMI Input Terminal and Abundant Interfaces: Supports a wide range of system architectures. Include an HDMI input terminal, two sets of computer input terminals, a monitor output terminal.
Other Useful Features
Built-in 10 W speaker
PJLink™ compatibility
Built-in closed caption decoder
Direct power off
Projector identification system for up to 6 projectors
Blackboard modes
Start up logo
Equipped with a security bar for theft prevention
Eco-friendly
Ecology conscious design
No halogenated flame retardants are used in the cabinet.
Lead-free glass is used for the lens.
Coating-free cabinet for easy recycling.
Switchable lamp mode
---
Notes:
* When lamp mode is set to Eco 2. The usage depends on environment effects.
** VueMagic™ Pro is a product of Pixelworks, Inc. For detailed information, refer to the following website. http://vuemagic.pixelworks.com
Accessories
Downloads