Panasonic PT-VZ470U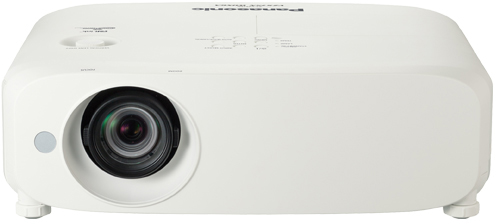 LCD Projector, 1920x1200 WUXGA, 4400 Lumens, V Lens Shift, D:W 1.09-1.77:1, 3 Year Warranty
Item #0600-7081
Model #PTVZ470U
Overview
The PT-VZ470U offers a blend of high image quality, low Total Cost of Ownership, flexible installation, and collaborative functionality.
The projector offers a maintenance-free operational life of 7,000 hours when set to eco mode, significantly reducing the Total Cost of Ownership for businesses and educational institutions.
The PT-VZ470U allows both portable and ceiling-mounting, while Vertical Lens Shift and Screen Adjustment functionality means easy adjustment of images projected onto flat or curved surfaces, as well as angled projection.
Features
Superb Performance and High Picture Quality
Featuring WUXGA resolution, ideal for lectures and presentations requiring highly detailed images
A brightness level of 4400 lumens, and contrast ratio of 5,000:1 in a compact body
A maximum 7,000-hour lamp/filter replacement cycle reduces the hassle and cost of maintenance
Quiet 29-dB design helps to hold viewers' attention
The Daylight View Basic function ensures clear images even in brightly lit rooms
Excellent Funitions and Flexible Installation
DIGITAL LINK transmits digital signals up to 100 m (328 ft) with a single cable
The vertical lens shift and a 1.6x zoom lens enable flexible installation
Horizontal, Vertical, and Corner Keystone Correction enables angled projection
Curved Screen Correction for projecting onto a curved screen
Equipped with two HDMI input terminals and abundant interfaces
Multi Projector Monitoring and Control Software is available for monitoring and controlling multiple Panasonic projectors from a single PC
Compatible with leading control systems, such as Crestron Connected™ application and the AMX control system
Other useful features including a built-in 10 W speaker, a built-in closed caption decoder, Blackboard modes, etc.
Accessories
Downloads
Warranty
3 years or 2000 hours (whichever comes first) projector warranty; 90 days lamp