Panasonic PT-RZ21KU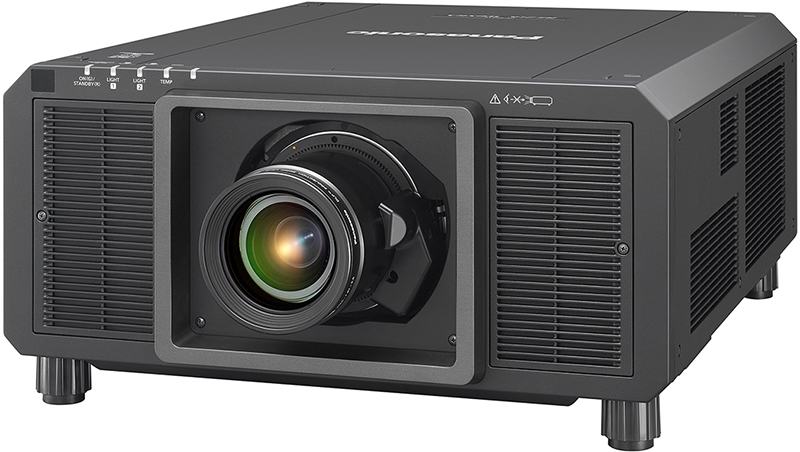 3-DLP Laser Phosphor Projector, 1920x1200 WUXGA, 21,000 Lumens, No Lens, 3 year warranty
Item #0600-7092
Model #PTRZ21KU
Overview
Panasonic's groundbreaking PT-RZ21K Series 3-Chip DLP™ SOLID SHINE Laser projector combines flagship picture quality produced by the PT-DZ21K/DZ21K2 Series projector—current leader in multi-screen events staging—with the compact size and incredible durability of our mid-range PT-RZ970 Series laser projector. The PT-RZ21K Series is the world's first 20,000 lm laser projector to feature a filterless cooling system and fully sealed optics, delivering unassailable reliability in dusty conditions. Handling is effortless with just two technicians. With 20,000-hour maintenance-free operation and software for expedited multi-screen mapping calibration, the rugged yet lightweight PT-RZ21K Series delivers class-beating color reproduction with dramatically reduced running costs, making it the new first choice for event professionals.
Accessories
Optional Lenses
<!— Editable version of lens tables is on PT-RZ34KU page —>
D75 Series
D3 Series
This series supports lens memory when used with a projector that also supports this feature. Lens identification is also supported, so that the projector can read the model lens that is installed on it.
* Fish-eye lens
Discontinued Lenses
Model
ET-D75LE90
ET-D75LE5
ET-D75LE50
ET-D75LE1
ET-D75LE2
ET-D75LE3
ET-D75LE4
D:W WUXGA
0.36:1
0.69:1
1.4

–

1.8:1
1.8

– 2.7

:1
2.8

– 4.6

:1

4.63 – 7.38:1

f/stop:
2.5
2.5
2.5
2.5
2.5
2.5
Downloads
Warranty
3 Years Parts & Labor; 10,000 Hours on Illumination Parts