Panasonic PT-LRW35U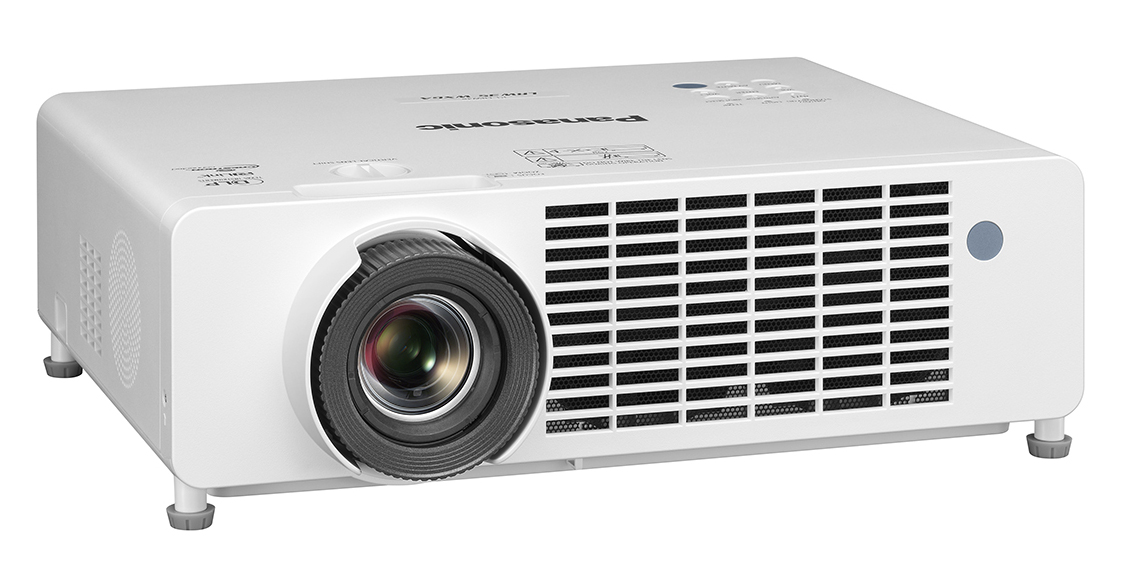 LED DLP Projector WXGA, 3500 Lumens, 1.28-1.67:1, Vertical Lens Shift
Item #0600-7171
Model #PTLRW35U
Overview
Panasonic PT-LRW35U
RGB LED 1-Chip DLP
™ projector
Panasonic's first pure LED projector offers vibrant, engaging color in meeting, learning and collaborative spaces. This 3,500 lumens compact RGB LED projector is designed for intensive usage and long lasting brightness.
Key Features:
1-Chip DLP, 3.500 Lumens, WXGA, RBG LED
RGB LED light engine employs discrete LEDs for widest color gammut
Maintenance free up to 20,000 hours
Contrast 30,000:1 (Full On/Full Off)

Handy 1.3 x zoom lens with Vertical Lens Shift

supports flexible projector placement
Optional software: Multi Monitoring & Control Software, Early Warning Software
Features
Brilliantly Vivid Colors Resist Breakup
Panasonic RGB LED Light Engine: New light-engine employs discrete LEDs for each R/G/B channel, eliminating need of color and phosphor wheels. Unlock deep, wide-gamut saturation with superior white-balance accuracy, contrast, and gradation with virtually no color breakup. Visibility remains outstanding even in ambient light. Natural color expression heightens realism especially with 3D content.
Wheel-less Design Eliminates Rainbow Effect: As well as increasing color-depth, the wheel-less design avoids rainbow effect caused by color-wheel timing with the use of high-speed LED switching. By omitting the color-wheel normally required for 1-Chip DLP™ projection, viewers can enjoy the superior color, contrast, and resolution that defines DLP™ imaging technology without distracting artifacts.
Flexible Installation and Connectivity for Teams
CEC-ready HDMI® Inputs: enable one-touch projector start-up and playback on command from the source component's remote control.

USB-DC Outlet: powers a streaming device* so team members can share their content to the big screen wirelessly from PC or mobile. (* Sold separately. Compatibility with third-party devices cannot be guaranteed.)

Ready for 3D Video with DLP®-Link™ Technology: provides an immersive 3D experience when combined with compatible active-shutter glasses and 3D content via HDMI, such as 3D Blu-ray™ video. A variety of image formats are supported, including frame-sequential, frame-packing, side-by-side, and top-and-bottom.

1.3x Zoom Lens with Lens Shift: expands the range of available throw distances to achieve your desired image size for flexible projector installation. Vertical Lens Shift (up to +50 %, +40 %) positions the image at an ideal height when optimal projector location isn't possible, while Vertical Corner Keystone (±30 %) corrects distortion from angled projection.

Fits Your Existing Control Infrastructure: The PT-LRW35U has a 10Base-T- and 100Base-T-compliant LAN terminal for control via network using our free Multi Monitoring & Control Software or your choice of third-party control solution, including PJ Link™ (Class 2), Crestron® Connected, and AMX. An RS-232C serial terminal is also included for control-signal transmission.

Lightweight Mobility and Effortless Installation: Weighing 6.7 kg (14.8 lbs), the PT-LRW35U can be carried from room to room and conveniently installed on the ceiling thanks to its low body mass, freeing up desk space for laptops and notebooks.

360° Front and Side Rotation for Exhibitions: LED RGB light engine supports safe installation at any angle through 360° in front or side rotation, opening high-color opportunities for retail signage, video-walls, and for projection in building lobbies, at tourist attractions, in museums, or anywhere strong color performance is a priority.
Excellent Reliability and Long Life
Extremely Reliable with Lasting Picture Quality: With no color or phosphor wheels, the PT-LRW35U has fewer moving parts to wear out than a typical projector, adding to the design's fantastic reliability. This significantly reduces TCO with fewer callouts and a smooth, professional presentation every time. You can depend on 20,000 hours of maintenance-free projection at full brightness.
Efficient Filterless Cooling with Heat Sinks: Each LED unit has a discrete heat sink to pull heat from the light source. Thanks to high-efficiency airflow and hermetically sealed DMD block, a consumable air filter is not required, and there are no lamps to replace. This saves administrators on spare part inventories, callouts, and maintenance over years of projection.
Dustproof DMD Block Helps Maintain Image Quality: Hermetically sealed optical block maintains picture quality in even the dustiest environments, particularly high-traffic areas such as schools and offices.
Silent Operation Keeps Your People Focused: These wheel-less projectors are essentially inaudible when operated in Quiet Mode, generating just 24 dB* of sound. This minimizes distraction and keeps your audience alert even if the lights are dimmed. (* Projection noise is 27 dB in ECO Mode and 35 dB in NORMAL Mode.)
No Wasted Time with Quick On/Quick Off: RGB LED light engine supports instant image display when the projector is switched on and fast shutdown when switched off. Start your presentation immediately—no gradual picture fade-in as with lamp projectors, and no waiting for the unit to cool down when it's time to leave. You can switch these projectors on and off whenever desired without risk of damage.
Additional Features
Built-in 10 W speaker, mic input, and variable audio output
Supports Closed Captions (CC) for broadcast content
Fade In/Fade Out Function and mechanical shutter
D-sub RGB inputs for PC, RCA video inputs, and monitor out
Adjustable feet and optional mounts/brackets for high/low ceilings
Specifications
Projector type
1-Chip DLP™ projector
DLP™ chip
Panel size

16.5 mm (0.65 in) diagonal, 16:10 aspect ratio

Display method
DLP™ chip x 1, DLP™ projection system
Number of pixels

1,024,000 (1280 x 800) pixels

Light source
Light Emitting Diode
Light output*1
3,500 lm
Time until light output declines to 50 %*2
20,000 hours
Resolution

1280 x 800 pixels

Contrast ratio*1
30,000:1 (When [Light power] is set to [Normal] and [Picture Mode] is set to [Dynamic])
Screen size [diagonal]
1.02–7.62 m (40–300 in), 16:10 aspect ratio
Center-to-corner zone ratio*1
90 %
Lens

1.3x manual zoom (throw ratio: 1.35–1.77:1)

Lens shift
(From the origin point of the lens mounter)

Vertical: +52 %, +42 %

Keystone correction range
Vertical: ±30 °
Installation
Ceiling/floor, front/rear, 2-axis 360-degree installation
Terminals
HDMI IN 1/
HDMI IN 2
HDMI 19-pin x 2 (HDCP and Deep Color compatible), CEC supported
COMPUTER 1 IN
D-sub 15-pin (female) x 1 (RGB/YPBPR/YCBCR)
COMPUTER 2 IN
D-sub 15-pin (female) x 1 (RGB/YPBPR/YCBCR)
COMPUTER OUT
D-sub 15-pin (female) x 1 (RGB/YPBPR/YCBCR)
VIDEO IN
Pin jack x 1
AUDIO 1 IN/
AUDIO 2 IN
M3 stereo mini-jack x 2
VARIABLE AUDIO OUT
M3 stereo mini-jack x 1
SERIAL IN
D-sub 9-pin (female) x 1 for external control (RS-232C compliant)
LAN
RJ-45 x 1 for network control, 10Base-T, 100Base-T, compatible with PJ Link™ (Class 1)
Micro USB
x 1 (for service use)
DC OUT
USB Connector (Type A) x 1 (for power supply, DC 5 V/2 A)
Power supply
AC 100–240 V, 50/60 Hz
Power consumption
NORMAL: 420 W, ECO: 255 W, QUIET: 196 W
Built-in speaker
10 W monaural
Cabinet materials
Molded plastic
Operation noise*1
NORMAL: 35 dB, ECO: 27 dB, QUIET: 24 dB
Dimensions (W × H × D)
375 x 124*3

x 314 mm (14 3/4" x 4 7/8"*3

x 12 3/8" ) (including protruding parts)
Weight*4
Approx. 6.7 kg (14.8 lbs)
Operating environment
Operating temperature: 0–40 °C (32–104 °F)*5; Operating humidity: 20–80 % (no condensation)
Applicable software
Multi Monitoring & Control Software, Early Warning Software
Notes:
*1 Measurement, measuring conditions, and method of notation all comply with ISO/IEC 21118: 2020 international standards. Value is average of all products when shipped.
*2 Around this time, light output will have decreased by approximately 50 %. IEC62087: 2008 Broadcast contents, Normal Mode, Dynamic Mode under conditions with 30 °C (86 °F), 1,400 m above sea level, and 0.15mg/m3 of particulate matter. Estimated time until light output declines to 50 % varies depending on environment.
*3 With legs at shortest position.
*4 Average value. May differ depending on the actual unit.
*5 Note that the projector cannot be used at altitudes exceeding 4,200 m (13,780 ft) above sea level. 4,200 m (13,780 ft) above sea level is the maximum elevation at which performance can be guaranteed. In the following operating environments, light output may be reduced to protect the projector: when the projector is used at altitudes below 1,400 m (4,593 ft) and ambient temperature exceeds 40 °C (104 °F); when the projector is used at altitudes between 1,400 m (4,593 ft) and 2,700 m (8,858 ft) exclusive and ambient temperature exceeds 35 °C (95 °F); and when the projector is used at altitudes between 2,700 m (8,858 ft) and 4,200 m (13,780 ft) exclusive and ambient temperature exceeds 30 °C (86 °F).
Downloads