Panasonic PSTA-2955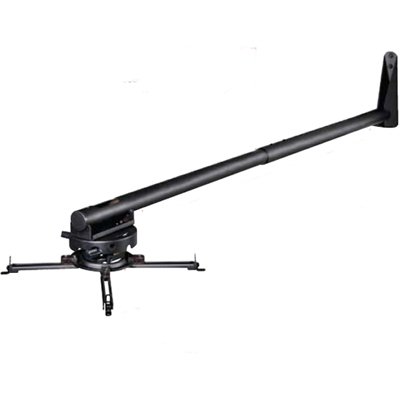 Universal Wall Mount, Includes PRGS-UNV Projector Mount, 37"-61" Telescoping Wall Arm, 35 Lbs Capacity, Black, Open Box, Unused
Item #0600-9003-UB
Model #PSTA2955
Features
The PSTA-2955 Short Throw Projector Mounts provide installation flexibility for single stud or double stud applications. The universal telescoping arm is easily adjustable to accommodate various short throw projector distance requirementsComplementary to the universal design of the short throw projector arm, this comprehensive package comes with Peerless-AV's Universal Precision Gear Projector Mount that makes image alignment as simple as a turn of a knob. To tie it all together, the internal cable management system provides a clean clutter-free solution.
Telescoping arm design provides a large range of mounting options with convenient lockdown slots at every point
Access slots allow for internal cable management
Pre-installed security screws lock down short throw arm and prevent tampering
Includes PRGS-UNV Projector Mount with precision gear alignment and adjustment knobs to control tilt and roll alignment
Specifications: Pitch: +15º/-20º Roll: ±5° Swivel: ±15° (during installation)
Open Box, Unused
Compatibility
To check whether this item is compatible with your equipment, use the form below.