Panasonic TY-WPS1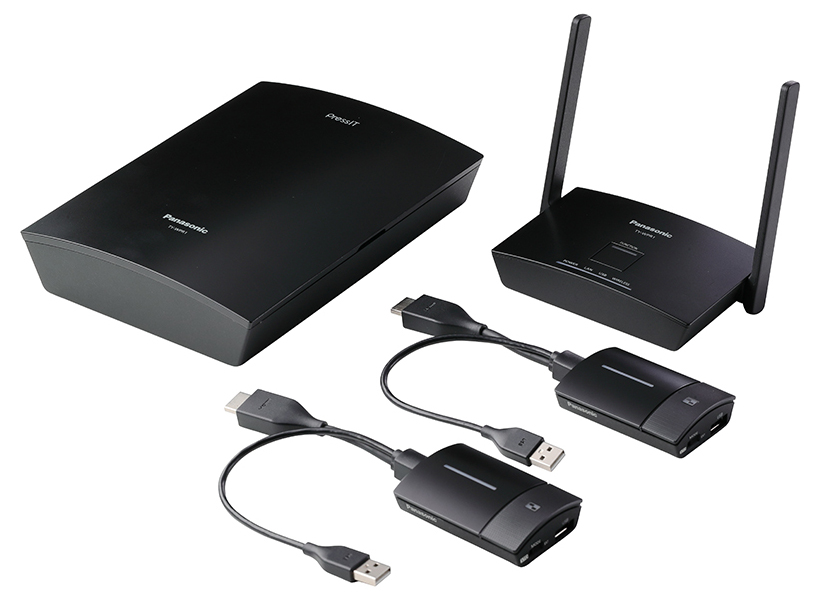 PressIT Wireless Presentation System
Item #0601-0250
Model #TYWPS1
Overview
Panasonic TY-WPS1
Wireless Presentation System PressIT
PressIT is a Wireless Presentation System that allows easy screen collaboration with the simple press of a button.
No need to install special software or driver. It's easy to use, with convenient and secure features, and supports various communication scenarios.
Increase work efficiency by eliminating troublesome setups and cable clutter.
The TY-WPS1 kit includes one receiver (box), two transmitters (HDMI/USB), and one transmitter case.
Features
Easy Setup: No need for software, driver installation, or network connection. Simply connect a receiver to your display or projector, c

onnect a transmitter to

each participant's device (PC, smartphone, tablet, etc.), then push the button on a transmitter to share the screen. You can c

hange presenter with the press of a button.
Easy Operation with Multi Mode or Lock Mode: Multi Mode lets you presents up to 4 screens in Full HD (supports 4K) to compare and share ideas in discussions and meetings.
Connects up to 32 transmitters at once:

for classrooms, seminars, and group collaborations
Connects to mobile devices (iOS/iPadOS, Android device): Easy screen sharing with a dedicated app
Easy Pairing of Receiver and Transmitter: either through direct USB connection, or through a USB memory stick
Compact Design for Smart Installation: Install TY-WPS1 on video display equipment that's wall or ceiling-mounted.
HDMI-CEC control commands compatible: L

inked operation between PressIT and the display/projector provides ability to power the display ON/OFF and to change input signal automatically through the PressIT receiver and transmitter.
5V/2A USB power supply compatible:

A stylish layout is achieved by securing power from a display or projector that supports 5V/2A USB power supply.
High quality images:

Delay and rattle-less images with Full HD/60 fps provide effective and

stress-free presentations.
Safe and secure standards:

WPA2 standard compliant (encrypted data transmission) and

802.11ac 5 GHz (Max. 433 Mbps) compliant for wireless transmission
Transmitter with antibacterial surface treatment and built-in magnet:

A magnet is attached to the back of the transmitter for easy management.
Specifications
Product
Receiver (Box)
Transmitter (HDMI/USB)
Max. resolution/ Frame rate
1920 x 1080/60p (max.),
3840 x 2160/30p (max.)
1920 x 1080/60p (max.)
Number of simultaneous connections
32
—
Number of sources simultaneous on screen
4

—

Data Rate
Wired
10/100/1000 (Mbps)

—

Wireless
867 Mbps (max.)
433 Mbps (max.)
Frequency band
5 GHz band
5,150 MHz – 5,250 MHz
36 40 44 48 Channel
Wireless Communication Standard
IEEE802.11/a/n/ac
IEEE802.11ac
Security
WPA/WPA2
Reachable distance
(Max distance between transmitter and receiver)
30 m (When the line of sight/wave conditions are good)
Connection terminal
HDMI/USB-A (female)/RJ45 (LAN)
HDMI / USB-A (female) / USB-A (male)
Power
DC 5 V/2 A
DC 5 V/0.9 A
Power consumption
(During image display)
10 W
4.5 W
Environment
Operating
Temperature: 0 °C to 35 °C (32 °F to 95 °F) / Humidity: 20% to 80% (No condensation)
Temperature: 0 °C to 35 °C (32 °F to 95 °F) / Humidity: 20% to 80% (No condensation)
Storage
Temperature: -20 °C to 60 °C (-4 °F to 140 °F) / Humidity: 20% to 80% (No condensation)
Dimensions (W x H x D)
4.71" x 1.03" x 3.19" (120 x 26 x 81 mm) excluding antenna
2.0" x 0.8" x 2.86" (51 x 21 x 73 mm) excluding cable
Weight
Approx. 0.4 lb / 181 g
Approx. 0.3 lb / 110 g /
Video Tutorials
1. How to setup PressIT
2. How to connect PressIT
3. How to use PressIT
Downloads
Compatibility
To check whether this item is compatible with your equipment, use the form below.