Epson ELPAP11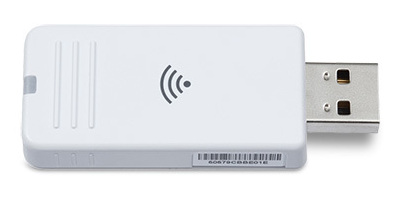 Wireless 802.11 b/g/n LAN Module
Item #0601-0393
Model #V12H005A02
Features
Epson ELPAP11
Wireless LAN Adapter
This high-speed, wireless network adapter plugs directly into select Epson projectors allowing quick and easy access to the LAN or peer-to-peer networks without wires or cables. When used with Epson Projector Management or iProjection software, users can remotely access and control projectors over the wireless LAN.
Aligned with 802.11 b/g/n standards
Uses USB type A connector
Compatible with PC or Mac
Able to transmit audio
Please check the Compatibility tab to determine if this accessory will work with your projector.
(Model: V12H005A02)
Compatibility
To check whether this item is compatible with your equipment, use the form below.