Epson V12H483001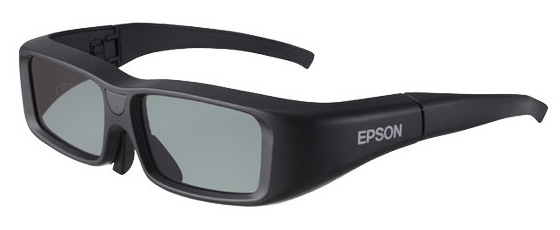 Active Shutter 3D Glasses
Item #0601-0424
Model #V12H483001
Features
Epson V12H483001
Active Shutter 3D Glasses for Home Theatre 3D projectors
Enjoy 3D entertainment like never before with an EPSON 3D projector and EPSON Active Shutter 3D Glasses. Stylish and lightweight, with remarkable coverage, these 3D glasses enable you to experience home entertainment in a whole new way. Fully adjustable, they offer both comfort and convenience, and even fit over most eyeglasses.
Please check the Compatibility tab to determine if this accessory will work with your projector.
Key Features:
Crystal-clear 3D entertainment: enables easy viewing of 3D movies and games
Easily adjustable: offers the ideal fit for anyone; fits over most eyeglasses
Seamless performance: M-3Di compatible
Replaceable battery: uses a standard CR2032 Lithium battery that lasts up to 80 hours
Specifications
Product Color
Black
Lens Size
2.52" x 1.41" (W x H)
3D Technology
Active Shutter Glasses
Lens Type
LCD
Auto Shutoff
Yes
Sync Method
Infrared (IR)
Refresh
BD3D > 24 Hz, NTSC > 60 Hz, PAL < 50 Hz
Refresh Rate

240 Hz, 480 Hz

Battery Life¹
Low gain: 80 hours
High gain: 65 hours
Battery Type
CR2032 Lithium, 220 mAh
Temperature
Operating: 0 ºF to 113 ºF (0 ºC to 45 ºC)
Storage: 50 ºF to 140 ºF (10 ºC to 60 ºC)
Product in Package
3.30" x 8.80" x 3.0" (W x D x H)
Weight
3.0 lb
Eco Features

RoHS compliant
Recyclable product²
Epson America, Inc. is a SmartWaySM Transport Partner³
Warranty
One-year limited warranty in the U.S. and Canada
What's in the Box
Epson 3D technology Active Shutter Glasses
Installed lithium battery (CR2032)
Cleaning cloth
Soft storage case
User's guide
---
Notes
¹ Battery life estimates vary with signal strength.
² See our website for convenient and reasonable recycling options at www.epson.com/recycle
³ SmartWay is an innovative partnership of the U.S. Environmental Protection Agency that reduces greenhouse gases and other air pollutants and improves fuel efficiency
Downloads
Compatibility
To check whether this item is compatible with your equipment, use the form below.