Epson PowerLite Pro G5550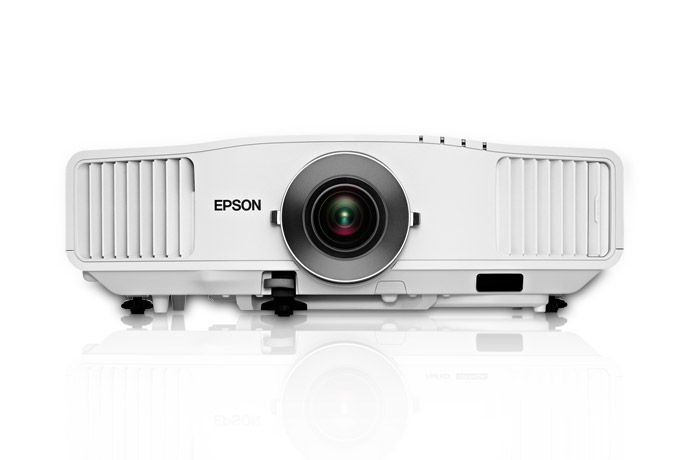 Epson G5550 LCD Proj, XGA, 4500 Lumens, Std Lens, Refurbished, 3 Year Factory Warranty
Item #0601-0493-U
Model #V11H321020N
Overview
Epson PowerLite Pro G5550
The Epson PowerLite Pro G5550 offers the ultimate projection solution for any auditorium or boardroom, even in ambient light. It ensures amazing image quality with 4500 lumens of color brightness (color light output)1, 4500 lumens of white brightness (white light output)1, XGA resolution and C2Fine™ technology. Engineered to integrate with both IP and RS-232, the G5550 works with industry-leading devices, allows easy remote monitoring and control functions using Epson's Easy Management® software and is also compatible with Crestron's RoomView. The G5550 features DICOM simulation mode for medical training applications, a 7 W speaker and a closed captioning decoder as well.
Features
3x Brighter Colors and reliable performance — 3LCD, 3-chip technology
Incredible detail — crystal-clear images with XGA resolution and C2Fine technology
Complete networkability — wired and wireless (optional) Crestron RoomView compatible network connection, content over IP and message broadcasting
Enhanced connectivity — HDMI, VGA and multiple video / audio inputs
Multi-screen options — project two side-by-side images from different inputs or up to four images from network users
Five lens options — interchangeable bayonet lens options, including short-throw, long-throw and rear-projection; plus horizontal/vertical lens shift for flexible setup configurations. The Pro G5550 includes a 1.8x standard zoom lens.
Accessories
| | | | | | |
| --- | --- | --- | --- | --- | --- |
| | | | | | |
| Model: | ELPLR03 | ELPLS05 | ELPLM04 | ELPLM05 | ELPLL06 |
| D:W | 0.78:1 | 1.3-2.4:1 | 2.4-3.6:1 | 3.18-5.03:1 | 5.3-7.2:1 |
| f/stop: | 2.03 | 1.64-2.5 | 1.83-2.53 | 1.83-2.53 | 1.83-2.32 |
Downloads