ProjectionDesign F80 WUXGA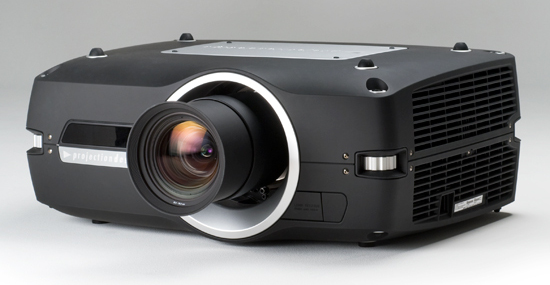 ProjectionDesign F80 3-DLP Projector, WUXGA, 8500 Lumens, No Lens, 3-year warranty
Item #0601-0700
Model #101160108
Overview
ProjectionDesign F80
WUXGA Large Venue Projector
This lamp-based projector is capable of displaying 8,500 Lumens at its brightest setting with a native resolution of 1920x1200. The internal DLP technology touts higher contrast, less visible pixels and more portability.
The 3-Chip DLP® F80 projector was designed for high performance large-screen imaging in auditoriums, staging, and other applications that require the ultimate in detail and reliability. With a wealth of options for accurately adjusting color, it can be tailored to a wide range of demanding applications as well as 24/7 operation.
The unique projector lens can be shifted to allow greater flexibility in positioning the projector relative to the screen. Lens memory is standard. This model comes without a lens, but compatible optional lenses are listed on the Accessories tab.
Key Features:
8500 Lumens

1920 x 1200 Native Resolution

3-Chip DLP® Technology

15,000:1 Contrast Ratio

5-BNC, VGA, DVI-D, HDMI 1.3 Connections, and more

23.78" x 9.84" x 19.88" (WxHxD); 52.91 lb

1-Year Warranty



Features
High Resolution 3-Chip DLP: With a wealth of brightness from the 3-chip engine's high efficiency, and many options for accurately adjusting color and brightness performance, the F80 can be tailored to suit a wide range of applications, focusing on large screen video-centric displays and events. With a widely recognized and proven reliability record, and high brightness and contrast, all while displaying utterly natural colors, it is the obvious choice for heavy duty applications, or applications that run continuously, or are mission critical. Independent testing has proven DLP technology to be the most reliable of all microdisplays — not degrading when subjected to UV light, inherent in all projectors. Unlike competing technologies, showing severe image quality degradation after only a few thousand hours, DLP technology remains constant over hundreds of thousands of hours.
Precision Projection Lens Optics:

The F80 features a wide range of custom-made, precision-ground projection lenses for the best quality images, and most secure and reliable setup. Key features include infinitely adjustable IRIS and aperture settings, and motorized zoom, focus and shift with memory for use in multiple settings with programmed calibration. Most importantly, every single lens uses Low Dispersion (LD) and aspherical glass elements for high quality focusing and sharpness, as well as high optical interfield contrast, resulting in very high perceived image quality. The range of lenses spans from an an ultra wide angle 0.74:1 to a super tele zoom ending at 6.24:1. (See Accessories tab.)
Advanced Color Optical Processing:

By combining fixed and motorized optical filters for each color channel, the projector can be optically calibrated with near infinite accuracy. With the flick of a switch, you can change the projected color gamut from standard computer graphics optimized, to either REC709 (High Definition programming) or a P3 color gamut that comply with strict DCI color specifications. All this without any loss of bit depth, as the compensation is purely optical, and not electronic.
RealColor Color Calibration:

Each F80 projector is uniquely characterized and calibrated during its manufacture. Unique optical performance values are recorded and matched to the electronics processing in order to secure perfect on-site calibration. With RealColor, it is possible to match any number of projectors, and ensure they all project the same primaries and gray scale, without going through a very complicated process.
Low Total Cost of Ownership:

Thanks to its complex and robust build and construction, the F80 requires very little maintenance and in-life servicing. There are no user-serviceable parts inside, and it does not have any filters or other parts that need periodical replacement. That means it does not require a costly and high-frequency maintenance contract. Compared to similarly performing Xenon high power lamps, lamp replacement cost is low, and typical lamp life is long.
Designed for Full 24/7 Operation:

All ProjectionDesign professional projectors are designed for continuous operation, which requires a lot of attention to detail. Some technologies are better than others when it comes to withstanding the abuse of time. We use only components that have predictable behaviors, such as fans, color wheel motors, and electronic components that are designed by their respective manufacturers to do the same — withstand time. There are no off-the-shelf components. We closely monitor every detail, apply dedicated thermal management, and use specific materials in all parts of the process.
Accessories
Optional Lenses
Model
EN22
EN23
EN21
Std Lens
EN24
EN26

$3,500.00




Add to Cart

$4,131.00




Add to Cart

$1,800.00




Add to Cart

$3,500.00




Add to Cart

$3,500.00




Add to Cart

D:W WUXGA

0.74:1
1.20

– 1.70

:1
1.70

– 2.55

:1
2.50

–

4.00:1
3.90

– 6.24

:1
f/stop
2.5
2.5 – 2.86
2.6 – 2.81
2.6 – 3.13
2.6 – 3.4
Notes
No zoom Motorized focus

Motorized zoom and focus

Motorized zoom and focus

Motorized zoom and focus

Motorized zoom and focus
Other Accessories
Downloads