Barco F85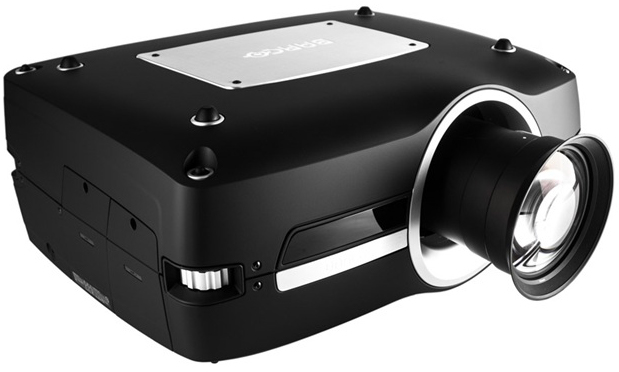 3-DLP Projector, 1920x1200 WUXGA 11,000 Lumens, No Lens, 3 year warranty
Item #0601-0738
Model #F85
Features
The F85 is a compact 3-chip DLP projector that is suitable for 24/7 operation in both rental and fixed installations. Thanks to its active or passive 3D up to 120 Hz, the F85 is equally perfect for simulation applications for oil and gas, automotive prototyping and scientific research. What's more, it provides a low total cost of ownership.
High-class performance and image quality
The F85 pairs high-class performance with ultimate reliability in a compact form factor. It is available with a large range of lenses that cover different focal distances for true flexibility. Featuring high brightness levels, optical color filtering for accurate colors, 3D stereo and configurable X-PORT™ I/O and image processing, unequaled image quality is guaranteed at all times. To tailor your F85 to your specific application, you can choose from WUXGA and 1080p resolution, as well as a special projector type that can optically switch between REC709 and DCI P7 color spaces.
Features
3-chip DLP® Technology
Active 3D stereo at up to 120 Hz
Up to 11,000 lumens
X-PORT™ module connectivity
Designed for 24/7 operation
WUXGA or 1080p resolution
Dual 400W UHP™ lamps
Advanced Color Optical Processing (ACOP)
RealColor™ color management
Up to five years warranty
Wide range of Ultra High Quality projection lenses
Specifications
Specifications
Concept
Three-chip, powered lens shift system with user adjustable optical colour processing filters.
3D capability
Active Stereo
Resolution
1080p (1,920 x 1,080), WUXGA (1,920 x 1,200)
Brightness
Up to 11,000 lumens (user-configurable through lamp power and voice coil operated IRIS adjustment)
Contrast
Up to 15,000 : 1 (Fixed user-adjustable through voice coil operated IRIS F2-6 - 7.0 or user activated adapative dynamic IRIS feature)
Technology
Three-chip DLP® projector with APOC optical color processing and user-selectable optical color space (sRGB, REC709 or optionally DCI). Individual color filters are available for R, G, and B channels for optimum color accuracy and full flexibility.
Aspect ratio
16:9 (1080p), 16:10 (WUXGA)
Display colors
30-bit RGB
Latency
~19 ms
Computer graphics formats
2,560 x 1,600 - 640 x 480 pixel resolution / RGBHV, RGBS, RGsB / custom formats available
Horizontal scan frequencies
10 - 150kHz
Vertical scan frequencies
48 – 190 HZ (resolution dependant)
Video formats
EDTV (576p, 480p), SDTV (576i, 480i), HDTV (1080p, 1080i, 720p), NTSC, PAL, SECAM
Lens operation
Motorized zoom, focus, shift, iris and mechanical shutter
Lenses

Standard projection lens EN21
Ultra Wide Angle lens EN22 lens
Wide Angle Zoom EN23 lens
Short Tele Zoom EN24 lens
Long Tele Zoom EN26 lens

Image width
2 - 10 m
Light source
400W UHP replacement lamp 1 / 400W UHP replacement lamp 2
Lamp lifetime
Up to 1,500 hours (full power) / Up to 2,000 hours (eco mode)
Computer inputs
2 x DVI-D, 2 x HDMI 1.3a, 2 x VGA, 1 x 5-BNC
Video Input
1 x HDMI 1.3a, 1 x YPbPr, 1 x S-video, 1 x Composite
Control possibilities
1 x RJ-45 TCP/IP, 1 x 9-pin D-SUB RS232, 1 x USB, 2 x 12V programmable trigger (3.5mm mini jack)
Dimensions
604 x 250 x 462 mm (WxHxD)
Weight
24.1 kg
Shipping Dimensions
820 x 420 x 720 mm (WxHxD)
Shipping Weight from Factory
32 kg
Power requirements
100-240 V / 207 - 264 VAC, 50-60 Hz / Max 1,080 W / 4.7 A @ 230 V, 4.7 A @ 240 V, 11.3A @ 100V
Conformances
CE, FCC Class A, UL and cUL
Operating temperature
10 - 40 °C
Storage temperature
-20 - 60 °C
Altitude
Up to 3,000 m
Color
Soft touch rubber matte black
Warranty
3 years, 500 hours or 90 days on lamp (whichever comes first). Up to 5 years total warranty available. Conditions apply.
MTBF
24,184 hours
BTU per hour
<3,520
Options
Lenses
Long tele zoom EN26
R9801250
Short tele zoom EN24
R9801210
Standard zoom EN21
R9801215
Ultra wide angle fixed EN22
R9801219
Wide angle zoom EN23
R9801229
Ultra wide angle zoom EN29
R9801294
Lamps
400W Replacement lamp number 2
R9801277
400W replacement lamp number 1
R9801276
Processor
WB1920 Image Processor
R9801223
WB2560 Image Processor
R9801224
Accessories
Projector Toolset
R9850559
Modules
X-PORT 3G-SDI
R9801231
X-PORT™ DCC 120 (Dual Channel Combiner, 3D)
R9801232
Downloads