Barco MSWU-81E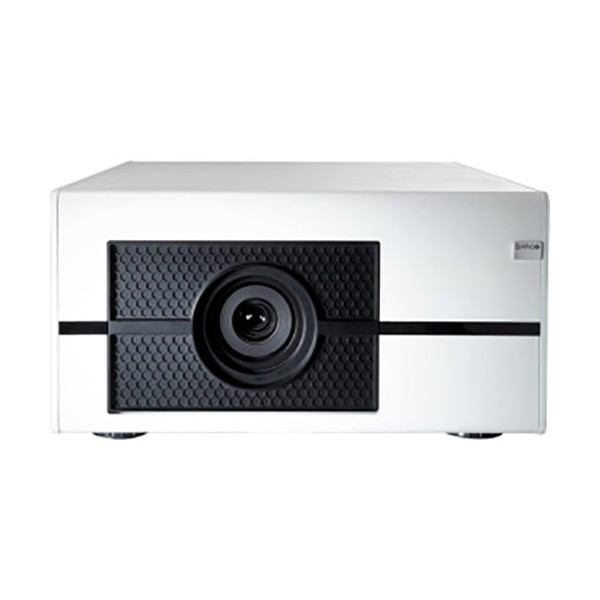 3-DLP Projector, 1920x1200, 8300 Lumens, B-Stock, 3 Year Warranty
Item #0601-1212-UA
Model #R9005939
Features
Barco MSWU-81E

Thanks to its three-chip DLP technology, this projector generates crisp images that are rich in contrast and have perfect color saturation and stability. As it makes no compromises on color and brightness, it delivers the ultimate in high-quality, large-screen projection for your enterprise. What's more, thanks to its ingenious design, the white projector blends in perfectly with the environment for easy integration into modern workplaces.
Unparalleled ease of use
Via the user-friendly control menu, you have immediate access to the most common features, and the intuitive remote control makes it a breeze to operate this button-free projector. It is also simple to set up and comes with a wide range of interchangeable lenses for flexible installation.
Unmatched image quality at a low cost of ownership
Powered by three-chip DLP technology, this projector ensures excellent images with stunning colors, making it the perfect fit for applications in which large screen projection with crisp colors is key. Thanks to its DLP technology and sealed optics it guarantees impeccable images while minimizing the total cost of ownership.
Excellence well into the future
Connectivity and collaboration technology are rapidly evolving, and we've kept this in mind while designing this projector. That's why it can easily be extended with new features in the future.
Specifications
TECHNICAL SPECIFICATIONS
Projector type

WUXGA three-chip DLP projector

Technology

0.67" DMD x 3

Resolution

1,920 x 1,200 WUXGA

Brightness

8,300 ANSI lumens*




5,800 ANSI lumens (eco-mode)*


*Measurement, measuring conditions, and method of notation
all comply with ISO 21118 international standards.

Contrast ratio

1,800:1

Lens type

RLD lens

Lenses

0.77:1; 1.16:1; 1.45-1.74:1; 1.74-2.17:1; 2.17-2.9:1; 2.9-4.34:1; 4.34-6.76:1

Optical lens shift

Vertical: -100% to +100% / horizontal: -30% to +30%

Lamps

350W x 2 NSH

Inputs

5 BNC, VGA, HDMI-1, HDMI-2

Input resolutions

up to WUXGA (1,920 x 1,200) 60Hz

Power requirements

100-240V / 50-60Hz

Dimensions (WxLxH)

670 x 530 x 265mm

Weight

32.5 kg
For more specifications and infromations for the Barco MSWU-81E projector go to the Downloads tab.
Downloads