Sony VPL-FHZ55W
LCD Projector, Laser Light Source, 1920x1200, 4000 Lumens, H&V lens Shift, White Case, 5 year or 12,000 Hr. warranty
Part #: 0601-1573 Mfr #: VPLFHZ55W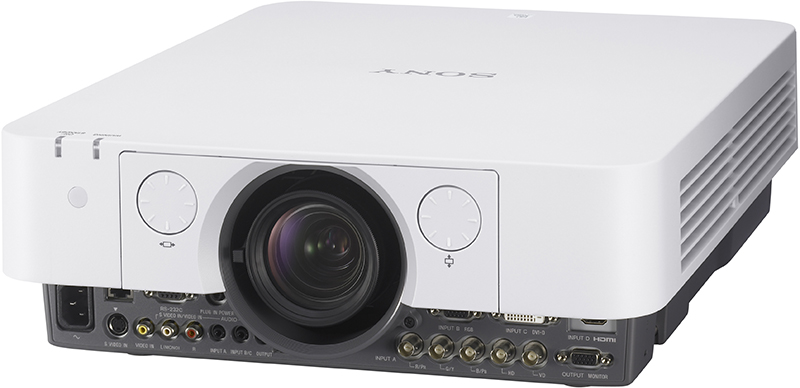 Sony VPL-FHZ55W
Features
The VPL-FHZ55 is Sony's first lamp-less projector using 3LCD imaging technology to achieve 4,000 lumens of color light output at WUXGA resolution (1920 x 1200). It delivers a range of capabilities which eliminates many of the issues associated with conventional lamp-based projection. The projector packs all the benefits of Vivid color 3LCD, long life Laser Light Source and Advanced Integration features. Combining blue laser, phosphor and 3LCD optical system, the projector delivers full-time, vibrant RGB color in unrivaled WUXGA 4,000 lumens Color Light Output performance. Thanks to the brand new optical system and filter design, the projector offers virtually maintenance-free operation for up to 20,000* hours of expected light source, display device and filter use. Advanced integration features include; Constant brightness mode which maintains its brightness over the life at reduced light output, Installation tilt angle free design, wide range lens shift range, Built-in edge blending and geometric correction, and Instant power On/Off features. The VPL-FHZ55 is a great fit for Education, Commercial, Public Venue and Houses of Worship applications where conventional lamp projectors had limitations. It also contributes to reducing Total Cost of Ownership by eliminating the needs of replacement lamps.
4000 lumens 3LCD Projector
Native WUXGA (1920 x 1200) Resolution
8000:1 Contrast Ratio
Ground-breaking laser light source
Up to 20,000h maintenance free design
Versatile inputs including HDMI and DVI-D
RJ45 for network control and monitoring
Up to V : +60% -0%, H : +/-32% Optical Lens Shift
Tilt angle free design
Built-in Edge blending capability
Advanced Geometric Correction

Vertical and Horizontal Keystone correction : Max +/-30%
Equipped with Bright Era 3LCD Panels
12 bit 3D Digital Gamma Correction
Near instantaneous power on
Auto light dimming for intelligently savingenergy consumption
Designed to blend in visually
Picture by Picture Image Projection
DICOM GSDF Simulation Gamma Mode
Crestron RoomView ConnectedTM
HG (Mercury) free design
Black cabinet which blends in to bright environments
*Using with Auto Light Dimming feature enabled. Actual hours may vary depending on usage environment. Please visit www.sony.com/laser for further information and resources
Benefits
True Laser Light Engine
Sony's Z-Phosphor 3LCD Laser Light Source projectors incorporate a true laser light engine and achieve up to 7,000 lm exceptional Color Light Output. Sony's unique light engine uses a blue laser as its light source, which excites a phosphorous material that in turn creates full spectrum light. The light is delivered to a 3LCD optical system which results in constant, vibrant RGB color.
High Color Light Output - High Image Quality
Combining a laser light source with Sony's BrightEra 3LCD engine creates natural color and exceptional brightness, at 1920 x 1200 high resolution. The system uses three micro displays with full-time simultaneous color, red plus green plus blue. There are no color breaking or rainbow effects on high-contrast images. The colors are uncommonly natural and bright.
Up to 20,000 Hours Virtually Maintenance Free Operation
Thanks to laser light source technology, a long life LCD panel, and an advanced filter system, Sony's laser projector offers up to 20,000* hours of virtually maintenance free operation. Reduced maintenance requirements and a range of energy-saving features reduce total lifetime ownership costs compared to conventional UHP projectors.
* With Auto Light Dimming feature enabled for the VPL-FHZ55. Actual hours may vary depending on usage environment.
Advanced Integration Capabilities
Sony's laser light source technology affords advanced integration features including: constant brightness mode which maintains brightness over the course of time at a reduced light output, installation tilt-angle free design, wide range lens shift, built-in edge blending and geometric correction, near-instant power ON/OFF features, wide selection of optional lenses, and much, much more.
Eco-Friendly Design
The pursuit of a more environmentally conscious projector led Sony to introduce the world's first 3LCD projector incorporating a laser light source. The projector uses fewer resources by eliminating the need for replacement lamps, improves energy efficiency, and contains no mercury, without compromising on vibrant colors and brightness.
Accessories
| | | | | | | |
| --- | --- | --- | --- | --- | --- | --- |
| Model: | VPLL-2007 | VPLL-1008 | VPLL-Z2009 | Standard Lens | VPLL-Z1024 | VPLL-Z1032 |
| | | | | | | |
| D:W | 0.65:1 | 0.80:1 | 0.85:1 - 1.00:1 | 1.39-2.23:1 | 2.34:1 - 3.19:1 | 3.18 - 4.84:1 |
| f-Stop: | 1.75 | - | 1.85 - 2.1 | - | 2.00 - 2.30 | 2.00 - 2.40 |
| Required Adapter: | N/A | N/A | N/A | N/A | PK-F30LA1 | PK-F30LA1 |
Downloads