Panasonic PT-LB51NTU
3-LCD Projector, 2000 Lumens, XGA, Wireless Imaging, Auto Set-Up, 3-Year Warranty
Part #: 0601-2029 Mfr #: PTLB51NTU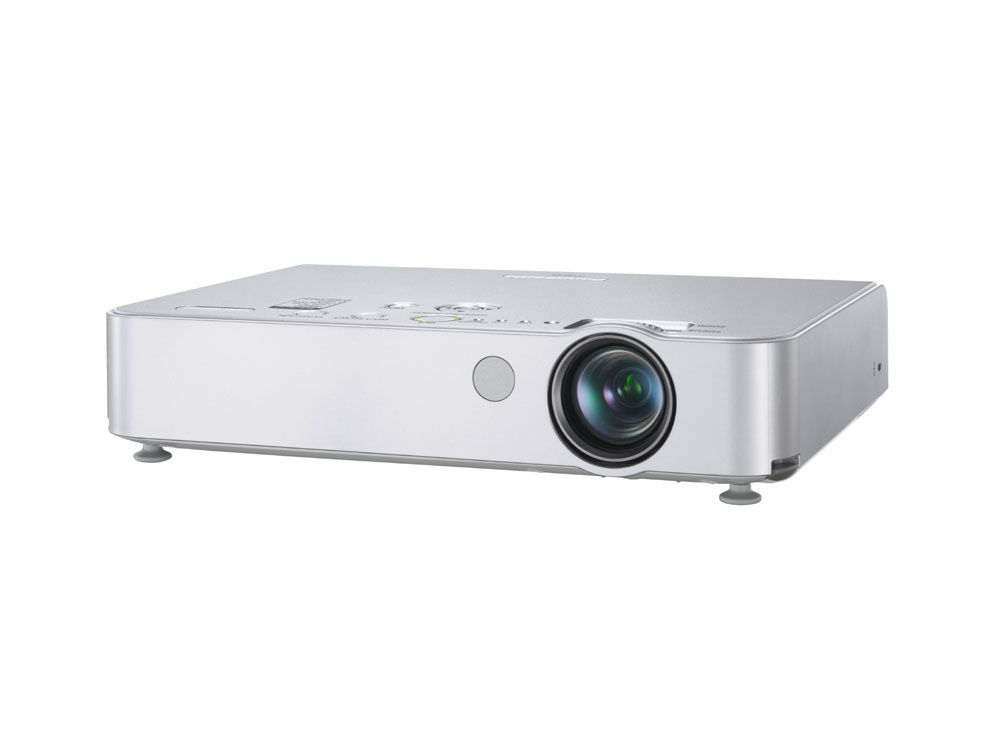 Panasonic PT-LB51NTU
Features
Easy Wireless Projection

The PT-LB51NTUís wireless ability completely eliminates the need for PC cable connection. You simply bring in your laptop (with a wire-less LAN function) for smooth, hassle-free presentations and flexible room layouts. The supplied Wireless Manager ME 4.5 software makes setup quick and easy, and a host of wireless functions complement projector applications. On top of all this, the PT-LB51NTU and PT-LB51U incorporate Panasonic's original Daylight View 2 echnology, which makes images easy to see even in brightly lit rooms.
Daylight View 2 - Crisp,Clear Images in a Well-Lit Room

Panasonic's Daylight View 2 technology, which helps project sharp, crisp images that are easy to see even in brightly lit rooms. A built-in sensor measures the ambient light, and the halftone colour and brightness level are adjusted accordingly in real-time.

Blackboard Mode

This special picture mode allows the PT-LB51NTU to project images onto an ordinary classroom or conference room blackboard when a projection screen is not available.

Two-Second Speed Start

With Speed Start,the image appears in about two seconds after you press the power button.

Direct Power Off

You can disconnect the power cable and move the projector as soon as your presentation is finished,because the cooling fan keeps operating until the lamp is cooled.
Specifications
Power supply 100–240 V AC , 50/60 Hz Power consumption: 240 W (Approx. 4 W in standby mode with fan stopped)
LCD panel: 4:3 aspect ratio Panel size: 0.6" (15.24 mm) diagonal
Display method: Transparent LCD panel (x 3, R/G/B)
Drive method: Active matrix
Pixels: 786,432 (1,024 x 768) x 3, total of 2,359,296 pixels
Pixel configuration: Stripe Lens: Manual zoom (1:1–1:1.2), manual focus, F 1.6 –1.9, f 18.8– 22.6 mm
Lamp: 165 W UHM lamp
Colors: Full color (16,777,216 colors)
Brightness: 2,000 lumens
Contrast: 400:1 (full on/full off)
Projection size: 33–300 inches/838–7,620 mm diagonally
Throw distance: 1.1 m–11.1 m (3´7–36´5)
Optical axis shift: 6:1 (fixed)
Keystone correction range: Vertical: ±30° Installation: Front/rear ceiling/desk (menu selection)
Built-in speakers: 4 x 2 cm x 1 (oval), 1.0 W (monaural) output power
Terminals:
COMPUTER 1 IN: D-sub HD 15-pin x 1
COMPUTER 2 IN/1 OUT: D-sub HD 15-pin x 1 (input/output selectable using on-screen menu)
VIDEO IN: RCA pin x 1
S-VIDEO IN: Mini DIN 4-pin x 1
AUDIO IN: RCA (L-R) x 1 (for VIDEO/S-VIDEO)
COMPUTER AUDIO IN: M3 (stereo) x 1 (for COMPUTER 1 and COMPUTER 2)
VARIABLE AUDIO OUT: M3 (stereo) x 1
SERIAL: Mini DIN 8-pin x 1 (RS-232C)
Power cord length: 2 m (6´7")
Cabinet material: Moulded material (PC + ABS) Dimensions: (W x H x D) 297 x 57 x 210 mm (11-11/16"> x 2-7/32"> x 8-1/4">)
Weight: 1.9 kg (4.2 lbs.)
Wireless LAN: IEEE802.11b/g