Panasonic PT-DZ12000U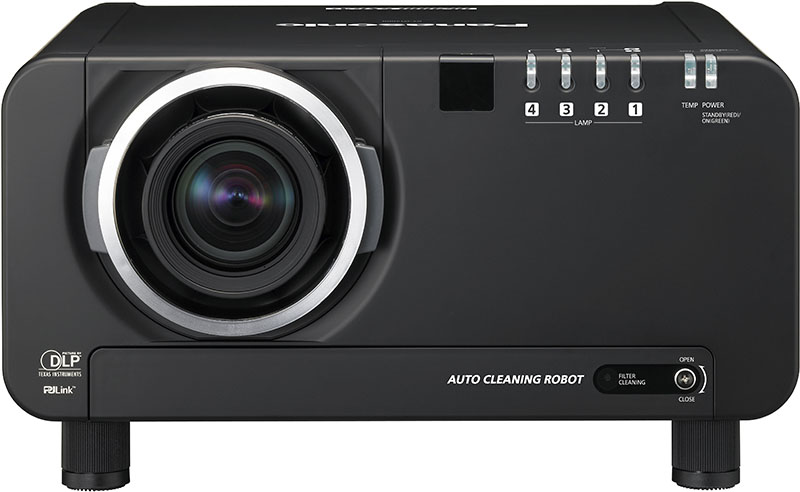 3-Chip DLP Projector, 12,000 Lumens, 1920x1200, Network Connectivity, 3-year warranty
Item #0601-2040
Model #PTDZ12000U
Overview
In response to the increasing trend toward large-screen image viewing, the PT-DZ12000U features native WUXGA resolution to completely cover full-HD specifications. It is further equipped with a Detail Clarity Processor based on Panasonic's imaging technology. Together with its superb brightness of 12,000 lumens, it ensures sharp, lifelike, large-screen images. This system projector also promises solid reliability, thanks to the combination of the DLP® system, which is resistant to image degradation over time, and a 4-lamp optical system.
Accessories
Optional Lenses
<!— Editable version of lens tables is on PT-RZ34KU page —>
D75 Series
D3 Series
This series supports lens memory when used with a projector that also supports this feature. Lens identification is also supported, so that the projector can read the model lens that is installed on it.
* Fish-eye lens
Discontinued Lenses
Model
ET-D75LE90
ET-D75LE5
ET-D75LE50
ET-D75LE1
ET-D75LE2
ET-D75LE3
ET-D75LE4
D:W WUXGA
0.36:1
0.69:1
1.4

–

1.8:1
1.8

– 2.7

:1
2.8

– 4.6

:1

4.63 – 7.38:1

f/stop:
2.5
2.5
2.5
2.5
2.5
2.5
Downloads
Warranty
3-Year PASS Limited Warranty; 90 Days Lamp.