Panasonic PT-DS8500U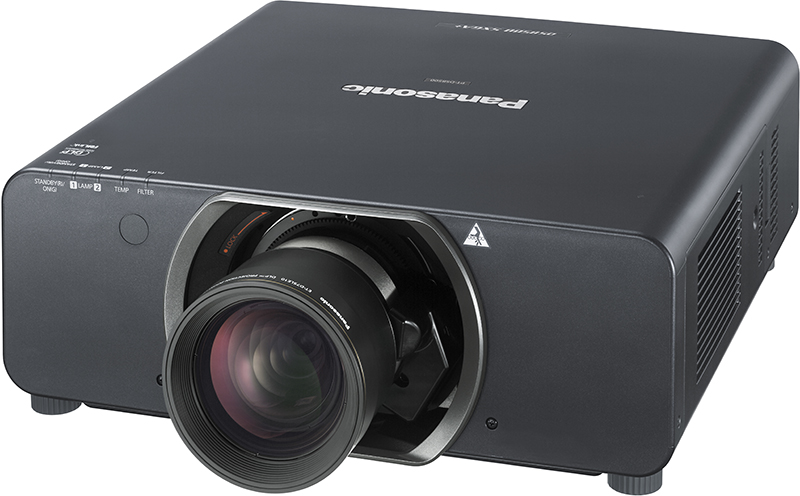 3-DLP Projector, 10,600 Lumens, 1400x1050, No Lens, 3-Year warranty
Item #0601-2065
Model #PTDS8500
Overview
Panasonic PT-DS8500U
SXGA+ Large Venue Projector
This lamp-based projector is capable of displaying 10,600 lumens at its brightest setting with a native resolution of 1400x1050.
The internal DLP technology touts higher contrast, less visible pixels and more portability. The unique projector lens can be shifted to allow greater flexibility in positioning the projector relative to the screen.
Features
Brightness and Picture Quallity
Panasonic's original dual-lamp system, with its 355-W lamp, has helped to make the body as compact as Panasonic's original PT-D7700U Series, while providing a full 10,600 lumens of brightness with 120-VAC operation.
The dynamic iris achieves a high contrast ratio of 10,000:1.
Detail Clarity Processor 3 brings depth and clarity to details.
System Daylight View 2 for enhanced color perception.
The DICOM Simulation mode reproduces easy-to-view rendering of X-ray photos.1
Reliability and Stability
Panasonic's original Dual Lamp System eliminates the interruption if a lamp should fail (in dual-lamp operation mode). The Lamp Relay mode also operates the lamps alternately to enable 24/7 projection. Operation is possible in temperatures up to 113°F/45°C.2 A dust-resistant optical block is also employed. These features combine to ensure high reliability.
The Auto Cleaning Filter (ACF) eliminates the need to clean the air filter for up to 10,000 hours.3
Enhanced Installation Flexibility
A lens-centered design, a wide range of optional lenses, powered H/V-lens shift, and flexible vertical 360-degree installation enable smooth flexibility for use in various locations.
The Multi-Unit Brightness Control function automatically adjusts and controls brightness variation over multiple screens.
The Multi-Screen Support System optimally adjusts multiple screens.
The Geometric Adjustment function lets you project images onto specially shaped screens without distortion.
Versatile interfaces are provided, including an HD/SD-SDI input terminal and an HDMI input terminal.
Multi Projector Monitoring & Control Software allows multiple projectors to be managed together over a wired LAN.
Direct Power Off lets you directly shut off the power supply breaker.
A Scheduling function enables timed operation using only the projector controls.
Picture-in-Picture lets you flexibly control the layout of two windows for a wide variety of presentations.
Environment-friendly, low standby power consumption of 0.2 W (Standby mode: eco)
---
Notes:
1 This product is not a medical instrument. Do not use it for actual medical diagnosis.
2 The operating temperature is 32°F to 104°F (0°C to 40°C) when the fan control is set to High Altitude mode (for over 4,593 feet (1,400 m) to 8,858 feet (2,700 m) above sea level).
3 The replacement cycle given here is a guideline. It may be shorter depending on the usage environment.
Accessories
Optional Lenses
D75 Series
Discontinued Lenses
Model
ET-D75LE90
ET-D75LE5
ET-D75LE50
ET-D75LE1
ET-D75LE2
ET-D75LE3
ET-D75LE4
D:W SXGA+
0.39:1
0.74:1
1.5

–

1.9:1
1.9

– 2.9

:1
3.0

– 4.9

:1

5.0 – 7.9:1

f/stop:
2.5
2.5
2.5
2.5
2.5
2.5
Other Accessories
Downloads
Warranty
3-year limited warranty; 90 days on lamp.