Panasonic PT-EZ570UL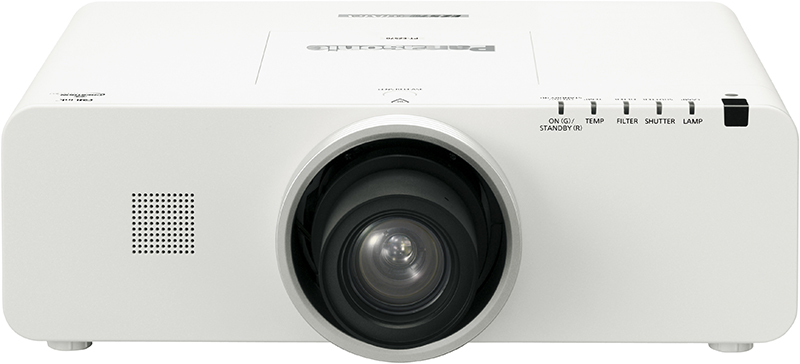 LCD Projector, 1920x1200, 5000L, corner keystone, lamp intensity modulation, auto iris, ambient light compensation, 3000 Hr lamp, shutter, 12K hr filter, No Lens, 3 year warranty
Item #0601-2108
Model #PTEZ570UL
Overview
The new PT-EZ570U LCD projector with full HD ready WUXGA resolution (1,920 x 1,200) produces brightness up to 5,000 lumens. The iris automatically adjusts itself to match the situation, resulting in a high contrast ratio of 5,000:1, The PT-EZ570U offers a versatile solution for the classrooms in elementary and junior high schools, university lecture rooms, engineering or art classes and company meeting rooms.

The PT-EZ570U features the highly durable optical engine with inorganic LCD panels and polarizers providing up to 10,000 hours of service without maintenance. The PT-EZ570U offers low maintenance with the dust-resistant cabinet design and a washable Eco filter that needs no replacement for up to 12,000 hours. The PT-EZ570U offers a long lamp replacement cycle of up to 4,000 hours. With the lamp power set to Auto, the intelligent lamp control system automatically adjusts the lamp output in accordance with the brightness of the projected image and reduces it by up to 70%. It also combines with color shift correction, which corrects the shift in the color balance that occurs when the lamp out put drops, resulting a reduction in power consumption while excellent color reproduction is maintained.

Choose from a wide lineup of lenses for the PT-EZ570U projector including short-throw, long-throw zoom and fixed-throw lenses for rear projection use. The additional lenses make it easy to adapt the projector to each installation site. The lenses attach and detach with one-touch ease.

Additional features of the PT-EZ570U include a built-in 10-W speaker and a quiet design which keeps noise levels down to a quiet 31-dB which does not interrupt meetings or classes. Side-by-side and Picture-in-picture functions provide effective presentations and lectures. Two different image sources can be simultaneously displayed onto a single screen. By switching to picture-in-picture mode you can display a sub-window onto the main screen and position in any of the four corners.

Ease of filter and lamp replacement make the total cost of ownership low on the PT-EZ570U. The filter is easily replaced from the side and the lamp from the top of the projector allowing for ease in maintenance.
The unique Daylight View Basic function allows them to project crisp, high-resolution images without having to dim the room light.
Accessories
Optional Lenses
Other Accessories
Downloads
Warranty
3-Year PASS Limited Warranty; 90 Days Lamp