Panasonic ET-UK20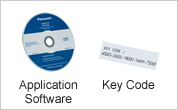 Geometry Manager Pro
Item #0601-2109
Model #ETUK20
Features
Panasonic's ET-UK20 upgrade kit with Geometry Manager Pro software supports color matching and edge blending for up to 32 projectors. It also allows creative masking using four lines or bitmap data. Its flexible geometric adjustment capability adapts to a wide variety of screen shapes, both flat and curved.
Features & Specifications:
Connection: LAN/RS232C
OS: Windows 7 (64-bit/32-bit), Vista (64-bit/32-bit), XP (32-bit)
Key functions:
- Geometric Adjustment
- Edge Blending
- Masking (Line masking and Bitmap masking)
- Uniformity Control
- Multi PJ / Screen Pro Adjusting Software
Product registration is performed on Panasonic's PASS System
Compatibility
To check whether this item is compatible with your equipment, use the form below.