Panasonic ET-SFD320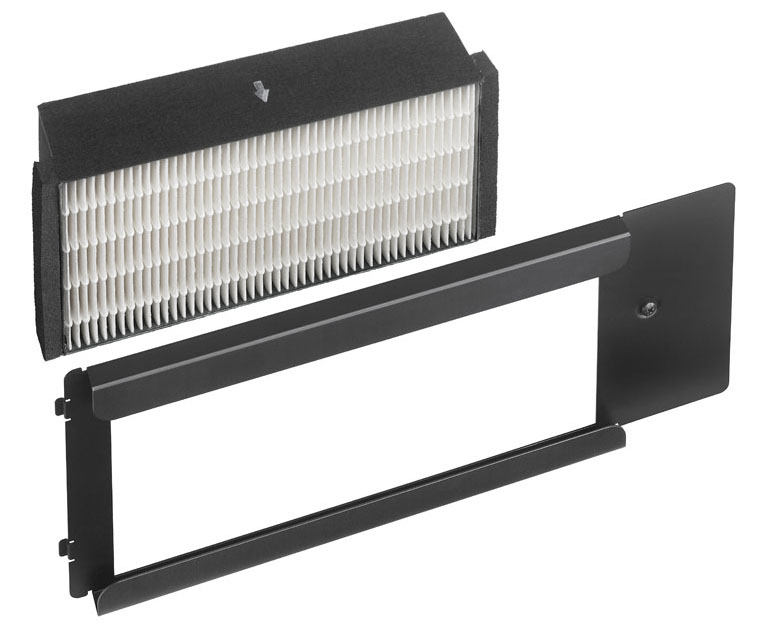 Smoke Cut Filter Kit
Item #0601-2318
Model #ETSFD320
Specifications
Panasonic ET-SFD320
The ET-SFD320 smoke-cut filter is an air filter kit for select Panasonic projectors. It is designed for use at events or other situations where smoke, fog or haze is generated as a special effect.
Please check the Compatibility tab to determine if this accessory will work with your projector.
---
Parts:
Smoke cut filter
Filter cover
Specifications:
Dimensions (W×H×D):

Smoke cut filter: 2-3/8 × 4-21/32 × 9-3/4 inches (60 x 118 x 248 mm)

Filter cover: 5/8 x 5-13/32 x 13-1/32 inches (16 x 137 x 331 mm)

Weight*:

Smoke cut filter: Approximately 6.1 oz (174 g)

Filter cover: Approximately 8.9 oz (253 g)
*Average value. May differ depending on the actual unit.
Note: Weights and dimensions shown are approximate. Specifications subject to change without notice.
---
Safety Precautions:
When the filter is attached, be sure to switch the filter type on the projector's onscreen menu.
The filter can be used for approximately 24 hours in smoky, foggy or hazy environments. Note that the filter cannot be reused. After use, replace it with an unused filter.
The filter cannot be used at altitudes of 4,593 feet (1,400 meters) or more above sea level or when the ambient temperature is 95 °F (35 °C) or higher.
Downloads
Compatibility
To check whether this item is compatible with your equipment, use the form below.