Panasonic ET-WM300U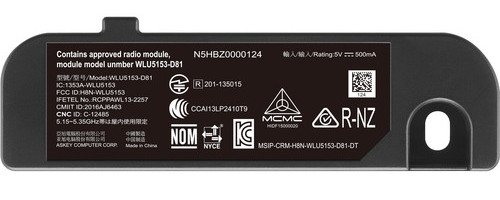 Wireless Module Unit
Item #0601-2333
Model #ETWM300U
Specifications
ET-WM300U
Wireless Module Unit
This module mounts into specific Panasonic projectors to add wireless networking functions. The advantage of a wireless LAN is that information can be exchanged between a computer (or other such equipment) and a wireless access point using radio waves, instead of using a LAN cable, as long as you are within range for radio transmission. Radio wave in the 2.4 GHz/5 GHz band is used when the wireless LAN connection function of the projector is used.
For a list of compatible Panasonic projectors, see the Compatibility tab.
---
Specifications
Power Supply
Supplied from the projector
Standard
IEEE 802.11b/g/n
Modulation
Direct sequence spread spectrum (DSSS) system, Orthogonal frequency division multiplex (OFDM) system
Transmission Speed (Standard)*1
IEEE 802.11b: Up to 11 Mbps; IEEE 802.11g: Up to 54 Mbps; IEEE 802.11n: Up to 150 Mbps
Frequency Range (Channel)
2,412 – 2,472 MHz (1

–

13 ch)
Access Method
Infrastructure mode, ad-hoc mode *2
Security

WPA-PSK (TKIP/AES), WPA2-PSK (TKIP/AES), WEP (128 bit/64 bit).

When mounted on the PT-FW430/FX400: PEAP (MS-CHAPv2), PEAP (GTC), EAP-TTLS (MD5), EAP-TTLS (MS-CHAPv2), EAP-FAST (MS-CHAPv2), EAP-FAST (GTC), EAP-TLS

Antenna
Tx 1, Rx 1
Interface
USB 2.0 (Cannot be used with any projector other than a Panasonic projector with ET-WM300U compatibility.)
Dimensions (W x H x D) (mm)
23 x 9 x 63 mm
Dimensions (W x H x D) (inch)
29/32 inch x 11/32 inch x 2-15/32 inch
Weight
Approx. 10 g (0.4 oz) *3
Operating environment *4 | Temperature
0° – 45°C (32°

–

113°F)
Operating environment *4 | Humidity
20%

–

80% (no condensation)
Notes
*1 This is a theoretical speed. The actual transfer speed varies depending on the usage environment and connected devices. *2 Not supported by IEEE 802.11n. *3 Average value. May differ depending on models. *4 Conforms to the environmental conditions of the mounted projector.
Downloads
Compatibility
To check whether this item is compatible with your equipment, use the form below.