Panasonic PT-DZ13KU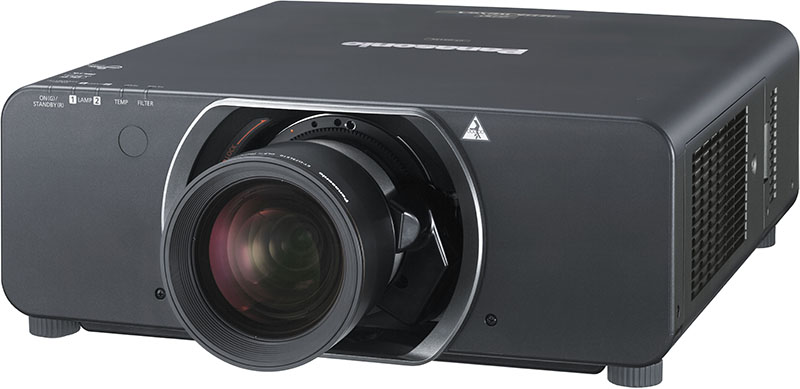 Overview
Panasonic PT-DZ13KU
3-Chip DLP™ Large Venue
Projector
The PT-DZ13KU is a compact 12,000 lumens projector, designed for events and staging applications.
Part of the Panasonic PT-DZ13K Series of 3-chip DLP™ projectors, it combines high levels of picture quality, reliability, function, and system expandability into a compact body. Packed with original, advanced Panasonic technology, this projector provides the flexibility to meet a wide range of applications.
Key Features:
3-chip DLP, 12000 lumens, WUXGA
High brightness and high contrast ratio make bright, crisp and sharp image
Dual lamp system with Lamp Relay mode enables 24/7 operation
10,000:1 contrast ratio
Edge blending function and colour matching
Accessories
Optional Lenses
D75 Series
Discontinued Lenses
Model
ET-D75LE90
ET-D75LE5
ET-D75LE50
ET-D75LE1
ET-D75LE2
ET-D75LE3
ET-D75LE4
D:W WUXGA
0.36:1
0.69:1
1.4

–

1.8:1
1.8

– 2.7

:1
2.8

– 4.6

:1

4.63 – 7.38:1

f/stop:
2.5
2.5
2.5
2.5
2.5
2.5
Other Accessories
Downloads
Warranty
3-Year PASS Limited Warranty; 90 Days Lamp.
B-stock
Panasonic PT-DZ13KU 3-DLP Projector, 1920x1200, 12,000 Lumens, Geometric Adjustment, Lens Memory, HD-SDI, Direct Off, Multi-Projector Features, No lens, B-Stock
Item #0601-2613-UB
Model #PTDZ13KU
S/N
(Last Digits)
Usage Hours
Condition Notes
Price
36025
1348 Runtime, 34 Lamp
Good; Moderate marks and scratches
$16,675.00
Add to Cart