Panasonic ET-MDNHM10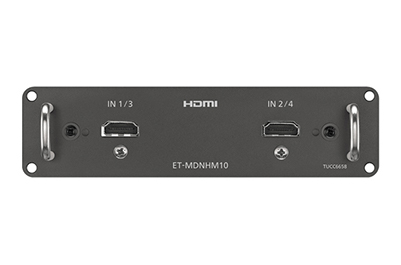 Optional HDMI Board
Item #0601-2660
Model #ETMDNHM10
Overview
Panasonic ET-MDNHM10
Interface Board for HDMI 2 input
This is an input board for mounting to select 3-chip DLP™ projectors, which allows input of two HDMI signal systems.
*This unit does not operate as a stand-alone unit. Use it by mounting to a compatible 3-chip DLP™ projector (sold separately). Please check the Compatibility tab to determine if this accessory will work with your projector.
* It is recommended that installation and removal of the interface board for the main projector unit should be carried out by a qualified technician. Please contact the place of purchase.
Specifications
Compatible slot
SLOT NX specification
Connecting terminal
HDMI 19p x 2
HDCP 2.2 compatible, Deep Color compatible
Compatible signal
Resolution
Moving image signal: 480i*/576i* to 4096 x 2160
Still image signal: 640 x 400 to 3840 x 2400 (non interlaced)
*Pixel-Repetition signal (dot clock frequency 27.0 MHz) only
Dot clock frequency
25 MHz to 594 MHz
Dimensions (WxHxD)
5-15/16 x 1-17/32 x 5-19/32 in (151 x 38.5 x 142 mm)
Weight
12.0 oz (340 g)
Notes:
"SLOT NX" is a name of the slot unique to Panasonic supporting the signal input for the 4K image.
The video signal that can actually display will vary depending on the display device (projector or flat panel display) on which the Interface Board is installed. For details, refer to the Operating Instructions of your display device.
Downloads
Compatibility
To check whether this item is compatible with your equipment, use the form below.