Panasonic PT-RZ570BU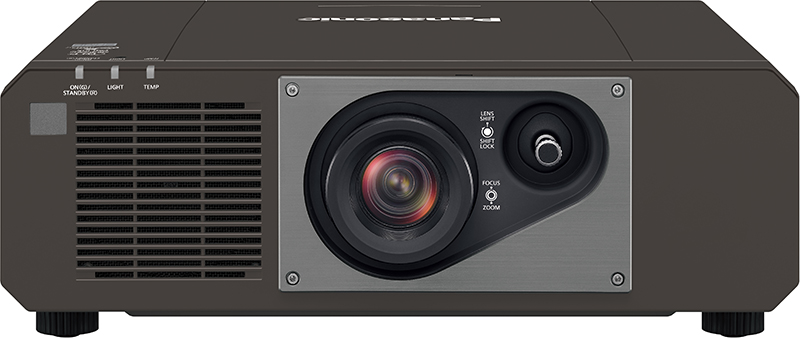 DLP Laser Projector, 1920x1200 WUXGA, 5200 Lumens, H&V Lens Shift, Black, 3 year warranty
Item #0601-2663
Model #PTRZ570BU
Overview
Panasonic PT-RZ570BU
Big, bold, pin-sharp images don't fade away fast with SOLID SHINE Laser. In fact, image quality and endurance far outstrips that of competitive lamp-based projectors, with almost no maintenance required. Add a suite of features that makes daily operation a breeze and you start to get the picture: the PT-RZ570WU is a smart choice for beautiful images in classrooms, boardrooms, or office meeting spaces.
Dustproof Optics Extend Longevity: Hermetically sealed laser modules and a refined air-intake system work to extend life and maintain picture quality in dusty locations. SOLID SHINE Laser products are tested against more severe guidelines than other projectors for stable operation in dusty environments containing 0.150 mg of particulate matter per cubic meter.
Efficient Cooling System: Heat-pipe cooling for the laser light source and a heavy-duty heat sink for the DMD module keep images crisp and bright while reducing fan speed, lowering noise levels and preventing distractions in quiet classrooms.
Dynamic Light Control for High Contrast: Dynamic Light Control directly modulates laser output to achieve high contrast with less power consumption. Digitally controlled frame-by-frame scene-linking modulation ensures highly precise adjustment of light output, while accurate contrast is delivered even when bright and dark scenes frequently interchange.
Daylight View Basic: Panasonic's Daylight View Basic technology achieves sharp, easily viewed images by enhancing detail, particularly in dark areas of the image that are normally difficult to see in brightly lit rooms. A built-in sensor measures ambient light while Daylight View Basic adjusts halftone color and brightness according to the surrounding level of illumination.
360-degree Installation: SOLID SHINE Laser technology enables free 360-degree installation through any axis. Together with powered lens shift and a wide range of optional lenses, the projector can be mounted in any way desired without picture distortion temporarily or in permanent applications.
Early Warning Software monitors the status of projectors and displays connected to an intranet, and informs the operator when an abnormality is detected or predicted, or when there are symptoms of trouble. This minimizes downtime to provide more stable operation.
2.0x Zoom and Lens Shift: The inclusion of a versatile 2x zoom and wide-range lens shift grants flexibility for installation in different rooms and for projection on different screen sizes.
Specifications
Power supply
AC 100–240 V, 50/60 Hz
Power consumption
500 W (520 VA, 100 V AC) (0.5 W with Standby Mode set to Eco, 10 W with Standby Mode set to Normal, 22 W with Standby Mode in Audio Setting set to ON and Quick Startup function disabled, 50 W with Quick Startup function enabled); 375 W (Normal Mode), 350 W (Eco or Silent Mode), 40 W (shutter closed) [Picture Mode: Standard, Dynamic Contrast: ON]
DLP™ chip
Panel size
17.0 mm (0.67˝)
diagonal (16:10 aspect ratio)
Display method
DLP™ chip x 1, DLP™ projection system
Pixels
2,304,000 (1920 x 1200) pixels
Lens
2.0 x manual zoom (throw ratio: 1.46–2.94:1), manual focus, F 2.0–3.4, f 21.5–43.0 mm
Light source
Laser diode (Class 1) (Class 3R for North America), Light source life: 20,000 hours at half luminance (Normal Mode, Temperature: 35 °C [95 °F], altitude: 700 m [2,297 ft], Dust: 0.15 mg/m)
Screen size (diagonal)
1.02–7.62 m (40–300˝), 16:10 aspect ratio
Brightness
5,400 lm (Center) / 5,200 lm
Contrast
20,000:1 (Full On/Full Off, Dynamic Mode and Dynamic Contrast: ON)
Resolution
1920 x 1200 pixels
Supported RGB signal
XGA–WUXGA
Supported video signal
NTSC/PAL/SECAM, 480p/i, 720p, 1080p/i
Optical axis shift
(from center of screen)
Vertical
-44 %, +64 % (manual)
Horizontal
-27 %, +34 % (manual)
Keystone correction range
Vertical: ±40 °, horizontal: ±20 °,
Up to a total of ±60 ° during simultaneous horizontal and vertical correction
Installation
Ceiling/floor, front/rear, 360-degree free installation
Cabinet materials
Molded plastic
Dimensions (W x H x D)
498 x 168 x 492 mm (19 5/8˝ x 6 5/8˝ x 19 3/8˝)
Weight
Approximately 16.3 kg (35.9 lbs)
Operation noise
28 dB (Silent Mode), 33 dB (Normal/Eco Mode)
Operating environment
Operating temperature: 0–45°C (32–113°F), operating humidity: 10–80 % (no condensation)
Applicable software
Logo Transfer Software, Multi Monitoring & Control Software, Early Warning Software
Downloads
Warranty
PT-RZ570BU Warranty:
3 Years Parts & Labor; 10,000 Hours on Illumination Parts