Panasonic ET-WM200U
USB Wireless Receiver for PT-DX500, DW530, DZ570, PT-FX400, FW430
Part #: 0601-2876 Mfr #: ETWM200U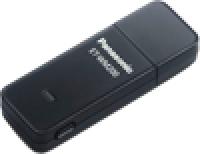 Panasonic ET-WM200U
Features
Used to add wireless connectivity to compatible projectors.
Ad-Hoc Mode: The Wi-Fi transmitter on the computing device connects wirelessly to the ET-WM200U.
Infrastructure Mode: The Wi-Fi transmitter connects to a wireless access point and the projector connects to the LAN. With this mode, it is not necessary to purchase the ET-WM200U.
Compatibility
To check whether this item is compatible with your equipment, use the form below.