Panasonic ET-WM200U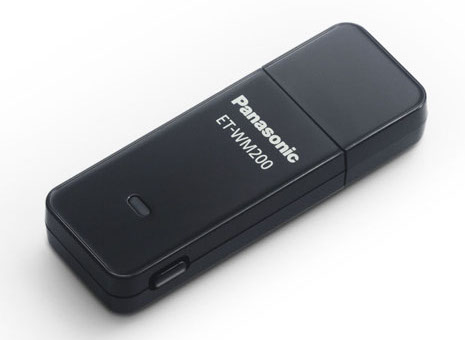 USB Wireless Receiver
Item #0601-2876
Model #ETWM200U
Features
Panasonic ET-WM200U
USB Wireless Receiver
Used to add wireless connectivity to compatible projectors (see Compatibility tab).
The optional wireless module ET-WM200U allows compatible projectors to provide wireless projection of the same images that are displayed on the PC screen. There is no need to connect the PC with VGA cable so you get smooth video presentations with any system layout. It is also possible to transmit audio.
Settings for wireless connection can be made quickly and easily using Wireless Manager ME 5.5 software and you can simultaneously project the images from up to 16 PCs using the "Multi-Live mode". The wireless LAN security is also compatible with the EAP (Extensible Authentication Protocol) except for EAP-LEAP.
Note: Network functions such as Live mode and Multi-Live mode can also be used with a wired LAN.
Ad-Hoc Mode: The Wi-Fi transmitter on the computing device connects wirelessly to the ET-WM200U.
Infrastructure Mode: The Wi-Fi transmitter connects to a wireless access point and the projector connects to the LAN. With this mode, it is not necessary to purchase the ET-WM200U.
Downloads
Compatibility
To check whether this item is compatible with your equipment, use the form below.