Panasonic PT-DZ21K2U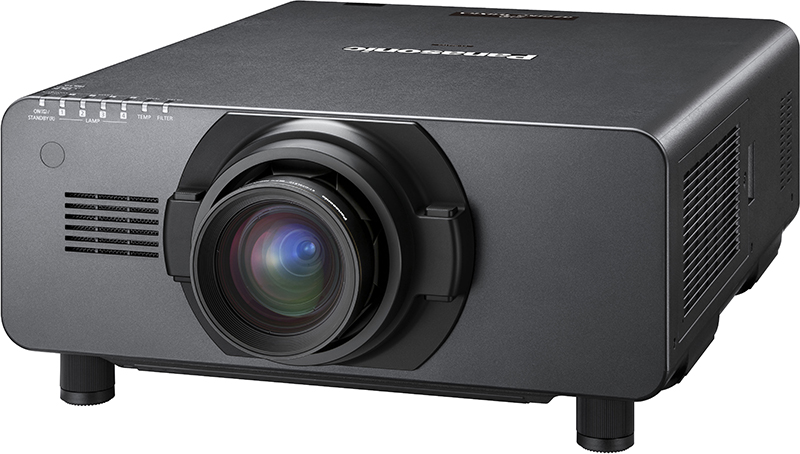 3-DLP Projector, 1920x1200 WUXGA, 20,000 Lumens, No Lens, 3 Year Warranty
Item #0601-2993
Model #PTDZ21K2U
Overview
The range-topping Panasonic PT-DZ21K2 Series guarantees breathtaking images and extremely reliable operation. Each feature-laden model has creative capabilities to satisfy the demands of professional users.
High frame-rate 120 Hz processor for fluid motion reproduction and 3D projection capability
Extended lamp replacement cycle of up to 3,000 hours
DIGITAL LINK (HDBaseT) compatibility for flexible installation and system expandability
Applications: Rental/Staging, Auditorium, Museum/Exhibition, Digital Signage, House of Worship and more
[ Compare to Similar Projectors ]
Features
Dynamic Iris for a High 10,000:1 Contrast Ratio

Panasonic's Dynamic Iris uses a scene-linking aperture mechanism to achieve a remarkable 10,000:1* contrast without lowering its high brightness. This helps to reproduce deeper, richer blacks, and provides images with more detailed textures.

* Full on/off, with dynamic iris set to "3".

Detail Clarity Processor 3 Gives Natural Clarity to Even the Finest Details

This unique Panasonic circuit optimizes the sharpness of each image, based on the super-high-, high-, medium-, and low-frequency components of the extracted image information. The resulting images have more natural, lifelike expression.

System Daylight View 2 for Enhanced Color Perception

This unique Panasonic technology optimizes image quality to improve the color perception of the projected image in bright rooms. With a brightness of 20,000 lm*, it provides highly comfortable viewing even in bright lighting, and allows viewers to concentrate easily on the images.

DICOM Simulation Mode*

This imaging mode is similar to DICOM part 14, which is a medical imaging standard. It reproduces X-ray images with remarkable clarity.

* This product is not a medical instrument. Do not use it for actual medical diagnosis

Active 3D Projection Capability (PT-DZ21K/DS20K)

The series is compatible with both passive and active 3D projection systems. It combines with either a separate, external 100/120/144 Hz drive with IR emitter and active shutter glasses, or an active filter and passive glasses, for viewing 3D images.

Tested 3D Glasses Compatible with Panasonic Projectors

High Reliability and Low TCO with Easy Maintenance

The PT-DZ21K2U Series projectors lower the total cost of ownership (TCO) because they have a lamp replacement cycle of up to 3,000 hours*. Their environmentally friendly design also includes a low power consumption of 2,300 W.

* The values given for lamp replacement cycles are for landscape orientation. The usage environment affects the lamp replacement cycle.

Four-Lamp System Enables Stable, Extended Operation

The four-lamp system allows the projector to keep working even if a lamp should fail. The Lamp Relay mode also operates the lamps alternately to enable 24/7 projection. Quad, Triple, Dual and Single Lamp modes can be used.

Easy Lamp Replacement

For easier maintenance, you can replace the lamp from the rear. This makes it easy to replace a lamp while the projector is still in the mounting bracket or dual stacked.

Liquid Cooling System Attains a High Level of Reliability

This new liquid cooling system directly cools the DLP™ chip to improve performance and enable operation up to 45 °C (113 °F).* It allows quiet (46 dB) and versatile use while stabilizing performance. It also helps to make the body compact. And the system is hermetically sealed, so you don't need to replenish the liquid.

* The operating temperature range is 0 °C to 40 °C (32 °F to 104 °F) when the fan control is set to HIGH ALTITUDE MODE (for altitudes from 1,400 m to 2,700 m (4,593 ft to 8,858 ft) above sea level). When the projector is used with the ET-SFR510 Smoke Cut Filter, the operating temperature range is 0 °C to 35 °C (32 °F to 95 °F), and the projector cannot be used in places at high altitude.

Eco Filter that Needs No Maintenance for up to 12,000 Hours*

The Eco Filter has an electrostatic Micro Cut Filter that collects minute dust particles with an ion effect. It combines with the dust-resistant cabinet to enable long-term use even under harsh conditions. Its maintenance cycle of up to 12,000 hours reduces hassle, and the environmental design lets you wash the filter with water and reuse it.**

* The usage environment affects the filter maintenance cycle.

** When washing with water, please follow the procedures listed in the operating instructions. Also, we recommend replacing the filter with a new one after it has been washed and reused twice. If the filter is not sufficiently clean after washing, replace it with a new one.

Geometric Adjustment for Specially Shaped Screens (PT-DZ21K/DS20K)

This function adjusts the image for projection onto spherical, cylindrical and other specially shaped screens. You can make the adjustment easily using only the remote control, with no external equipment needed. New 4-Corner Adjustment and Keep Aspect Off functions* also simplify fine adjustment.

Each corner can be independently adjusted, and up to three sets of adjusted data can be stored. You can keep the aspect on when correcting curves. To make effective use of the screen area, you can also turn the aspect-keeping function off.

* A firmware update is required to use the function. Please contact your sales representative for more information.

Optional Upgrade Kit (ET-UK20) Featuring Geometry Manager Pro (PT-DZ21K/DS20K)

The new Geometry Manager Pro software included in the optional upgrade kit ET‐UK20 supports Color Matching, Edge Blending, uniformity correction, and other useful functions for multi‐projector setups (max. 32 units). It also allows creative masking using four lines or bitmap data. And its flexible and complex geometric adjustment capability suits a wide variety of screen shapes. For specific installation instructions, refer to the following manual. Operating Instructions of Geometry Manager Pro (Including ET-UK20)

Masking Function (Custom Masking)

Line masking & Bitmap masking

* A firmware update is required to use the function. Please contact your sales representative for more information.

Multi-Unit Brightness Control

This function automatically corrects the brightness fluctuations that occur over time in the individual projectors of a multi-screen system. Up to eight projectors can be controlled by connecting to each other via a hub, and this can be increased to a maximum of 2,048 projectors by using "Multi Projector Monitoring & Control Software Ver. 2.7."

Multi-Screen Support System Seamlessly Connects Multiple Screens

The Multi-Screen Support System optimally adjusts multiple screens: Edge blending, Color matching and Digital image enlarging.

Edge Blending
The edges of adjacent screens can be blended and their luminance controlled.

Color Matching
This function corrects for slight variations in the color reproduction range of individual projectors.

Digital Image Enlarging
The PT-DZ21K2U Series features a digital zoom function that allows images to be enlarged up to 10 times (horizontally and vertically).* Up to 100 units (10 x 10) can be edge-blended at a time to create large, multi-screen images.

* While the input resolution will not change, maintaining image quality will not be possible for those images that are enlarged

Backup Input Setting* Assures Reliability and Optimizes Performance

The Backup Input Setting* allows the signal to be switched to the backup input signal as seamlessly as possible when the input signal is disrupted.** This function ensures high reliability and is ideal for critical control rooms, projection mapping, staging, and other applications where images should not be interrupted.

* The Backup Input Setting is possible by updating the projector's firmware to MAIN Ver. 4.03 or later.

** The combination of the primary/secondary input terminals is fixed. For the PT-DZ21K2U/DS20K2U, use the combination of DVI-D (primary) and HDMI (secondary) terminals, or the combination of SDI 1 (primary) and SDI 2 (secondary) terminals. For the PT-DW17K2U, use the combination of DVI-D (primary) and HDMI (secondary) terminals. The Backup Input Setting is enabled only when the input signal to the primary and secondary terminals is the same.

Note: Please contact your sales representative for information on the Backup Input Setting. (Contact Information)

Firmware Update Required

The Backup Input Setting is possible by updating the projector's firmware to MAIN Ver. 4.03 or later. When the main version of the firmware is lower than 4.03, access the latest firmware version information page on PASS to download the latest upgrade tool.

Note: To check the firmware version, press the button on the remote control. The [MAIN VERSION] of the firmware can be checked on the [STATUS] menu screen.

Portrait Mode Capability (Option)*

New Portrait mode allows portrait projection with the PT-DZ21K2U Series. By mounting the optional ET-LAD510P or ET-LAD510PF lamp unit and updating the projector's firmware to MAIN Ver. 2.00 or later, the PT-DZ21K2U Series can be installed in portrait orientation with its terminal side surface facing downward. Portrait mode adds more solutions for projection mapping, staging, and other needs. Note: Please contact your sales representative for information on portrait orientation.

* Please contact the sales representative with regard to the frame for portrait orientation. Installation is possible only with the terminal side facing downward. Horizontal rotation and vertical rotation are both limited to 15 degrees. Also, the lamp replacement cycle becomes 500 hours, and this cycle is affected by the usage environment.

** The ET-LAD510P and ET-LAD510PF cannot be used when the projector is in landscape orientation.

Flexible Installation

The wide adjustment range of the powered horizontal/vertical lens shift function can be easily adjusted with the remote control. The unit can also be rotated 360° vertically*, to accommodate various installation conditions. The lens-centered design contributes to easy installation.

* A special fixture must be attached to the lamp case when the projector is placed at an angle within ±30° (upward/downward) of the vertical

Multi Projector Monitoring & Control Software Ver. 2.7

Panasonic's original Multi Projector Monitoring & Control Software Ver. 2.7 freeware lets you control and monitor multiple projectors at the same time over a wired LAN. If a problem occurs, an alarm message is sent to the monitoring/controlling PC. The terminal connection area is LED illuminated, and a backlight is provided for the control panel buttons, ensuring smooth and easy operation in the dark.

A Wide Selection of Optional Lenses

Choose from a wide lineup of lenses for your system, including long-throw zoom lenses and a ultra-short-throw lens for rear projection use. The additional lenses make it easy to adapt your projector to the installation site. The lenses attach and detach with one-touch ease.

ET-D75LE90 - The Lens with the World's Shortest Throw* for 3-Chip DLP TM Projectors

By mounting the newly developed ET-D75LE90 ultra short throw lens onto Panasonic's 3-Chip DLP™ projector,** you can shorten the projection distance by approximately 60 % compared with our ET-D75LE50 short throw lens. This huge savings in space lets you effectively use the high brightness and superb picture quality of the 3-chip DLP™ projector in places that were not previously possible.

* For detachable lenses for 3-chip DLP™ projectors as of November 2014.

** For the projectors compatible with the ET-D75LE90, see the specifications.

Space-saving Projection Meets Various Installation Requirements

For example, Large-screen projection from the ceiling or the floor becomes possible for stages that didn't have the necessary projection distance.

Note: The usage examples shown above are simulated images. In actual installation, a predetermined amount of space must be provided around the projector.
Accessories
Optional Lenses
D75 Series
Discontinued Lenses
Model
ET-D75LE90
ET-D75LE5
ET-D75LE50
ET-D75LE1
ET-D75LE2
ET-D75LE3
ET-D75LE4
D:W
1080p
0.35:1
0.68:1
1.4

–

1.8:1
1.8

– 2.7

:1
2.8

– 4.5

:1

4.6 – 7.3:1

f/stop:
2.5
2.5
2.5
2.5
2.5
2.5
Other Accessories
Downloads