Optoma ZU510T-W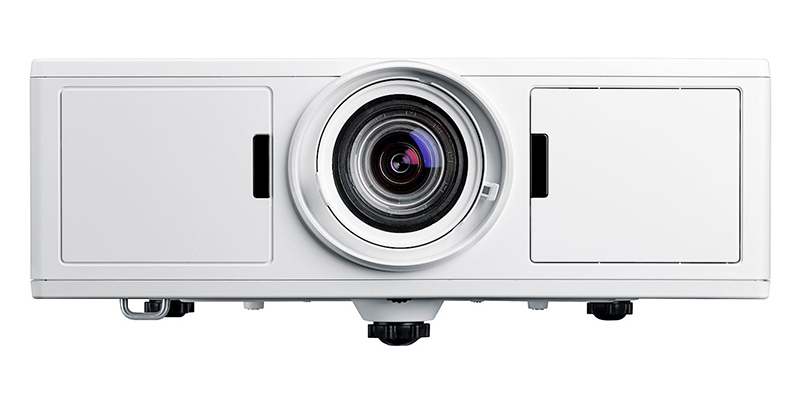 Laser Phosphor DLP Projector, 1920x1200 WUXGA, 5300 ANSI Lumens, H & V Lens Shift, White, 5 year/20,000 Hr warranty
Item #0601-3733
Model #ZU510TW
Overview
The ZU510T-W is a ProAV projector offering bright and vivid image quality, advanced optical components, and a low-weight, compact size. Combined with DURACORE laser light source and IP5X-certified dust resistance rating for its optical engine, it is reliable, cost-efficient, and low maintenance, with no need for lamp and filter changes. It provides up to 20,000 hours of light source operation and is perfect for boardroom, higher education, houses of worship, and small entertainment venue use.
The ZU510T-W's 5500 lumens create vibrant, detailed images, filling a significant need in the mid-range ProAV category. Developed for maximum flexibility, this solid state laser projector includes a fixed lens with Horizontal and Vertical lens shift, offering a unique 1.2-2.13 throw ratio and a digital zoom ratio of 1.8x, enabling it to cover a range of interchangeable lens capabilities and eliminating the need to change lenses or buy additional ones.
The ZU510T-W streamlines integration with two built-in 10W speakers and a variety of inputs, including three HDMI ports, 2x built-in MHL. This fixed install projector is a reliable, flexible and cost-efficient option for boardrooms, university auditoriums, museums, and other mid-sized venues.
[ Compare to Similar Projectors ]
ProjectorCentral Review (Jan 2017)

Features
5500 lumens WUXGA phosphor laser projector
4-corner correction for basic stacking
360° and portrait mode operation
Light source life up to 20,000 hrs, IP5X certified engine
H/V lens shift and keystonen
Maintenance free - no filters needed
Delivering superior color with DURACORE laser technology
Downloads
Warranty
5-year or 20,000-hour light source warranty (whichever comes first), 3-year Optoma Express advance exchange warranty on the projector.