Optoma WUSB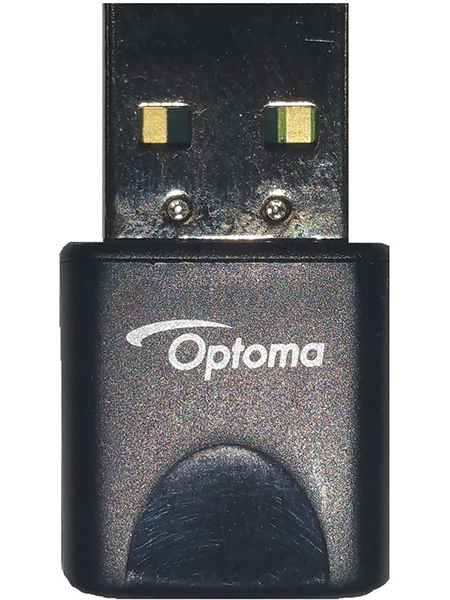 Wireless USB Adapter
Item #0601-3759
Model #WUSB
Overview
Wireless USB Dongle
WUSB
Bring wireless presentation features to your projector with the tiny WUSB.
This wireless USB adapter enables the wireless features on your projector so you can display presentation materials wirelessly from a mobile device, laptop or Mac to your projector.
Please check the Compatibility tab to determine if this accessory will work with your projector.
Take a look at the Wireless Projection tab for different applications of wireless technology.
Specifications
PHYSICAL SPECIFICATIONS
Dimensions
1.25″ x 0.25″ x 0.25″
Weight
0.06 lb
OTHER
UPC
796435 09 114 9
Wireless Projection
Eliminate the hassle and extra cost of installing long cables - effortlessly stream content to an Optoma projector from your smartphone, tablet, laptop, DVD player and many more.

Both fast and secure, Optoma wireless projection uses multiple standards to bring high-definition entertainment, mobile presentations and ultimate control right to your fingertips.

Here are a few things that wireless projection allows you to do:
Wireless Presentations
Mobile Device Streaming
Share content such as Word Docs, Excel Spread Sheets, Power Point, PDF and JPEG files wirelessly from your SmartPhone or Tablet to a projector.
Laptop Streaming
Additionally, wireless presenting from laptops and PCs is also supported on all Optoma projectors using our wide range of wireless accessories.
Live Camera Sharing
Combine your projector with the Wireless USB adapter (WUSB) to turn it into a portable visualizer. Stream your mobile device's camera feed directly to your projector... live! Ideal for sharing ideas with larger groups.
4:1 projection
Simultaneously present from up to four devices without the need to worry about having the right cables.
Simply download the free software from the projector's web interface to start comparing charts, figures, images... virtually anything.
Annotations
Annotate directly onto your presentations in multiple colors, either freehand or using the tools provided, to grab your audience's attention and highlight key areas of interest.
WiFi access point
Connect the wireless device directly to your wireless network so that you can present wirelessly and go online at the same time
Control and Monitoring
Ultimate Control
Whether fully integrated or using our Mini WiFi Dongle, Optoma wireless technology allows you to monitor and control your projector's most important functions via your web browser.
Power On/Off

Select inputs

Check status

Access on-screen menu
Safe and Secure
Easily set up WiFi security passwords to ensure only the right people can gain access, meaning you never have to keep track of a standard IR remote in multi-user environments such as a classroom or lecture theatre.
Compatibility
To check whether this item is compatible with your equipment, use the form below.