Optoma W309ST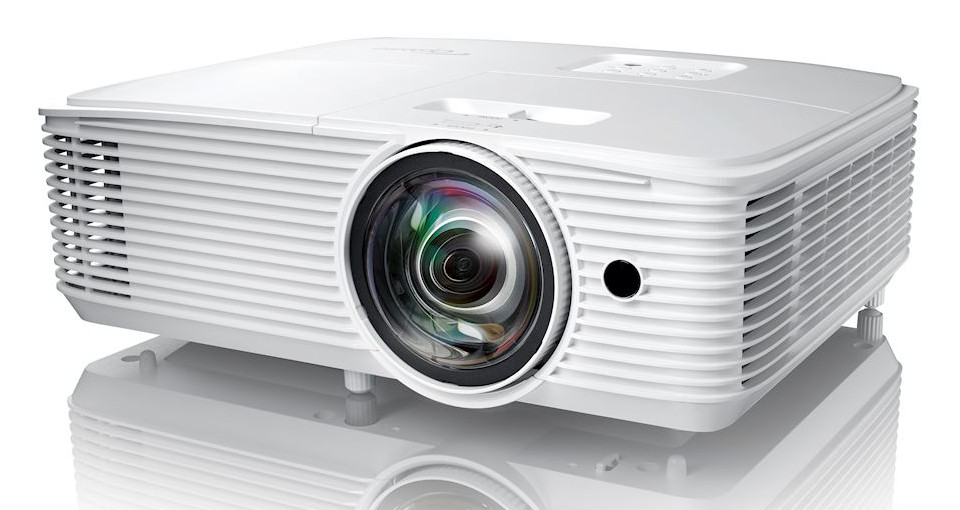 DLP Projector, WXGA, 3800 Lumens, D:W 0.52:1, 1-Year Warranty
Item #0601-3907
Model #W309ST
Overview
Optoma W309ST
Bright WXGA short throw projection
Impress your audience with stunning visuals using the 3,800 lumens, WXGA Optoma W309ST short throw projector. The 0.52:1 short throw ratio, brightness and 25,000:1 contrast ratio enable 100-inch projections from several feet away, making it ideal for classrooms, small conference rooms and other space-constrained environments.
Robust inputs include HDMI, VGA and composite for connectivity to a wide range of digital and legacy devices. Energy saving features and a long lamp life, up to 15,000 hours, provide many years of use with minimal maintenance for low total cost of ownership.
Key Features:
Bright WXGA projector – 3,800 ANSI lumens
Short throw lens

–

100" image from several feet away
Easy connectivity – HDMI, VGA, USB power
Clear, powerful audio

–

10W speaker
Up to 15,000 hour lamp life
Features
Short throw lens: lets you project an impressive 100" image from just over a meter (3.3 feet) away. This allows you to place the projector closer to the wall, reducing shadows so you can present with ease.
Amazing colors: Give powerful presentations and educational lessons with stunning colors. Optoma projectors provide reliable color performance suitable for any content and environment, from accurate sRGB colors for lifelike images to vibrant punchy presentations. We have a display mode to specifically meet your needs, perfect for a range of graphic and video presentations.
Superior contrast: Add more depth to your image with a high contrast projector. Compared to competing technology, Optoma DLP projectors provide brighter whites and ultra-rich blacks. Images come alive and text appears crisp and clear — ideal for business and education applications.
Full 3D: Optoma projectors can display true 3D content from almost any 3D source, including 3D Blu-ray players, 3D broadcasting and the latest generation game consoles.
Integrated speaker: A powerful built-in speaker provides exceptional sound quality and an easy setup without the need for costly external speakers.
24/7 operation: Optoma projectors have been designed to operate 24 hours a day in standard orientation. Perfect for applications where prolonged periods of use is required. Subject to 24 hour terms and conditions.*

(* Standard lamp warranty applies. Projector warranty is based on standard business usage hours. For optimum performance Optoma recommends that your projector is turned off or placed in standby mode for 30 minutes every 24 hours to prolonging the life of your lamp.)
Eco+ Features
Eco+ technology brings together high contrast, improved lamp life and energy saving features that are easy to use while reducing power consumption.
Energy saving: Using the specially designed lamp modes, you can reduce the power consumption by up to 70%. Each mode also has a positive effect on the lamp life, while lowering the total cost of ownership and reducing maintenance.
Auto power off: To help save energy, this feature automatically turns off the projector after a set period of time if it is not being used
Eco AV mute: Direct your audience's attention away from the screen by blanking the image when no longer needed. This also reduces the power consumption by up to 70%, further prolonging the life of your lamp.
Quick resume: This feature allows the projector to be instantly powered on again, if it is accidentally switched off.
Direct power on: The projector will start up instantly when power is supplied to the unit. This eliminates the need to manually turn on the projector via the remote control or the keypad, ideal for use in rooms with a "master" power switch.
Direct power off: Power off your projector immediately or directly at the mains. This means you don't have to wait for the projector to cool down before turning it off.
Specifications
DISPLAY/IMAGE
| | |
| --- | --- |
| Display Technology | DLP |
| Resolution | WXGA (1280 x 800) |
| Brightness | 3,800 lumens |
| Contrast ratio | 25,000:1 |
| Native aspect ratio | 16:10 |
| Aspect ratio - compatible | 4:3, 16:9 |
| Keystone correction - vertical | ±40° |
| Horizontal scan rate | 15.38 ~ 91.15 Khz |
| Vertical scan rate | 50 ~ 85 (120 for 3D) Hz |
| Uniformity | 75% |
| Screen size | 35.64" ~ 302.98" diagonal |
LAMP INFO
| | |
| --- | --- |
| Light source type | Lamp |
| Lamp watts | 240 |
| Lamp life hours (up to) | 6000 (Bright), 12000 (Dynamic), 10000 (Eco), 15000 (Eco+) |
OPTICAL
| | |
| --- | --- |
| Throw ratio | 0.52:1 |
| Projection distance | 15.75" – 133.86" |
| Focal length | 7.51 mm |
| Native offset | 112% |
CONNECTIVITY
| | |
| --- | --- |
| Inputs | 1 x HDMI 1.4a 3D support, 1 x VGA (YPbPr/RGB), 1 x Composite video, 1 x Audio 3.5 mm |
| Outputs | 1 x VGA, 1 x Audio 3.5 mm, 1 x USB-A power 1A |
| Control | 1 x RS232 |
GENERAL
Noise level (typical)

26 dB

Noise level (max)

28 dB

PC compatibility

FHD, UXGA, SXGA, WXGA, HD, XGA, SVGA, VGA, Mac

2D compatibility

NTSC M/J, 3.58MHz, 4.43MHz PAL B/D/G/H/I/M/N, 4,43MHz SECAM B/D/G/K/K1/L, 4.25/4.4MHz 480i/p, 576i/p, 720p(50/60Hz), 1080i(50/60Hz), 1080p(50/60Hz)

3D compatibility

Side-by-Side: 1080i50 / 60, 720p50 / 60
Frame-pack: 1080p24, 720p50 / 60
Over-Under: 1080p24, 720p50 / 60

3D

Full 3D

Security

Security bar, Kensington Lock, Password protected interface

OSD / display languages

25 languages: Arabic, Czech, Danish, Dutch, English, Farsi, Finnish, French, German, Greek, Hungarian, Indonesian, Italian, Japanese, Norwegian, Polish, Portuguese, Romanian, Russian, Chinese (simplified), Spanish, Swedish, Chinese (traditional), Turkish, Vietnamese

Operating conditions

5°C ~ 40°C / 41°F ~ 104°F, Max. Humidity 85%, Max. Altitude 3000 m

Remote control

Card style

Speaker count

1

Watts per speaker

10 W

In the box

AC power cord




Remote control


Battery


Basic user manual

Optional wireless models

HDCast Pro, QuickCast Bundle, QuickCast starter kit, WHD200
POWER
| | |
| --- | --- |
| Power supply | 100 ~ 240 V, 50 ~ 60 Hz |
| Power consumption (standby) | 0.5 W |
| Power consumption (min) | 187 W |
| Power consumption (max) | 225 W |
WEIGHT AND DIMENSIONS
Dimensions
(W x D x H)

12.44" x 9.61" x 4.25" (316 x 244 x 108 mm)

Gross weight

8.44 lb (3.83 kg)

Net weight

7.17 lb (3.25 kg)
Accessories
Downloads
Warranty
1-Year Limited Projector Parts and Labor, 90 Days Lamp Warranty
---
LIMITED WARRANTY
This LIMITED WARRANTY is extended by OPTOMA Technology, Inc. to the original purchaser of the Projector Lamp ("Product") and is not transferable. OPTOMA warrants the Product against defects in materials and workmanship under normal use for a period of ONE (1) YEAR from the date of the original purchase. If the product becomes defective during its warranty period, OPTOMA will, at its option, repair or replace the product with new, reconditioned, or re-manufactured components or parts. If the Product purchased is a refurbished unit, the warranty period will be a 90-day Limited Warranty.
For consumable, standard, high pressure gas discharge type lamps (henceforth "Lamp"), fitted to a Product at the time of sale the light source warranty period is NINETY (90) days. Light source life is dependent upon many factors, including light source mode (Bright, Dynamic, Eco, Eco+, etc.), display mode, usage, environmental conditions, and more. Light source brightness may decrease over time. The warranty on the light source is from the date of purchase and is not based on the number of hours the light source is used.
WHAT IS NOT COVERED
This warranty does not cover and shall be voided by defects or damages resulting from the following: natural or man-made occurrences or disasters including, but not limited to earthquakes, fires, floods, power surges, storms, casualties, accidents, misuse or abuse, neglect, alterations, service or repair by entities other than Authorized OPTOMA Service Providers, improper or abnormal installation(s), maintenance, connections with peripherals, and other causes not originating from defects in materials or workmanship, including excessive usage.
EXCESSIVE USAGE shall mean, but is not limited to the following: uninterrupted use of the projector for over eight (8) consecutive hours unless otherwise stated in technical specification for the product.
NORMAL USAGE shall mean, but is not limited to the following: the projector will have an eight (8) hour "rest-period" or "downtime" for every eight (8) hours of consecutive use. OPTOMA and its Service Providers are not responsible for damages or loss incurred during the shipping process.
This Limited Warranty does not cover user manuals or any third party software, settings, content, or data, whether included or downloaded in the Product, whether included during installment, assembly, shipping or at any other time in the delivery chain or otherwise and in any way acquired by you. OPTOMA does not warrant that any OPTOMA software will meet your requirements, will work in combination with any hardware or software provided by a third party, that the operation of any software will be uninterrupted or error free or that any defects in the software are correctable or will be corrected. This Limited Warranty does not cover a) normal wear and tear (including, without limitation, wear and tear of projection lenses, batteries or protective carry cases), b) defects caused by rough handling (including, without limitation, defects caused by sharp items, by bending, compressing or dropping, etc.), or c) defects or damage caused by misuse of the Product, including use that is contrary to the instructions provided by OPTOMA (e.g. as set out in the Product's user manual) and/or e) other acts beyond the reasonable control of OPTOMA. This Limited Warranty does not cover defects or alleged defects caused by the fact that the Product was used with, or connected to, any product, accessory or software not manufactured, or supplied by OPTOMA or was used otherwise than for its intended use. This Limited Warranty is not applicable if the Product has been opened, modified or repaired by anyone other than an authorized service center, if it is repaired using unauthorized spare parts or if the Product's serial number, the Product or accessory date code has been removed, erased, defaced, altered or are illegible in any way and this shall be determined at the sole discretion of OPTOMA. This Limited Warranty is not applicable if the Product has been exposed to moisture, to dampness or to extreme thermal or environmental conditions or to rapid changes in such conditions, to corrosion, to oxidation, to spillage of food or liquid or to influence from chemical products. This Limited Warranty is not applicable if the Products dead pixels are within specification: dead pixels are inherent to projectors and flat panel display technologies, all products with this defect conform to OPTOMA Most Products are designed for normal business and home use. This Limited Warranty is not applicable if a Product has been excessively used. Excessive usage shall mean, but is not limited to the following: uninterrupted use of the projector for over eight (8) consecutive hours. NORMAL USAGE shall mean, but is not limited to the following: The projector will have an eight (8) hour "rest-period" or "downtime" for every eight (8) hours of consecutive use. Excessive usage may not be covered by OPTOMA warranty (parts, work or freight), unless agreed otherwise in writing. However, some projection Products, as specified on the OPTOMA website, are covered by a "24/7" guarantee. This guarantee covers the Products for continual use. Please note however, that if using a Product continuously, the Lamp's life time will be extended if it is switched off for thirty (30) minutes every twenty four (24) hours. 3D Glasses Limited Warranty is based on home usage of 2 hours per day, with glasses being charged every 2 weeks. This Limited Warranty is not applicable if the Product is operated in 360 degree mode or portrait mode. However, some projection Products, as specified on the OPTOMA website, are designed to work in 360 degree mode or portrait mode, and this Limited Warranty is applicable for those models that are specified on the OPTOMA website to work in 360 degree mode or portrait mode. This Limited Warranty is not applicable if the Product is operated in an excessively dirty or dusty environment or if it has not been regularly maintained to keep the air intakes free of obstruction. This Limited Warranty is not applicable if the Product is shut down incorrectly thereby not allowing the Product to shut down in a predetermined, controlled manner. This Limited Warranty is not applicable if damage was caused by negligence or failing to carry out appropriate maintenance by the buyer, his customer, the end user or during transport, or in case of an act of God. Installing a non "OPTOMA genuine lamp module" in an OPTOMA projector Product may void your projector's warranty. Repairs resulting from damage done by a copy lamp module will not be covered under your OPTOMA This limited warranty does not cover any items that are in one or more of the following categories: external devices (except as specifically noted); accessories or parts added to an OPTOMA Product or system after it is shipped from OPTOMA; accessories or parts that are not installed in the OPTOMA factory or OPTOMA Software or peripherals Products. This Limited Warranty is not applicable if damage was caused by the power supply system to which the Product was connected. This Limited Warranty is not applicable if the projection Product that has been ceiling mounted in an improper fashion (for instance, ceiling mount with incompatible screws or installed in an enclosure).
OBTAINING WARRANTY SERVICE
Should your Product prove defective during the warranty period, please contact OPTOMA service and support at (1) the telephone number listed on our Web page or written documentation (currently, the number is toll free, but this may change at the sole discretion of OPTOMA: 1-888-289-6786, (2) at www.optoma.com/us or (3) email: services@optoma.com.
If End User needs to return a defective Product back to OPTOMA Service Center, End User must complete a RMA Request Form, which can be found on the RMA Procedure page, and submit the completed RMA Request Form to OPTOMA Service Center.
If the Product is eligible for warranty service, you will be issued a Return Merchandise Authorization (RMA) number and given shipping instructions. All products returned to OPTOMA for repair must have an RMA number clearly marked on the outside of the package or they will not be accepted. Please include proof of the date of original purchase (invoice) with the shipment. Postage, insurance and shipping costs incurred in returning your Product to OPTOMA or its authorized service provider (Service Provider) for warranty service is your responsibility. OPTOMA and its Service Providers are not responsible for any loss or damage to the Product while the Product is in transport to or from OPTOMA or its Service Provider. A Product returned for warranty service must be shipped in its original packaging material or equivalent to avoid damage while in transit. You are solely responsible for shipping charges and other costs incurred in connection with the return of the defective Product to OPTOMA or its Service Provider.
WARRANTY DISCLAIMER AND LIMITATIONS
THIS WARRANTY STATEMENT FOR THE PRODUCT IS IN LIEU OF ALL CONDITIONS OR WARRANTIES, EXPRESS, IMPLIED OR STATUTORY, INCLUDING BUT NOT LIMITED TO ANY IMPLIED CONDITIONS OR WARRANTIES OF MERCHANTABILITY OR FITNESS FOR A PARTICULAR PURPOSE ON THE PART OF OPTOMA, ITS AGENTS OR ITS SERVICE PROVIDER. ALL IMPLIED OR STATUTORY WARRANTIES TO THE EXTENT THAT THEY CANNOT BE EXCLUDED ARE LIMITED TO THE EFFECTIVE PERIOD OF THE WARRANTY SET FORTH HEREIN. IF THE PRODUCT IS DEFECTIVE IN MATERIALS OR WORKMANSHIP, YOUR SOLE AND EXCLUSIVE REMEDY SHALL BE REPAIR OR REPLACEMENT AS PROVIDED ABOVE. HOWEVER, IF THAT REMEDY FAILS ITS ESSENTIAL PURPOSE, OPTOMA RESERVES THE RIGHT TO REFUND THE PURCHASE PRICE OF THE PRODUCT TO THE PURCHASER IN EXCHANGE FOR THE RETURN OF THE PRODUCT. OPTOMA, ITS AGENTS AND SERVICE PROVIDERS SHALL NOT BE LIABLE FOR ANY DAMAGES INCLUDING BUT NOT LIMITED TO DIRECT, INDIRECT, INCIDENTAL OR CONSEQUENTIAL DAMAGES, LOSS OF USE OR DATA, LOSS OF PROFITS OR INTERRUPTION OF BUSINESS, WHETHER SUCH ALLEGED DAMAGES ARE BASED IN WARRANTY, TORT (INCLUDING WITHOUT LIMITATION, NEGLIGENCE AND STRICT LIABILITY), CONTRACT, OR INDEMNITY. EXCEPT TO THE EXTENT PROHIBITED BY LAW, THIS IS THE EXCLUSIVE WRITTEN LIMITED WARRANTY OF THE ORIGINAL PURCHASER.
STATE LAW RIGHTS
SOME STATES DO NOT ALLOW LIMITATIONS ON HOW LONG AN IMPLIED WARRANTY LASTS OR THE EXCLUSION OR LIMITATION OF INCIDENTAL OR CONSEQUENTIAL DAMAGES, SO SUCH LIMITATIONS OR EXCLUSIONS MAY NOT APPLY TO YOU. THIS WARRANTY GIVES YOU SPECIFIC LEGAL RIGHTS, AND YOU MAY ALSO HAVE OTHER RIGHTS, WHICH MAY VARY FROM STATE TO STATE.
POST WARRANTY
OPTOMA will not provide technical support for post warranty Products; however, if you have any Product in defect after the warranty is expired, you may call OPTOMA Customer Service at 1-888-289-6786 for post warranty repair services. You are responsible for shipping and labor charges, as well as charges for parts used in the repair.
Please register at https://www.optoma.com/us/support/warranty-registration/ for warranty activation of your product. Register online to avoid unnecessary wait-time in services.
Optoma Technology, Inc.
47697 Westinghouse Dr.
Fremont, CA 94539
For more information on OPTOMA Projectors, please call 1-888-289-6786 or visit us at: www.optomausa.com
Contact Information:
United States
Tel: 888-289-6786
FAX: 510-897-8601
E-Mail: services@optoma.com
Web: www.optomausa.com
Canada
Tel: 888-289-6786
FAX: 510-897-8601
E-Mail: services@optoma.com
Web: www.optoma.ca