Casio XJ-A141
LED/Laser Proj, XGA, 2500 Lum, RS232
Part #: 0601-4316 Mfr #: XJA141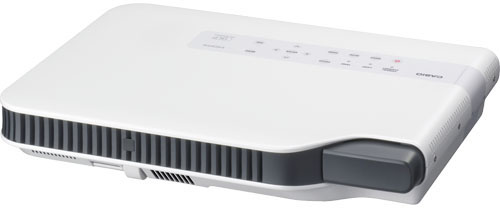 Overview
The Slim Series incorporates a Casio-developed and patent-pending hybrid light source that combines laser and LED technology for amazing high brightness and can last up to 20,000 hours. The Slim is an earth-friendly, low maintenance, 5-pound projector with features such as a 2X Power Zoom Lens making it a great portable projector. The Slim Projector eliminates the need for a short life mercury lamp (typically 3000 hours) and is economical to operate.
Features
Hybrid Light Engine
By combining a laser, a fluorescent element, and an LED, Casio has created an original mercury-free hybrid light source capable of generating high brightness. Casio has achieved high brightness output of green light, which until now has been considered difficult with conventional semiconductor light sources, by efficiently converting blue laser light into green light using a fluorescent element.

Cost Effective

Compared with conventional high-brightness projectors employing mercury lamps, Slim technology cuts costs as well as the time and effort involved in lamp exchange while maintaining clear, high-quality images over an extended period. The LampFree® design is backed by a comprehensive 3-year warranty including the light source; users can expect reliable, worry-free operation from the Slim projectors.

Automatic Brightness and Adjustment

The automatic brightness adjustment, which adjusts lumen output based on the level of ambient light in the room, saves power, which saves money (and saves you from eye strain as well.)

HDMI

A built-in HDMI (High Definition Multimedia Interface) input provides a direct digital input and allows connectivity with many widescreen notebooks now shipping with HDMI outputs. Compatible with HD video formats, HD video sources including Blu-Ray players, cable converter boxes, and gaming systems can be connected to the Slim projector.
Specifications
Brightness — 2500 lumens
Contrast ratio — 1800: 1
Light source — laser & LED hybrid technology
Native resolution — XGA (1024 x 768)
Native aspect ratio — 4:3
Throw ratio — 1.4-2.8:1
Inputs — (1) composite, (1) HD-DB15/component, (1) HDMI
Display element device type — 0.55-inch DLP® chip
Keystone correction — auto +30° vertical; manual +/-30° vertical
Dimensions (WxDxH) — 11.69" x 8.26" x 1.69" incl. projections (1.58" at thinnest point, excl. projections)
Weight — 5.0 lbs
Downloads
Warranty
3-year warranty on the projector and 3 years (or 6,000-hour usage) on the light source.