JVC PK-AG3P
3D RF Glasses for use with PK-EM2G RF Emitter
Part #: 0601-4814 Mfr #: PKAG3P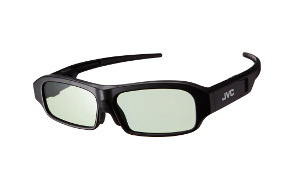 JVC PK-AG3P
Features
Active shutter 3D RF glasses for D-ILA projectors
These new rechargeable 3D glasses offer up to 100 hours of comfortable 3D viewing on a single charge. Using Radio Frequencies (RF), these glasses work within a wider coverage area with no synchronization issues when moving or turning away from the emitter. These new glasses also have a 2D mode for audience members who would rather not view 3D.
Rechargeable Active Shutter Glasses for all 3D JVC D-ILA models equipped with the PK-EM2P RF Emitter
Adjustable design permits wearing over prescription eyeglasses
100-hour battery life
2.5-hour full recharge time
Partial (5 min) charge will give 13 hours of use
Charge from any USB device with provided cable (charger not provided)
Includes protective pouch
May not be compatible with other manufacturers' 3D systems
Compatibility
To check whether this item is compatible with your equipment, use the form below.