JVC DLA-RS620U
D-ILA Projector 1080p, 2000L, 3 year warranty
Part #: 0601-4828 Mfr #: DLARS620U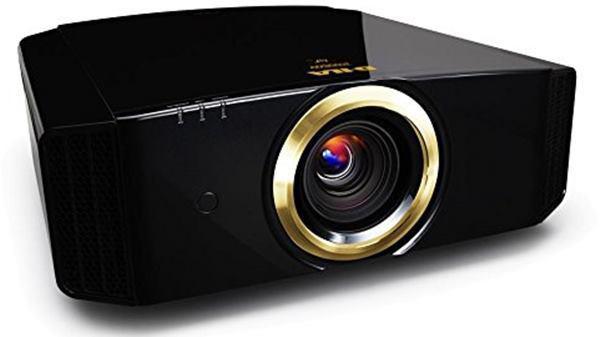 Features
The DLA-RS620U is a premium, custom install projector, built with hand-selected and hand-tested components. The projector delivers 2000 lumens and an industry leading 160,000:1 native contrast ratio for strikingly clear images with screen sizes over 150 inches, and/or in high ambient light environments. No matter the room setting, the DLA-RS620U delivers dramatic, reference quality images from all 4K and HD sources.
JVC's 6th Generation D-ILA Imaging Device. The exceptional picture quality achieved by JVC projectors is a result of the precision technology behind the D-ILA device which features a 0.3µ pixel gap and high light e‑ciency for bright, high native contrast and superior detail.
4K Precision JVC e-shift4 Technology. The 4th generation of e-shift provides optimization for signals up to 4K, new Multiple Pixel Control features AUTO input mode detection for convenience and adds signal compatibility extending to 4K60P (up to 4:4:4). A new processing algorithm improves sharpness for an advanced 4K picture.
HDR10 plus Hybrid Log-Gamma. HDR content such as UHD Blu-ray discs incorporate extended dynamic range, 10bit color and wide BT.2020 color gamut. This demands exceptional specifications and exacting performance from display devices. DLA-RS620 supports BT.709 and Digital Cinema Initiative (DCI) color gamut with BT.2020 color mapping, with high native contrast and bright vivid images to let you experience a full complement of HDR content. Hybrid Log-Gamma is an additional HDR Gamma mode that is used for live broadcast or streaming events.
18Gbps Full Speed HDMI Inputs with HDCP2.2. With the current expansion of 4K streaming and the next generation Ultra HD Blu-ray, JVC has incorporated the latest HDMI/HDCP2.2 standard on both DLA-RS620 HDMI inputs allowing two HDCP2.2 copy protected devices to be connected at the same time up to 60 fps.
Superior Color Performance and Contrast — Improved Optical Engine Design. In order to take full advantage of UHD Blu-ray and HDR the optical engine incorporates advanced color ltering which enables a wider color gamut. The viewing experience comes alive with the vivid color saturation and extended contrast range found in these new formats. Extended color gamut enables a larger color palette to more faithfully reproduce the intent of the content creator in movies, sporting events or photography. A variety of color modes are available and can be setup as custom user memories.
Home Automation. All JVC Reference Series projectors are Control4 SDDP (Simple Device Discovery Protocol) software certified so they can easily be integrated into a Control4 home automation system.
Specifications
Brightness

2000 Lumens

Imaging device
0.7 inch Full HD D-ILA (1920 x 1080) x3
Resolution
3840 x 2160 Precision via e-shift4 technology (1920 x 1080 in 3D mode)
Contrast
Native: 160,000:1 | Dynamic: 1,600,000:1
Lens Throw

1.4:1 to 2.8:1

Lens Shift
Motorized Shift±80% Vertical and ±34% Horizontal
Digital Video Signal
480p, 576p, 720p/50 Hz, 720p/60 Hz, 1080i/50 Hz, 1080i/60 Hz, 1080p/24 Hz,
1080p/50 Hz, 1080p/60 Hz, 3840x2160/24Hz, 3840x2160/25Hz, 3840x2160/30Hz,
3840x2160/50Hz*1 , 3840x2160/60Hz*1 4096x2160/24Hz*2 , 4096x2160/25Hz*2,
4096x2160/30Hz*2 , 4096x2160/50Hz*1,2, 4096x2160/50Hz*1,2
Dimensions
17 7 /8 x 7 x 18 9 /16
Weight (net)
34.4 lbs
Downloads