Sanyo PLC-XU350A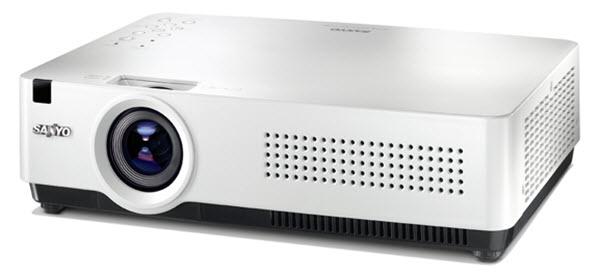 Sanyo PLC-XU350 LCD Projector, XGA, 3500 Lumens, Open Box
Item #0601-5623-U
Model #PLCXU350
Features
Sanyo PLC-XU350
XGA Ultraportable Multimedia Projector
This lamp-based conference room projector is capable of displaying 3,500 Lumens at its brightest setting with a native resolution of 1024x768. The internal 3LCD technology is an innovative 3-chip design that sets itself apart by delivering vibrant, true-to-life images with better color brightness and a wider color gamut.
---
Features:
Auto Set Up Function, Auto Input Search and Auto Vertical Keystone Correction: The Auto Set Up Function corrects keystone-shaped distortion by searching for an input signal and detecting projector incline, therefore reducing setup time. The projector automatically compensates for keystone picture distortion. Auto Keystone Correction, Auto Input Search and Auto PC Adjustment make it a really smart projector.
Networking capability: The PLC-XU350 is equipped with SANYO's exclusive PJ-Net Master Network Interface software for wired and wireless networking, a common feature among SANYO's extensive line of commercial projectors. Networking allows the monitoring of projector functions and operation from a long distance, via a web browser, for up 15,000 Sanyo projectors. Emails can be sent automatically to report operating status.
Compact design and light weight for portability: The compact design (12.8" x 3.3" x 9.1") and lightweight body (5.7 lb) let you make presentations almost anywhere.
Power off and go: No need to wait for the projector to cool down. Once the lamp is shut off, you can disconnect the power cord right after your presentation.
Black Board / Color Board mode: the projector is compatible with four colored (red, blue, green and yellow) projection surfaces via the 'Color Board Mode'. It adjusts the color to make images look as true as on an ordinary white screen.
Easy-to-replace lamp: There is access to the lamp from the top of the projector, which means you can replace the lamp on a ceiling-mounted unit without taking down the projector.
Closed Caption compatible
Downloads