Sanyo PDG-DET100L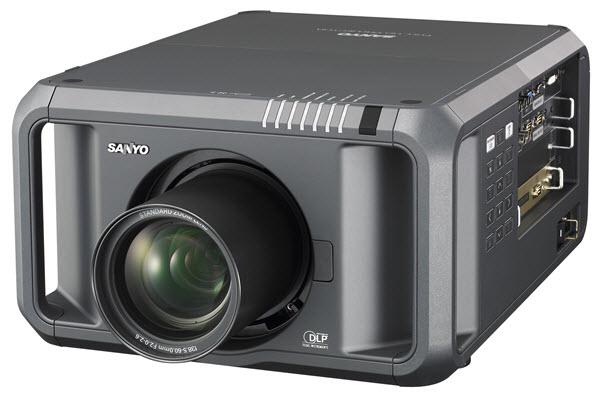 DLP Projector, 1400x1050 (SXGA+), 7500 Lumens, Dual-Lamp System, HDMI, PIP, Lens Sold Separately, 3-Year Warranty
Item #0601-5626
Model #PDGDET100L
Overview
Sanyo PDG-DET100L
DLP SXGA+ 7500 Lumens Multimedia Large Venue Projector
This lamp based projector is capable of displaying 7,500 Lumens at its brightest setting with a native resolution of 1400 x 1050.
The internal DLP technology features higher contrast, less visible pixels, and more portability. Vertical and horizontal lens shift allow greater flexibility in positioning the projector relative to the screen.
Features
7,500 lumens, and Full HD video for a high brightness and superior image: The PDG-DET100L is designed to handle SXGA+ high quality resolution image projection. Attention to detail and image projection accuracy allow use of the projector in more demanding situations, such as specialized design fields or CAD applications. The PDG-DET100L has two different types of user-changeable color wheels. 6-segments color wheel provides rich color reproduction, while 4-segments wheels offers high brightness.
Various features for versatile installation: 'Edge Blending' function allows what feels like boundary-less images with multi-image display possibilities. Built-in 'Color Matching' function corrects variations in color reproduction when using more than one projector. Capable of projecting two images simultaneously either using built-in picture-in-picture mode or picture-by-picture mode.
Dust-resistant sealed optical engine and *35,000-hour 'Active Maintenance Filter', for cleaner and highly durable projection: Sealed optical engine cooling design prevents dust build-up while maintaining optimal brightness and contrast, overcoming the traditional problems of maintaining high projection quality. (* ECO lamp mode)
Uncompressed HD DATA WIRELESS transmission optional adapter (option): pure uncompressed data transmission without delays between the video and sound, from distances of up to 98 feet from the input source, provides easy setup in large event halls/rooms/theaters.
24/7 feature "Lamp interval function": automatically switch the "on" lamp to an alternate lamp after a certain period of time, to reduce deterioration of the original lamp. A user can select from [Off/Auto/200h/500h/1000h/2000h] or 24h interval time, and rotate each lamp for 24/7 usage.
Note: Lens is sold separately.
Accessories
Optional Lenses
Other Accessories
Downloads