Eiki EK-610U
1-DLP Projector 1920x1200 WUXGA, 6500 Lumens, No Lens, 3 Year Warranty
Part #: 0601-5758 Mfr #: EK610U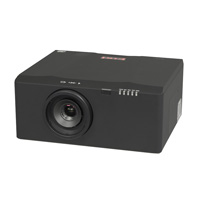 Features
EK-610U DLP Projector
Key Features:
* Includes Standard Lens
* 6,500 ANSI lumens bright with 90% uniformity and a 4400:1 contrast ratio.
* Native WUXGA resolution. Compatible with inputs up-to UXGA and WUXGA.
* Supports analog and digital video input in all color standards up-to 1080p.
* HD BaseT, HDMI and DVI-D connectivity with HDCP compliance.
* Built-in Mechanical Shutter. Auto input selection.
* Accepts composite and component in all major standards.
* Displays both 4:3 and 16:9 aspect ratios. Supports most HDTV resolutions.
* Wired network control. Digital zoom: 1/4 ~ x16.
* Horizontal and Vertical Keystone Correction.
* Pin Cushion and Barrel image correction.
* Security bar. Kensington® MicroSaver® security slot. PIN lock.
* 3 year projector warranty.