Eiki EK-308U
LCD Projector, 1920 x 1200 WUXGA, 6000 Lumens, Lens D:W = 1.07-1.75:1, 3-year warranty
Part #: 0601-5780 Mfr #: EK308U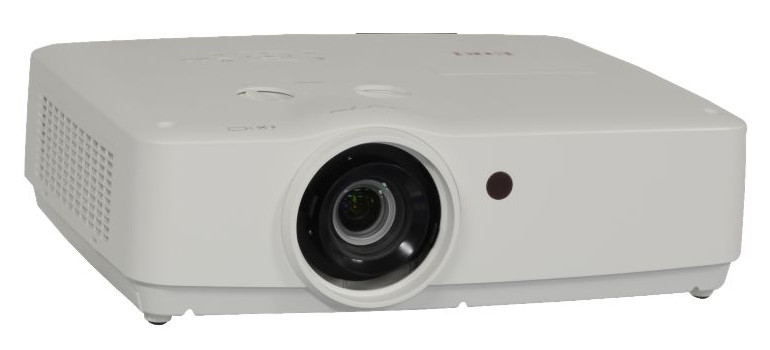 Eiki EK-308U
Overview
Eiki EK-308U
Higher Brightness in a Compact Body
The EK-308U (along with EK-309W) possesses the highest brightness among EIKI's portable projectors. Equipped with a variety of input and output terminals on its compact body (including HDMI, VGA, LAN and RS-232C), it displays bright and clear images.
Maintenance is easy thanks to a top-accessed lamp and side-accessed filter. The electrostatic filter provides highly effective filtration for increased dust protection.
Horizontal and vertical lens shift, keystone correction, and corner correction allow flexible installation in a variety of situations. The EK-308U is suitable for small to medium-size rooms such as classrooms, lecture halls, conference rooms, and museums. It projects clear images and text, even in bright rooms.
Features
6000 center lumens of brightness with 80% uniformity and a 10,000:1 contrast ratio.
Native WUXGA resolution. Compatible with inputs up to UXGA and WUXGA.
Supports analog and digital video input in all color standards up to 1080p.
HDMI with MHL (Mobile High-Definition Link) displays HD video from cmartphones & tablets.
Convenient mid-range (1.6:1) manual zoom and focus lens.
Horizontal, vertical & corner keystone correction.
Horizontal & vertical power lens shift. Wired network control.
Accepts composite, component, and S-Video in all major standards.
Displays both 4:3 and 16:9 aspect ratios. Supports most HDTV resolutions.
Built-in 10 Watt sound system. Closed Caption decoding (NTSC).
Side-accessed air filter & top accessed lamp for ease of maintenance.
Auto input selection. Built-in Test Patterns.
Security bar. Kensington® MicroSaver® security slot. PIN lock.
3-year projector warranty.
Specifications
Brightness

6,000 Center Lumens

Contrast Ratio

10,000:1

Illumination Uniformity

80%

Resolution and Aspect Ratio

WUXGA (1920 x 1200), 16:10

Color Reproduction

10-bit (16.7 million colors)

Projection Lamp

300 Watts UHP

Estimated Lamp Life

4,000 / 3,000 hours (Eco/Normal)

Total Pixels

6,912,000 (1920 x 1200) x 3

Imaging System

0.64 in (16 mm) inorganic LCD Panels x 3

Scanning Frequency

Auto: H Sync. 15–100 kHz, V Sync. 48–85 Hz

Pixel Clock

Up to 150 MHz

Lens

Attached – Manual Zoom and Focus

Lens Specs

F=1.6–1.9; f=0.602–0.970 in (15.31–24.64 mm)

Lens Ratios

Zoom Max:Min=1.6:1; D:W=1.07–1.75:1

Image Diagonal

30–300 in (76.2–762 cm)

Image Width

2.1–21.2 ft (0.64–6.4 m)

Throw Distance

2.23–37.50 ft (0.68–11.43 m)

Projector Elevation Adjustment (legs)

Up to 10°

Maximum Pitch

Up to 30° Up or Down

Vert/Horiz. Keystone Correction

Digital: V: ±30°(Auto), H: ±15° (Auto) Corner Keystone

Lens Shift

Vertical: ±45%, Horizontal: ±9% (manual)

Image Orientation

Normal, Reversed, Inverted

Local Control / Power Management

Full Function / Auto Shutdown

Remote Control

Wireless x 1

RS-232 Control

Dsub9 x 1

LAN Port

RJ45 x 1

Computer Input in Pixels

Up to 1600 x 1200 (4:3), 1920 x 1200 (16:10)

Analog 4x3 Inputs

UXGA, SXGA+, SXGA, XGA, SVGA, VGA, MAC

Analog Wide Inputs

WUXGA, WSXGA+, WXGA

Digital 4x3 Inputs

UXGA, SXGA+, SXGA, XGA, SVGA, VGA, MAC

Digital Wide Inputs

WUXGA, WSXGA+, WXGA

Video Formats

NTSC / PAL / SECAM

Video Input Analog

480i/p, 575i/p

Video Input Digital

480p, 575p, 720p, 1080i/p

Image Signal Resizing

Smart Scaling Technology

Image Signal Inputs
Computer 1
(Component/S-Video)

Dsub15 x 1

Computer 2
(switchable Monitor Out)

Dsub15 x 1

Digital Video
(w/ HDCP & MHL)

HDMI x 2

USB Type A - Memory Viewer

USB Type A x 1

USB Type B -
USB Display/Firmware

USB Type B x 1

Composite Video

RCA x 1

Audio Signal Inputs
Computer Audio

MiniStereo x 1

Video Audio

RCA x 2 (L/R)

Outputs
Computer Monitor
(Computer 2)

Dsub15 x 1

Audio Output

Variable, Stereo: MiniStereo x 1

Amplifier

Mono: 10 Watt

Speaker

1.4 in (3.7 cm) x 1 (Mono)

Fan Noise (@ 1m)

35.9 dB / 40.9 dB (Eco / Normal)

Cabinet Size (HxWxD) - excluding legs

5.0 x 15.5 x 12.5 in (12.8 x 39.5 x 31.8 cm)

Weight

9.9 lb (4.5 kg)

Packaged Cabinet Size (HxWxD)

9.0 x 17.5 x 19.5 in (23.0 x 44.0 x 49.5 cm)

Packaged Weight

13.2 lb (6 kg)

Operating Temperature

41–95°F (5–35°C)

Electrical Safety Compliance

IEC / UL / cUL

Electromagnetic Compatibility

FCC Class B, CE Mark

Power Requirements

100–240 V AC, 50/60 Hz

Power Consumption

0.5 W in Eco Standby mode, up to 420 W

Heat

Up to 1433 BTU/hr

Security Facilities

Kensington® Security Slot

UPC

4571194679427

User Maintenance

Clean Filter, Replace Lamp

Limited Warranty: to the original end use customer only
Projector

3 years / 6000 hours (whichever occurs first)

LED Light Engine only

1 year ownership / 500 hours use (whichever occurs first)

Included Accessories

Quick Start Guide, 5.0 ft. (1.5 m) HDMI Cable, 5.0 ft (1.5 m) Detachable Power Cord, Remote Control (with 2 AAA Batteries)

Optional Accessories

Replacement Lamp, Component Video Cable (3RCA to Dsub15), S-Video Cable (S-Video to Dsub15), Ceiling Mount, Ceiling Post and Plate
Accessories
Downloads