BenQ MW621ST
1-DLP Projector, 1280x800 WXGA, 3000 Lumens, D:W .72-.87:1 Short-Throw, 1 year warranty
Part #: 0601-6773 Mfr #: MW621ST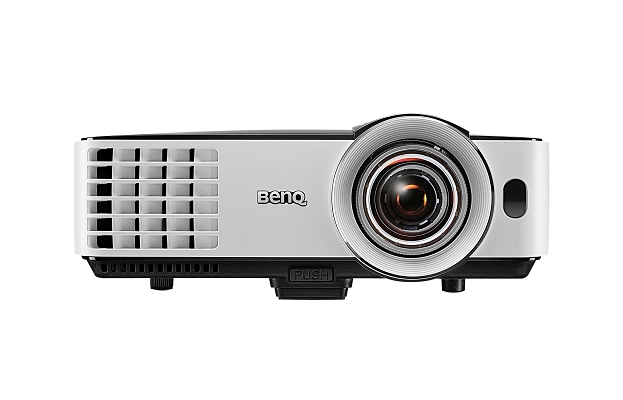 Features
Big Pictures in Small Spaces
The BenQ MW621ST offers the highest display flexibility– giving you a 55" big picture in a mere projection distance of 1 meter! Featuring 3000 ANSI lumen high brightness and 13000:1 high contrast ratio and DLP® Link™ 3D technology, this WXGA projector is the perfect match for small-sized business and education settings!
key features
SmartEco Technology
Short-Throw Projection
Upper Lamp Door for Easy Lamp Access
Auto Blank for Safe Use
Wireless Display
Power Saving, Eco FriendlyWorld-Leading SmartEco Technology for a Greener Environment
As the first DLP brand to incorporate Philips' ImageCare technology into its projector lamp system, BenQ has taken a further leap, developing its own SmartEco Technology to perfect what DLP can do for energy saving in the 21st century classroom. Built with this brand new invention, the MW621ST brings together uncompromised brightness, exquisite picture quality and optimized lamp life through innovative features.
SmartEco Mode
The SmartEco Mode, which cleverly adjusts the lamp power to maximize power saving by delivering the best contrast and brightness performance using only as much light as needed.
Eco Blank Mode
The Eco Blank mode allows teachers to blank the projection screen whenever they need to direct their students' focus back on them – or simply when the projector is not in use. When activated, this special feature dims the lamp power automatically, lowering the total power consumption by 70%.
No Source Detected Mode
The automatic switch to Eco Blank Mode after the projector is turned on for over three minutes without a display source, eliminating unnecessary energy waste and prolonging the life of the projector lamp.
0.5W in Standby Mode
When inactive, the MW621ST keeps power consumption to a minimum with 0.5W standby power, achieving what was once a challenge for earlier projector models. This technological advancement in energy saving certainly helps extend the projector lamp life and lower energy costs.
Audio Pass Through
With the built-in speaker, the MW621ST can be used as an audio system when it's on the standby mode. This saves you the trouble as well as the extra budget for getting a separate audio system.
Blu-ray Full HD 3D Supported
BenQ MW621ST is built with latest DLP® technology to support 3D functionality, allowing schools to bring an immersive learning experience to their students with a simple preparation of 3D glasses and 3D content from your Blu-Ray player.
The Good Things that Come in Short Distances
Zero Space Constraints
Just imagine the freedom of having the same projection quality with half the required distance! You'll have better flexibility in choosing your projection locations! That's the magic of short-throw!

Zero Eye-Blinding Lights
The short-throw projection distance keeps the projector light from shinning directly into your eyes, allowing you to keep your focus on your audience.

Zero Disruptions
Say goodbye to the annoying shadows. With a projection distance this close, you can move freely without worrying about obstructions between the projector and the screen!
Quick Installation
By pressing Quick Intall key on the remote control, installer can quickly acces to installation related functions in the OSD menu.
Hassle-Free Projector Maintenance - Upper Lamp Door for Easy Lamp Access
The upper lamp door is designed for it managers to replace the projector lamp safely and quickly. should the projector lamp go out in the middle of the class, it can be replaced without delaying the class.
Thoughtful DesignAuto Power Off
Automatic power off after the projector is turned on for over thirty minutes without a display source, eliminating unnecessary energy waste and prolonging the life of the projector lamp.
Auto Blank for Safe Use
Auto Blank is an eye protection feature designed to ensure safe use. It enables the MW621ST to detect movements within 20 centimeters* in front of the lens and cut off the projection light automatically.
*Effective distance at around 20cm; may vary by ambient light levels and the color of reflected objects
Wireless Display with Laptop, Tablets and Smart Phones
Insert a Wi-Fi dongle into the USB flash drive slot to display contents from your PC, MAC, iPhone and iPad to MW621ST through Wireless Display feature.
Downloads