BenQ LU9915
Laser 1-DLP Projector, 1920x1200 WUXGA, 10,000 Lumens, No Lens, 3 year warranty
Part #: 0601-6831 Mfr #: LU9915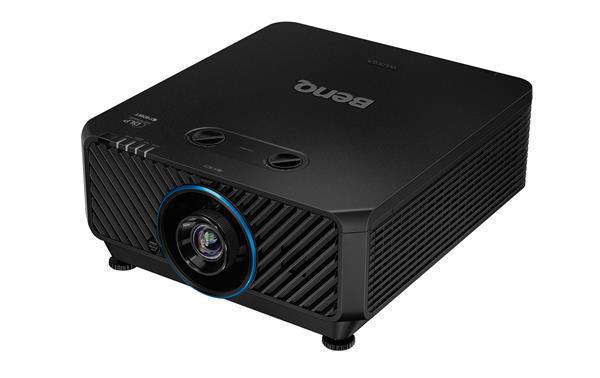 BenQ LU9915
Overview
BenQ LU9915 Projector
WUXGA Large Venue Projector
The BenQ LU9915 is an innovative laser projector which offers unprecedented flexibility and unrivaled value for large venues. Installation is simplified by a variety of features including 8 optional lenses, motorized shift/lens/zoom/focus and the ability to project at any angle. The LU9915 features BenQ's innovative Blue Core laser technology which provides over 20,000 hours of illumination. Additionally, the reliability and 24/7 operating capability delivers an industry leading total cost of ownership.
Blue Core Laser
Introducing the Blue Core laser from BenQ, an innovative and proprietary technology designed to deliver excellent image quality for large venues. Powered by Digital Light Processing (DLP®) technology, the Blue Core laser incorporates a dual color wheel and TIR prism to deliver 10,000 ANSI lumens and an exceptional WUXGA resolution.
Unrivaled Reliability
BenQ's Blue Core laser technology delivers exceptional reliability in even the most demanding applications. Laser technology eliminates the need for lamp replacement, one of the most costly and time intensive aspects of projector maintenance. Additionally, the LU9915 is configured for continuous 24/7 operation and with an operating life of 20,000 hours, the total cost of ownership (TCO) is industry leading.
Installation Flexibility
Installing a professional projector can be a demanding task, but the LU9915 is equipped with a variety of features to simplify things and deliver added flexibility. The projector can be mounted at any angle allowing for impactful visual communication including portrait projection and projecting onto ceilings and floors. Eight selectable all glass lenses maximize projection layout options and ensure a solution for every application. Motorized lens zoom, focus and control allow for last minute changes and eliminate the need for manual re-work.
Features
Key Features
WUXGA (1920 x 1200)
10,000 ANSI Lumens
100,000:1 Contrast (Dynamic Black)
8 Lens Options, 0.38:1 – 8.26:1
Integrated Edge Blending
Geometric Correction
3G-SDI
HDBaseT
Additional Features
360º Any Angle Projection Including Portrait
Vertical and Horizontal Keystone
Lens Memory
Mechanical Shutter
HDMI, DisplayPort, DVI-D
Full Keypad for Easy Operation
Vertical and Horizontal Lens Shift
Compatible with Crestron, AMX and PJlink Control Systems
Custom Light Mode – Dynamic Brightness for Different Applications
Specifications
Specifications
LU9915
Display
Projection System
DLP® 0.67" WUXGA
DMD type
DC3 DMD Chip
Native Resolution
1920x1200 Pixels
Brightness
10000 ANSI Lumens
Contrast Ratio*
100,000:1
Display Color
1.07 Billion Colors
Aspect Ratio
Native 16:10 (9 aspect ratio selectable)
Light Source
Laser Diodes
Light Source life* (Normal/ Eco)
20000/45000 Hours
Optical
Throw Ratio
LS1ST4 Ultra Short Throw: 0.377
LS1ST3 Wide Fix: 0.76
LS1ST2 Ultra Wide: 0.75 ~ 0.93
LS1ST1 Wide Zoom: 1.25 ~ 1.79
LS1SD Standard: 1.73 ~ 2.27
LS1LT1 Semi Long: 2.22 ~ 3.67
LS1LT2 Long Zoom1: 3.58 ~ 5.38
LS1LT3 Long Zoom2: 5.31 ~ 8.26
Zoom Ratio
LS1ST4 Ultra Short Throw: Fixed
LS1ST3 Wide Fix: Fixed
LS1ST2 Ultra Wide: 1.25X
LS1ST1 Wide Zoom: 1.41X
LS1SD Standard: 1.3X
LS1LT1 Semi Long: 1.65X
LS1LT2 Long Zoom1: 1.5X
LS1LT3 Long Zoom2: 1.55X
Lens Control
8 Lens Options (Motorized Zoom and Focus)
Lens shift
Vertical: 0% ~ 50%
Horizontal: -10%~10%, Standard Lens
Keystone Correction
Vertical: ± 30 degrees, Horizontal: ± 30 degrees
Projection Size
50" ~ 500", Standard Lens
Audio
Built-in Speaker
NA
Special Features
Security
Security Bar, Power Cord Lock
Feature
Custom Lightsource Mode (light power adjustment).
Dicom Simulation Mode. 2D Keystone. Blank to True Black.
Edge-blending. Geometric Correction. 3D Sync.
24/7 Hours Operation. Dust Proof Engine. Dual Liquid Cooling System.
Auto High Altitude Mode. 360 Degree & Portrait Projection.
Compatibility
Resolution Support
VGA(640 x 480) to WUXGA (1920 x 1200)
Horizontal Frequency
15K - 92kHz
Vertical Scan Rate
23 - 85Hz
HDTV/UHDTV Compatibility
480i, 480p, 576i, 576p, 720p, 1080i, 1080p
Video Compatibility
NTSC, PAL, SECAM
Power
Power Consumption (Normal)
1290W@100V, 1215W@240V (Typical)
Standby Power Comsumption
Normal < 0.5W. Network < 6W.
Power Supply
100 ~ 240V AC
Dimensions & Weight
Product Dimensions (WxHxD)
500 X 211 X 583 mm
Product Weight
28 kg
Operation Condition
Noise Level (Normal/Eco)
42/39 dBA
Operating Temperature
0 ~ 45°C
OSD
On-Screen Display Languages
English/ French/ German/ Italian/ Japanese/ Korean/ Portuguese/ Russian/ Simplified Chinese/ Spanish/ Swedish/ Traditional Chinese (12 Languages)
Accessories
Standard
Optional
Power Cord
Remote Control
VGA cable (1.8m)
Wired Remote Cable
Lens Hole Cap
Installation Guide
Regulatory Statement
Anti-Theft Screw
LS1ST4 Ultra Short Throw (5J.JCY37.001)
LS1ST3 Wide Fix (5J.JAM37.011)
LS1ST2 Ultra Wide (5J.JAM37.061)
LS1ST1 Wide Zoom (5J.JAM37.021)
LS1SD Standard (5J.JAM37.001)
LS1LT1 Semi Long (5J.JAM37.051)
LS1LT2 Long Zoom1 (5J.JAM37.031)
LS1LT3 Long Zoom2 (5J.JAM37.041)
Downloads