BenQ PRJ PW02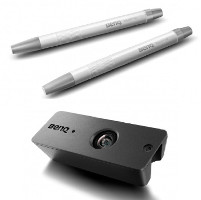 PointWrite Pen Package
Item #0601-6854
Model #5JJ9A2612E
Overview
BenQ PRJ PW02 (
5J.J9A26.12E

)
PointWrite™ Sensor Module and Pen Package
Enjoy inspiration and collaboration with BenQ interactive touch technology.
PointWrite™ kit coupled with QWrite™ software to seamlessly integrate with BenQ projectors for a truly collaborative learning environment
Compatible with Windows/Mac OSX operating systems
Use with select BenQ short throw projector models. Please check the Compatibility tab to determine if this accessory will work with your projector.
Packages includes:
PointWrite sensor module
Two PointWrite pens
15 ft mini USB cable
Two sets of AAA batteries
Five extra pen tips
Two M3L8 screws
Wrist strip
Installation and QWrite CD
Quick Start Guide
Features
Dual Screen with Multiple Touch Capabilities:
This feature allows teachers to create an immersive learning experience by seamlessly connecting two screens. They can also use the PointWrite infrared pen accessory or pair the system with the optional PointWrite Touch (PT12) for a fully scalable and forward-thinking classroom. The multi-touch capabilities, which can support Windows 8 or above, as well as future applications, are enabled by the QWrite software to encourage students to collaborate and generate ideas together using one big screen. Students will now be able to watch a video and take notes simultaneously using easy and intuitive technology.
User-Friendly Auto-Calibration and Configuration:
The first time PointWrite™ is plugged into a computer's USB port, it instantly auto calibrates and the interactive teaching session is ready to begin. The interactive sensor guarantees reliable auto-calibration in any ambient lighting for hassle-free setup. Connectivity settings are saved automatically, and PointWrite™ is always ready with no need for manual configuration or complicated training.
Easy 1-2-3 PointWrite™ Setup:
Insert the camera with 60 fps infrared sensor into the projector.
Setup and calibration executes automatically, immediately allowing a smooth writing experience with ultra-fast 16 ms response time.
Turn any surface into an interactive whiteboard with an infrared PointWrite™ Pen or PointWrite™ Touch Module.
Windows Gesture Support:
PointWrite™ projectors support intuitive Windows gestures such as zooming in and out or scrolling while browsing webpages, pictures or Google Maps. All multi-touch commands and gestures are supported for Windows 8 or above and future applications.
Specifications
PointWrite Module

Model Name
PW02
Refresh Rate
60 Hz
Response Time
0.016 sec
Auto Calibration
Yes
Calibration Accuracy*
Max ±2 Pixel
Multi-User
4 pen simultaneously
Multiple Operation
2 Units
PC Connection
Mini USB
Power Source
PC USB Power
Max USB Cable Length
49.2 ft (15 m) — 16.4 ft (5 m) USB cable + Repeater
OS Supported
Windows: WinXP, Vista, 7, 8
Mac: Snow Leopard or later
Storage Temperature
-20°C ~ 60°C
Operating Temperature
5°C ~ 40°C
Dimensions
2.8" x 1.1" x 0.61" (71 x 29 x 15.5 mm)
Weight
1.1 oz (32 g)

PointWrite Pen

Power
AAA Battery x 2
Length
6.9" (176 mm)
Diameter
0.6" (15 mm)
Weight
1.2 oz (35 g)
Color
White
*Your environment will impact the accuracy of auto calibration.
Downloads
Compatibility
To check whether this item is compatible with your equipment, use the form below.