Christie DS+6K-M
3-DLP, SXGA+ (1400x1050), 6300 Lumens, H&V Lens Shift, non-3D, No Lens, Mfg. Refurbished, 1 Year Warranty
Part #: 0601-7516-UC Mfr #: 11801410601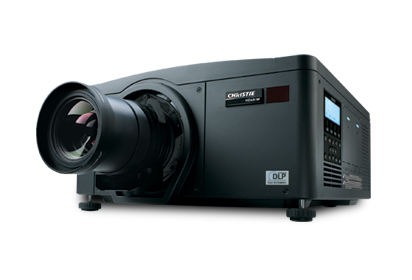 Christie DS+6K-M
Features
The most compact in its class, the Christie M Series projector platform provides the high-performance and feature-rich standards expected in all Christie products. Embedded warping, blending and color matching, along with built-in portrait capabilities give you even more installation flexibility with this SXGA+ model.
Specifications:
Technology
3-chip DLP

®

Resolution
1400 x 1050 SXGA+
Brightness
6,930 center lumens
Contrast
Up to 10,000:1
Illumination
Dual Osram

®

200W P-VIP
Lamp life
2,000 hours, up to 3,000 in eco mode
Height
10.2" (259 mm)
Width
19.7" (500 mm)
Depth
22.1" (561 mm)
Weight
55 lbs (25 kg)

The Christie DS+6K-M, at 6,930 center lumens (dual lamps, 200W), offers high efficiency and low cost of ownership by drawing a maximum power of 870W giving you full brightness while using less power.
Features
SXGA+ resolution (1400 x 1050)
6930 center lumens
Variable contrast ratio of 2500-10000:1 using dynamic iris (full on, full off) / 650:1 ANSI for crisp, detailed images.
At maximum brightness, this projector draws a maximum power of 870W
Smallest chasis in its class
Dual mercury lamps (200W)
Comprehensive Color Adjustment (CCA™)
Embedded Christie Twist™ image warping and edge-blending
Dust sealed engine, filter-free design
Intelligent Lens System (ILS™) for zoom, focus, horizontal and vertical offset
Multi-windowing and screen processing (up to a 3x3 array)
Dynamic iris

3D upgradable

AutoDesk

®

Revit

®

model
Built-in portrait display capabilities
Whether the application is education, entertainment, gaming, home cinema or live events – Christie's 3-chip DLP projectors are 2D and 3D capable. The Christie DS+6K-M can be upgraded from its existing 2D display technology to include 3D capabilities. Christie is the first to offer an upgrade path for its 3-chip DLP projectors to equip them with the Mirage advanced 3D functionality.
Manufacturer Refurbished, 1 Year Warranty
Files