Vivitek DU8190ZB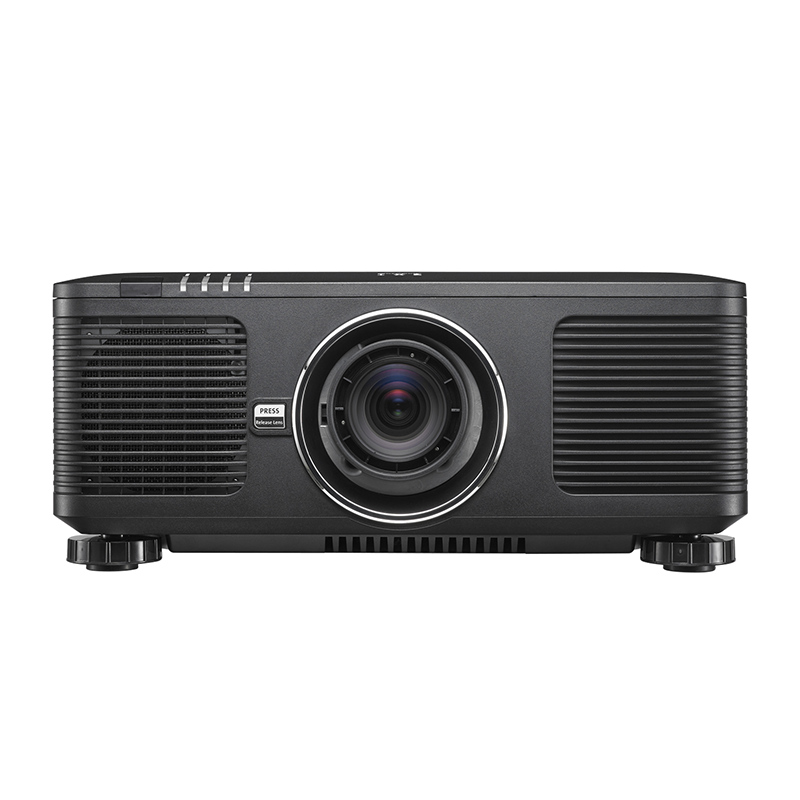 Laser/Phosphor light source 1-DLP Projector, WUXGA, 10000 Lumen, No Lens, Black, 5 Year Warranty
Item #0601-8334
Model #DU8190ZB
Overview
The DU8190ZB is class leading in the next generation of advanced projection technology — LASER — at 10,000 ANSI lumens bright. Built lamp-free, it provides a low cost of ownership, with minimal maintenance, and gives stable, high-quality projection for up to 20,000 hours. A sealed optical engine and filterless design provide optimal performance, making it an ideal solution for large venues. With impressively vivid colors, the DU8190ZB offers the most immersive big-screen experience available in digital projection.
Features
Laser phosphor projection engine incorporates a laser design that's long lasting(20,000 hrs)and environmentally friendly
10,000 ANSI lumens*, with a dynamic 10,000:1 contrast ratio, provide amazing image quality that's stable over time
Built-in ACS (auto color sensor) for color and brightness consistency
Built-in MPS (multi projector system) hardware for edge blending, flexible geometry and warping functionality
Powered zoom, focus and lens shift (horizontal/vertical) for easy adjustment and projector position flexibility together with memory system
Picture-in-Picture (PIP) to simultaneously project images/videos from two different sources
Full suite of display connectivity inputs and outputs including: HDMI v1.4a, DVI-D, Component (5 BNC), VGA-In, 3G-SDI-In/Out, VGA-Out, HDBaseT™ (content over CAT5e/6 cable)
Full 3D compatibility with DLP® Link™ and HDMI 1.4 interface
Flexible mounting positioning - 360 degrees in any axis for ease of installation
Network connectivity for remote projector management - control and status. Ready for integration and system administration via RJ45
Eight interchangeable lens options for flexible installation and optimized brightness
Sealed optical engine and filter-less design improves performance with minimal service maintenance
Instant On/Off
Accessories
Optional Lenses
Model
D88-UST011,2,3

D88-UWZ01

1
D88-WF185011,3
D88-WZ01

D88-ST001
Std Lens

D88-SMLZ01
D88-LOZ101
D88-LOZ201
P/N

3797866500-SVK

3797804200-SVK

3797745100-SVK

3797745200-SVK

3797744200-SVK

3797745000-SVK

3797745400-SVK

3797744900-SVK

Price
$5,495.00


Add to Cart

$3,482.00


Add to Cart

$2,613.00


Add to Cart

$2,613.00


Add to Cart

$1,315.00


Add to Cart

$2,613.00


Add to Cart

$2,613.00


Add to Cart

$2,613.00


Add to Cart

D:W
WUXGA
0.38:1
0.75 – 0.93:1
0.76:1
1.25

–

1.79:1
1.73

–

2.27:1
2.22

–

3.67:1
3.58

–

5.38:1
5.31

–

8.26:1
f/stop
2.0
1.96

–

2.3
1.85
1.85

–

2.5
1.7

–

1.9
1.86

–

2.48
1.85 – 2.41

1.85 – 2.48
Notes
1 Not compatible with D8800, D8900, D8010W.
2 Lens support required. Bracket provided works with DU6871, DU8090Z, DU8190Z, DU893Z, and DK8500Z
3 Not compatible with Lens shift.
Downloads
Warranty
5-Year Warranty on Parts and Labor or 20,000 hours; whichever comes first / 3-Year Advanced Exchange