TVOne C3-340
CORIOMatrix 16-Slot, 32-Port Card Frame
Part #: 0602-0300 Mfr #: C33401001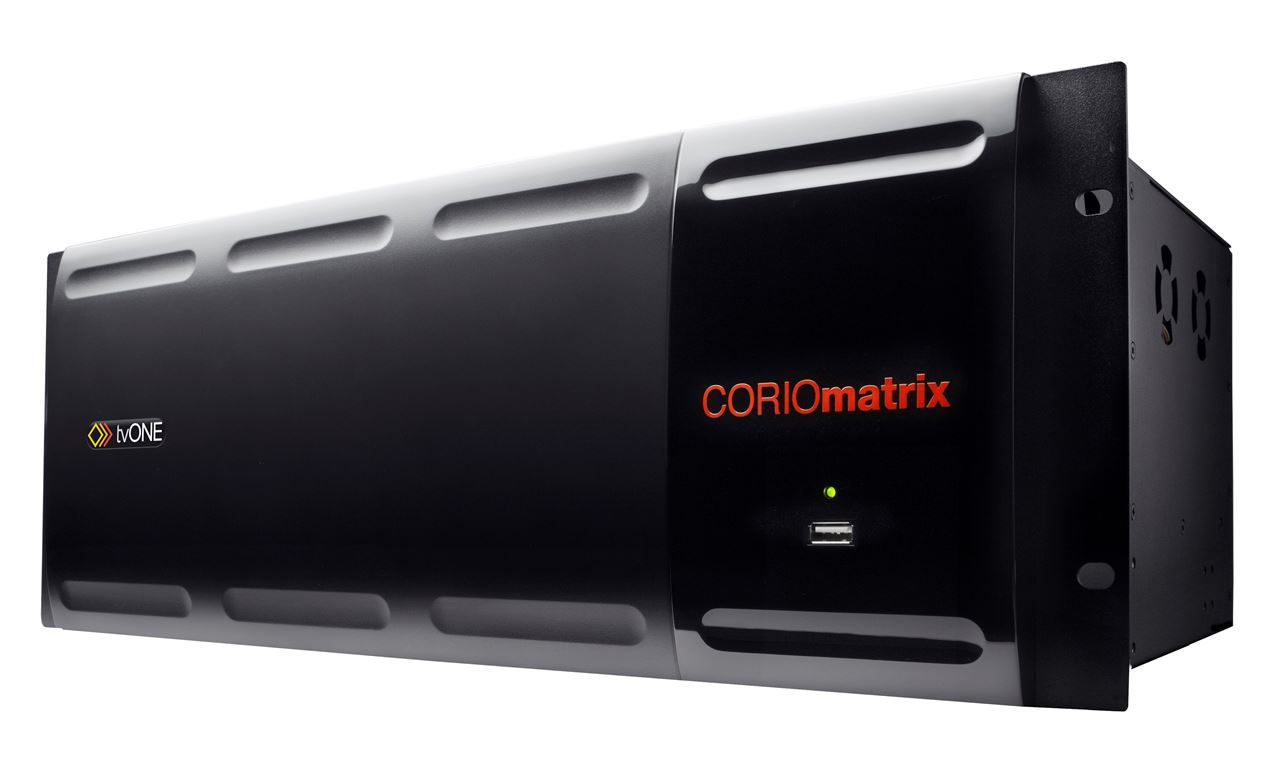 TVOne C3-340
Introduction
A modular video matrix switching mainframe to switch and scale any combination up to 32 ports (inputs plus outputs). Input and output cards include Universal Video, 3G/HD/SD-SDI, and HDBaseT. Aspect ratio compensation between input and output is automatic and aspect ratios can be changed seamlessly on the fly. Can be controlled using RS232 or Ethernet and a provided application allows for control and setup using only a PC.
The Universal DVI interface utilizes a single DVI-I connector to provide the following signal formats: HDMI, DVI-I, plus analog YUV, YPbPr, RGBHV, RBBS, RGsB, Y/C and Composite Video. A variety of adapters are available to convert from DVI-I to other connectors.
The CORIOmatrix includes advanced Digital Flicker Elimination circuitry and high 4:4:4 full bandwidth sampling rate ensures crisp, clear images, while full bandwidth chroma sampling ensures faithfully reproduced, high resolution colors. Pixel Level Motion Adaptive Diagonal Interpolation and Noise Reduction ensures high quality de-interlacing of PAL, NTSC and 1080i signals. 3:2 Pull-down ensures proper 24 fps film extraction from NTSC and 1080i sources.
Integral audio switching is provided to route audio from the DVI (HDMI-compatible) input or SDI input to the DVI and SDI outputs. An optional Audio Module can provide AES and analog or digital I/O breakout capabilities as well as audio delay and can link to our A2-7300 range of audio break-out units. Audio routing control is implemented in the Windows software and also available using the command line interface.
Features
Key Features of the C3-340
· DVI-U Inputs/Outputs: (HDMI/CV/YC/RGB/YPbPr)
· SDI Inputs/Outputs: (SD/HD/3G-SDI)
· High Resolution Inputs/Outputs:
Analog: PC to 1920x1080, HDTV to 1080p/60
DVI: PC to 1920x1200, HDTV to 1080p/60 w/EDID
SDI: SD, HDTV to 1080p/60
· Supports: NTSC, PAL, PAL-M, PAL-N, SECAM
· HDMI-Compatible Input & Output with HDCP
· Automatic Incoming Resolution Detection
· 4:4:4 Full Bandwidth Sampling
· Video Signal Parameter Adjustments
· Horizontal alignment on Analogue PC Inputs
· Integral Audio Routing
· Audio de-embed/embed for SDI and DVI/HDMI
· Interfaces: RS-232, IP w/ built-in web server
· Command Line Interface - Third Party Control Use
· 4RU Frame Size
· Modularity Provides Flexible I/O
Scaler Modules Provide
· Seamless Cross Format Matrix Switching
· Available with Up-Down-Cross Conversion
· Diagonal Interpolation
· Noise Reduction for PAL, NTSC & Analog 1080i In
· Motion Compensation & 3:2 Pull-down
Specifications
Video Inputs

Television Standards
NTSC, PAL
Digital DVI
Up to 28 via DVI-U (HDMI & HDCP compatible)
Composite Video
Up to 28 via DVI-U
YC (S-Video)
Up to 28 via DVI-U
YUV /YPbPr
Up to 28 via DVI-U
SD/HD-SDI
Up to 56 via BNC
SD/HD/3G-SDI
Up to 28 via BNC
Computer Inputs

Digital DVI
Up to 28 via DVI-U (HDMI & HDCP compatible)
Analog
Up to 28 via DVI-U
Analog Format
RGBHV, RGBS, RGsB, YPbPr
Analog Signals
PC to 1920x1080, HD to 1080p60
DVI Signals
PC to 1920x1200, HD to 1080p60
Video Outputs

Television Standards
NTSC, PAL
Composite Video
Up to 28 via DVI-U
YC (S-Video)
Up to 28 via DVI-U
YUV /YPbPr
Up to 28 via DVI-U
SD/HD/3G-SDI
Up to 28 via BNC
HDBaseT
Up to 28 via RJ45
Computer Outputs

DVI Signals
Up to 24 via DVI-U (HDMI & HDCP compatible)
Analog
Up to 24 via DVI-U
Analog format
RGBHV, RGBS, RGsB, YPbPr
DVI Signals
PC to 1920x1200, HD to 1080p60
Analog Signals
PC to 1920x1080, HD to 1080p60
Audio support

De-embed/embed SDI & HDMI-I/O
optional audio interface module
HD Resolutions supported

(DVI, YPbPr, SDI)

720p, 1035i, 1080i, 1080p
Control Methods
RS-232
DB-9
IP with built-in web server
RJ45
Warranty
5 years limited parts and labor
Mechanical
Size (H x W x D)
7.0" x 19.0" x 13.1", 178 x 482 x 334mm
Weight (Net)
Approx. 15Kg (33 lbs)
Options
Universal DVI CORIOmaster Input Module

2x DVI-U (DVI, HDMI, RGB/YPbPr, YC, CV) via DVI-I HDCP Compliant
Downloads