Barco R9004778
S3-4K Jr EventMaster, 8 Input, 4 Output, 2 Mixers
Part #: 0602-2550 Mfr #: R9004778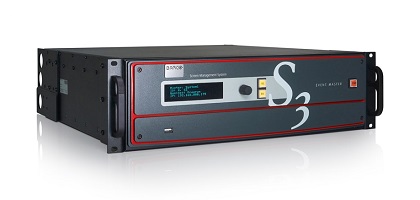 Barco R9004778
Description
Compact and cost-effective Event Master processor
Easy and reliable show setup and production
Market-valued 4K performance
Future-proof upgradability to the full S3-4K system

Wireless controller for your Barco presentation switchers - now available for iPad!
Bringing the same performance and features as the S3-4K, the S3-4K Jr model is ideally suited for applications that do not require the full capacity of the S3-4K. It comes with 8 inputs, 4 outputs, and 2 mixers in the same 3 RU form factor as its bigger S3-4K brother. S3-4K Jr grows with your shows so you can easily upgrade the S3-4K Jr to a fully loaded S3-4K system at any time. Simply purchase and install additional cards into your system.

Powerful features, easy operation
Modular card-based design
Easy set-up with the cross-platform Event Master Toolset, providing a step-by-step approach to system configuration
Serviceable in the field and ready for future signal interfaces via the modular Event Master cards
Dual, redundant power supplies for maximum peace of mind (optional)
Widescreen blending support
Specifications
Genlock
Analog reference input/loop on BNC connectors; bi-level and blackburst at SD and tri-level at HD
S3D Sync: 4x input Din connector, 2x output Din connector
Program output

4 program outputs configurable as single screens or tiled/blended widescreens

Configurable from 4X 2048X1200@60 max to 1 x 4096x2400@60 max
Independent edge blending/feathering control for all four sides

Scaled Aux outputs
User definable from 4 x 2048x1200@60 to 1 x 4K@60
Output color correction
Mixers

Native resolution background mixer per output screen
Independent layer transitions or full Preview/Program transition
Flexible layer allocation – 2 mixable or 4 single scalable PIP/key layers assignable to any Program output screen

Video inputs

8 inputs via 2 input cards (Event Master series cards)

Up to 2 x 4K inputs - each input card supports up to 4K@60p
4 x SD/HD/3G SDI
2 x HDMI 1.4a (297 Mpix/sec max)
2 x DisplayPort 1.1 (330 Mpix/sec max)

Video outputs

6 outputs via 2 output cards (Event Master series cards)

Up to 1x 4K outputs - each output card supports up to 4K@60 p
4x HDMI 1.4a (297 Mpix/sec max)
2 x HDMI 1.4a for Multiviewer (297 Mpix/sec max)

Still stores
Up to 100 HD stills available in background, Aux or PIP
Layer effects

Borders (hard, soft, halo) and drop shadows
Color effects
Strobe, H&V flip
Luma key
PIP moves via Keyframes

Multiviewer

Flexible user-definable layouts
Monitor all Inputs and Outputs, including Preview and Aux
Two outputs
Dedicated hardware same as E2 Event Master Processor

Expandability
Linking is available as an upgrade option
HDCP
HDCP compliant
Control

Event Master screen management software for PC or MAC
Ethernet RJ-45, 1000/100/10 Mbps autosense

Serviceability

Field-serviceable I/O and processing cards (not hot-swappable)
Hot-swappable dual-redundant power supplies

Dimensions

Height: 13.26 cm (5.22 in) - 3 rack mount units
Width: 43.2 cm (17 in) without chassis handles, 48.3 cm (19 in) with chassis handles attached
Depth: 54 cm (21.33 in) overall

Weight
24 kg / 53 lbs
Power

Input power: 100-240 VAC 50/60Hz 700W
Dual redundant power supplies (optional) same as E2 Event Master processor

Environmental temperature
0-40° C / 32-104 F
Environmental humidity
0-95% non-condensing
Warranty
3 years parts and labor
Accessories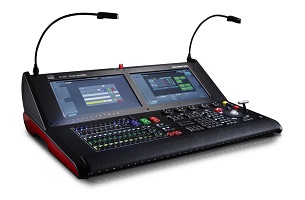 R90044771 Barco EC-200 Controller
*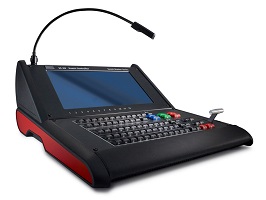 R9004772 Barco EC-50 Compact Controller
*
DisplayPort 1.2 Output Card
HDMI + DisplayPort Input Card
Event Master 4K60 Tri-Combo Input Card
Event Master 4K60 Tri-Combo Output Card